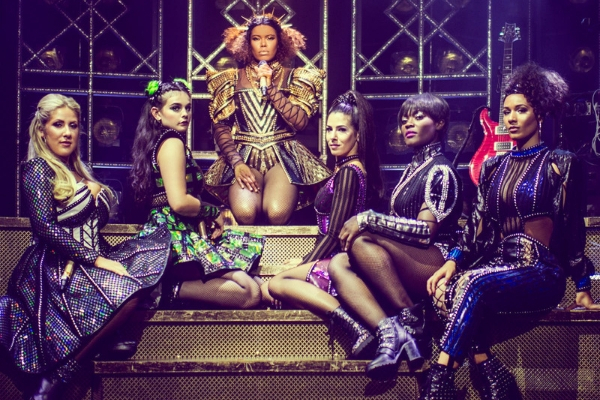 How appropriate that Toby Marlow and Lucy Moss' rockin' Royal Tudor musical Six is going to make history. Two years to the day the show was first seen as a student production at the Edinburgh Festival Fringe, it's announced that the hit West End production will invade Broadway, officially opening at New York's Brooks Atkinson Theatre on 12 March 2020. Do you feel a trip to NYC coming on?
The announcement comes exactly two years to the day Six was first performed as a student production in a 100-seat room at Sweet Venue at the 2017 Edinburgh Fringe Festival. The Broadway transfer to the 1,000-seat Brooks Atkinson Theatre (home since April 2016 to Waitress) is the continuation of a remarkable journey. Performances will begin on 13 February 2020.
Six, currently playing to sold-out houses in London and Chicago, was nominated for five Olivier Awards including Best New Musical, and casts have performed on the Britain's Got Talent results show and in front of thousands at West End Live. Songs from the Six studio album are streamed on average 300,000 per day, making it the second-highest streaming musical theatre recording in the world.
Writers Toby Marlow and Lucy Moss said:
"We are UNBELIEVABLY excited about Six coming to Broadway, like actually what is going on! We are so grateful that we get to share our show with an even wider audience, especially somewhere as iconic as the home of musical theatre – BROADWAY BABY!! The whole team across the pond are ridiculously amazing, and we can't wait to share the show with you – NYC, thanks for having us!!!"
Producers Kenny Wax, Wendy and Andy Barnes, George Stiles and Kevin McCollum added: "From its student beginnings at the Edinburgh Festival, via the West End we're absolutely thrilled to bring Six to Broadway. Toby and Lucy have created an empowering musical about six of the most misrepresented women in history that couldn't be more timely. We can't wait for New York audiences to see the production at the Brooks Atkinson Theatre."
Twenty-four-year-old Toby Marlow and 25-year-old Lucy Moss devised the original concept and started writing Six when they were students at Cambridge University in early 2017. It was first presented as the Cambridge University Musical Theatre Society's submission to the Edinburgh Festival Fringe later that year, playing a one-month run and featuring student actors.
The musical went on to get picked up by UK producers and a new production was mounted, with professional actors and a predominantly new creative team, at the Norwich Playhouse and then again at Edinburgh Festival in 2018. A limited engagement at the Arts Theatre in London followed and the show toured the UK in the autumn of 2018 before reopening at the Arts in January 2019, where it is now playing an open-ended West End run to sold out houses. Six earned five Laurence Olivier Award nominations this year, including Best New Musical. A UK tour opens in October 2019 and will run concurrently with the London production.
Partnering with US producer Kevin McCollum, Six made its North American premiere in May 2019 at Chicago Shakespeare Theater in Chicago, IL in a record-breaking run ending 4 August 2019. Prior to Broadway, the show will play limited engagements at American Repertory Theater (A.R.T.) in Cambridge, MA, the Citadel Theatre in Edmonton, AB Canada and the Ordway Theatre in Saint Paul, MN.