A role in the London premiere of David Bowie's posthumous musical is a pretty good way to follow up an Olivier Award nomination. Amy Lennox (nominated for Kinky Boots, pictured above with her then co-star Killian Donnelly) is amongst the Brits #StageFaves who will complete the cast of LAZARUS, which starts performances next month at King's Cross Theatre...
Ahead of its hugely anticipated European premiere in a brand new 900-seater venue at King's Cross Theatre, London, full casting for David Bowie and Enda Walsh's LAZARUS is announced today. Tickets for the London production are on sale now, with preview performances beginning on Tuesday 25 October and an official opening night on Tuesday 8 November. LAZARUS is booking until Sunday 22 January 2017.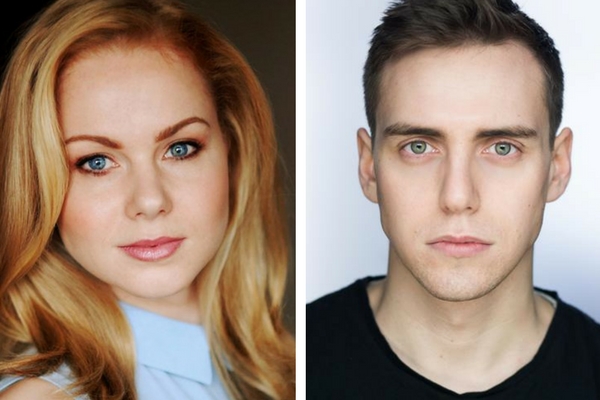 Much-loved #StageFaves Amy Lennox and Jamie Muscato (pictured right), along with Gabrielle Brooks, Sydnie Christmas, Richard Hansell, Maimuna Memon, Tom Parsons and Julie Yammanee will be joining previously announced cast members Michael C Hall, Michael Esper and Sophia Anne Caruso, who are reprising their roles from the original New York Theatre Workshop production.
LAZARUS broke box office records when it played a strictly limited, sold out run in New York from 18 November 2015 to 20 January 2016.
Inspired by the book, The Man Who Fell To Earth, Lazarus focuses on Thomas Newton as he remains still on Earth – a 'man' unable to die, his head soaked in cheap gin and haunted by a past love. We follow Newton during the course of a few days where the arrival of another lost soul might set him finally free. Michael C Hall stars as Newton, the character famously portrayed by David Bowie in the 1976 screen adaptation directed by Nicolas Roeg.
Directed by Ivo van Hove, LAZARUS includes songs from Bowie's iconic catalogue as well as brand new music written for the stage. The Lazarus Cast Album will be released on 21 October 2016 on RCA / ISO Records and features performances by the original NYTW company as well as three of Bowie's final studio recordings.