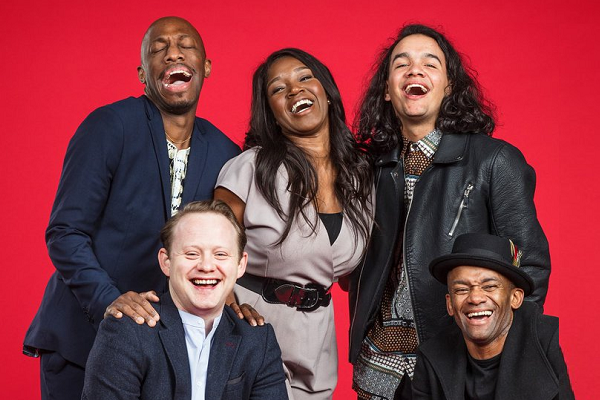 It's not only Easter Sunday. More importantly in the theatre world, it's only one week to go until this year's Olivier Awards ceremony at the Royal Albert Hall. Congratulations again to all of our #StageFaves nominated for 2018 gongs. Here's a quick round-up of our top 10 tweets of our favourite nominees' responses to their nominations. We just wish you could all win!
---
Team HAMILTON have collected a record-breaking 13 nominations! How incredible is that?
#HamiltonLDN's @GilesTerera, @1RachelJohn, @CleveRSeptember, @mikejibson and @ThePennycooke. Five of our @OlivierAwards nominees. Photo by David Levene for Guardian & Observer. 🇬🇧 pic.twitter.com/b4RjmAXyFZ

— Hamilton West End (@HamiltonWestEnd) March 23, 2018
And EVERYBODY'S TALKING ABOUT JAMIE celebrates five nominations at the nominee celebration lunch! We're buzzing too, Luke Bayer, with how much we love this terrific home-grown musical!
Our gorgeous Olivier nominated team at today's @OlivierAwards Nominee Celebration Ceremony! We are so overjoyed to be nominated for an amazing 5 Awards! #OlivierAwards #JamieLondon pic.twitter.com/3EJAWe9Gwn

— JamieMusical (@JamieMusical) March 9, 2018
BUZZING about the @OlivierAwards nominations! @JamieMusical nominated for Best New Musical! 🎉 John nominated for Best Actor, Josie for Best Actress, @DanGSells for Music and Kate Prince for Choreography! Well Done Team! ☺️

— Luke Bayer (@lukebayer) March 6, 2018
What a blessed afternoon. Congratulations to all the nominees this year. I am still pinching myself...@HamiltonWestEnd has 13 nominations!! Cannot wait to get back on that stage on Monday! #MynameisAngelicaSchuyler #BlessedAndGrateful #OlivierAwards pic.twitter.com/bPY2GQVyxu

— Rachel John (@1RachelJohn) March 9, 2018
I'm still lost for words but I am so thankful and feel completely blessed honoured to be apart of this incredible @HamiltonWestEnd family and to share a stage with such incredible talent every single night! I am so proud of everyone! We ALL did it! #HamFam #United #HamiltonLDN https://t.co/Uda77HtrFm

— CleveSeptember (@CleveRSeptember) March 6, 2018
Congratulations direct from YOUNG FRANKENSTEIN creator Mel Brooks himself to those amazing nominees Lesley Joseph and Ross Noble!
Congrats to @LesleyJosephTV on her Olivier nomination for her spectacular performance as Frau Blucher! (Whinnnnney!) You're the best. Love, Mel @youngfrankldn #OlivierAwards pic.twitter.com/CnyzbGoGyf

— Mel Brooks (@MelBrooks) March 7, 2018
Congratulations @realrossnoble you got over the hump! Your very first Olivier nomination! I'm so very proud of you. Love, Mel #OlivierAwards @youngfrankldn pic.twitter.com/CH9O87EMFt

— Mel Brooks (@MelBrooks) March 7, 2018
A most melodic response to the news from those talented lot at GIRL FROM THE NORTH COUNTRY!
The company of Girl From The North Country (@DylanMusical) celebrated their FIVE nominations the only way they know how - tunefully! 👌🎵 #OlivierAwards pic.twitter.com/zHznjmft9a

— Olivier Awards (@OlivierAwards) March 9, 2018
Naturally those FIVE GUYS NAMED MOE are all set to look great on the big night! Could we expect anything less?
Our Moes having their Olivier fitting with Chester Barrie...shaping up nicely don't ya think? Not long now until the @OlivierAwards ! #FiveGuysNamedMoe pic.twitter.com/iwXR8YtiGD

— Five Guys Named Moe (@fiveguysmusical) March 29, 2018
And we're expecting glitz and glamour from those fabulous dancing feet at 42ND STREET too! Now this is the way forward…
Some of our lovely ladies had chance to grab a quick picture between numbers! (📷 by Sara Bispham) pic.twitter.com/5ga1pX8oq6

— 42nd Street (@42ndStreetLDN) March 10, 2018