We saw them melt hearts at the London Theatre Workshop, but the cast of ORDINARY DAYS have brought the show up to the Edinburgh Fringe for a full run. Making a new home at C Venues, the show is now in a more intimate setting, on a thrust stage, with the barrier between audience and performers distinctly smaller. We chatted to the wonderful Nora Perone about their reasons for transfering the show to Edinburgh, their time at the fringe and, of course, her ultimate StageFave...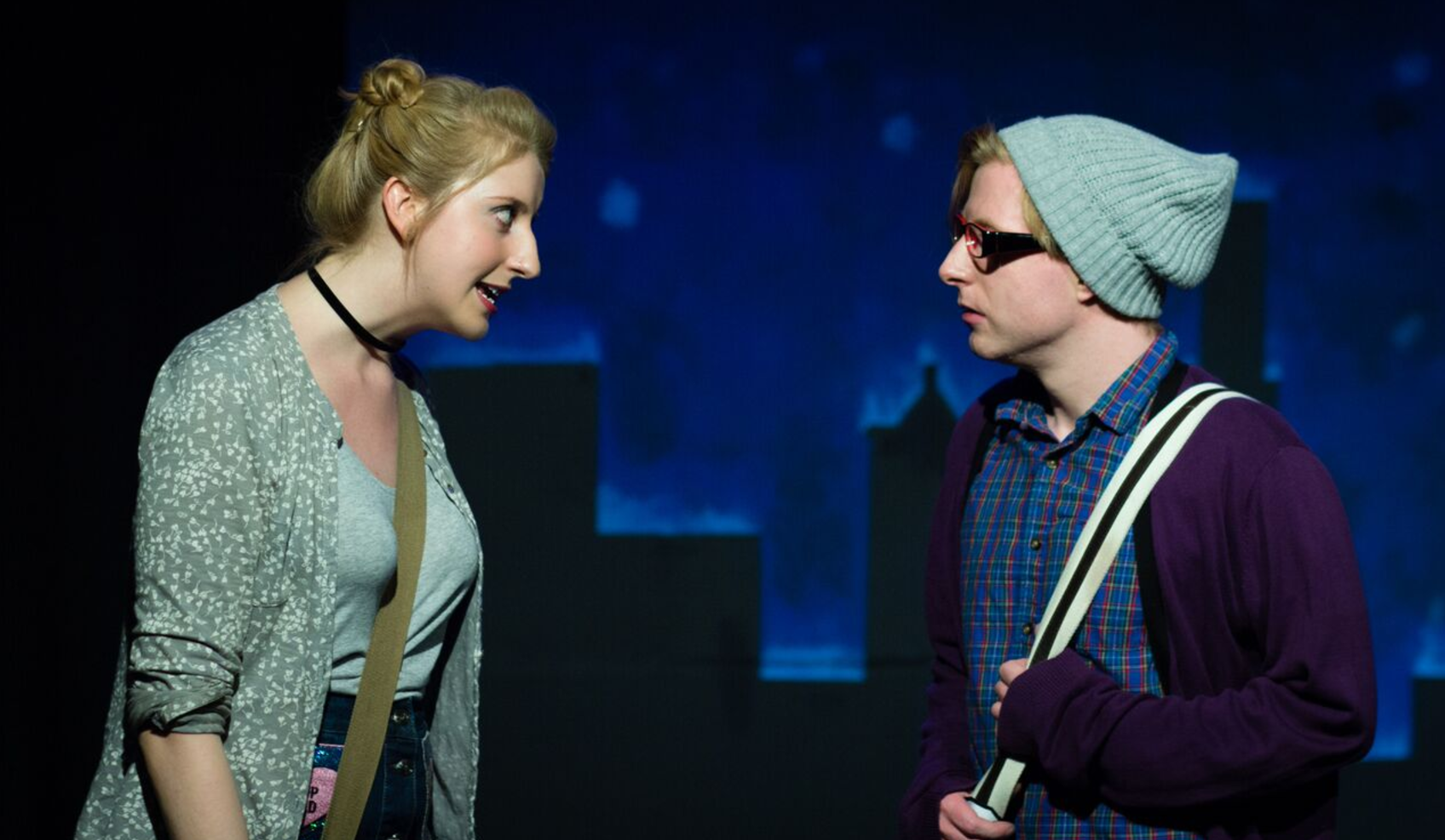 Hi Nora, thanks for chatting with us and congratulations on the success of the show! So, ORDINARY DAYS is a show which isn't widely produced but seems to have quite a cult status amongst musical theatre fans. What drew you to this show in particular and when did you decide you wanted to put it on?
I discovered the show while I was doing rep research in drama school and I fell in love with it immediately. After Neil and I graduated from the Royal Central School of Speech and Drama in 2015, we were feeling really stagnant as performers and were desperate to do something creative. The roles of Deb and Warren were perfect for us, so we decided to pool our resources and go for it!
It walks the line between a song cycle and a full musical with all the dialogue sung and the four characters crossing paths at certain points throughout the show - what do you find interesting about the form and how did you tackle that during the rehearsal process?
I think the danger of the form (and the small cast size!) is that it is really easy to fall into the trap of stand-and-sing delivery-- almost like a concert instead of a piece of theatre. Thankfully, our director (Jen Coles) is absolutely brilliant when it comes to movement and out-of-the-box staging, so she saved us from that particular fate!
You play the character Deb. Tell us a bit about Deb and why you relate to her.
Deb is really just a more extreme version of me. Like Deb, I grew up in a small town, was desperate to get out and make something of myself, and I've spent most of my life feeling a lot of pressure to succeed without any clear definition of what "success" is. Deb's intense frustration is a brilliant comic device in the show, but it's also heartbreaking how much every twenty-something can relate to that feeling.
Earlier this year you had a successful run at the London Theatre Workshop. What was it like performing in such a great upcoming venue and what
are the differences performing in C Venues this August?
London Theatre Workshop is an amazing venue, and we were so grateful to be there! The main difference is that LTW was a larger, end-on stage and C royale is a much more intimate thrust space-- which really changes the way that we as performers relate to the audience. Getting to look everyone in the eye and essentially create a dialogue with fifty people every night is such a joy! Musical theatre doesn't often allow performers to break the fourth wall in the way that we're able to with this show.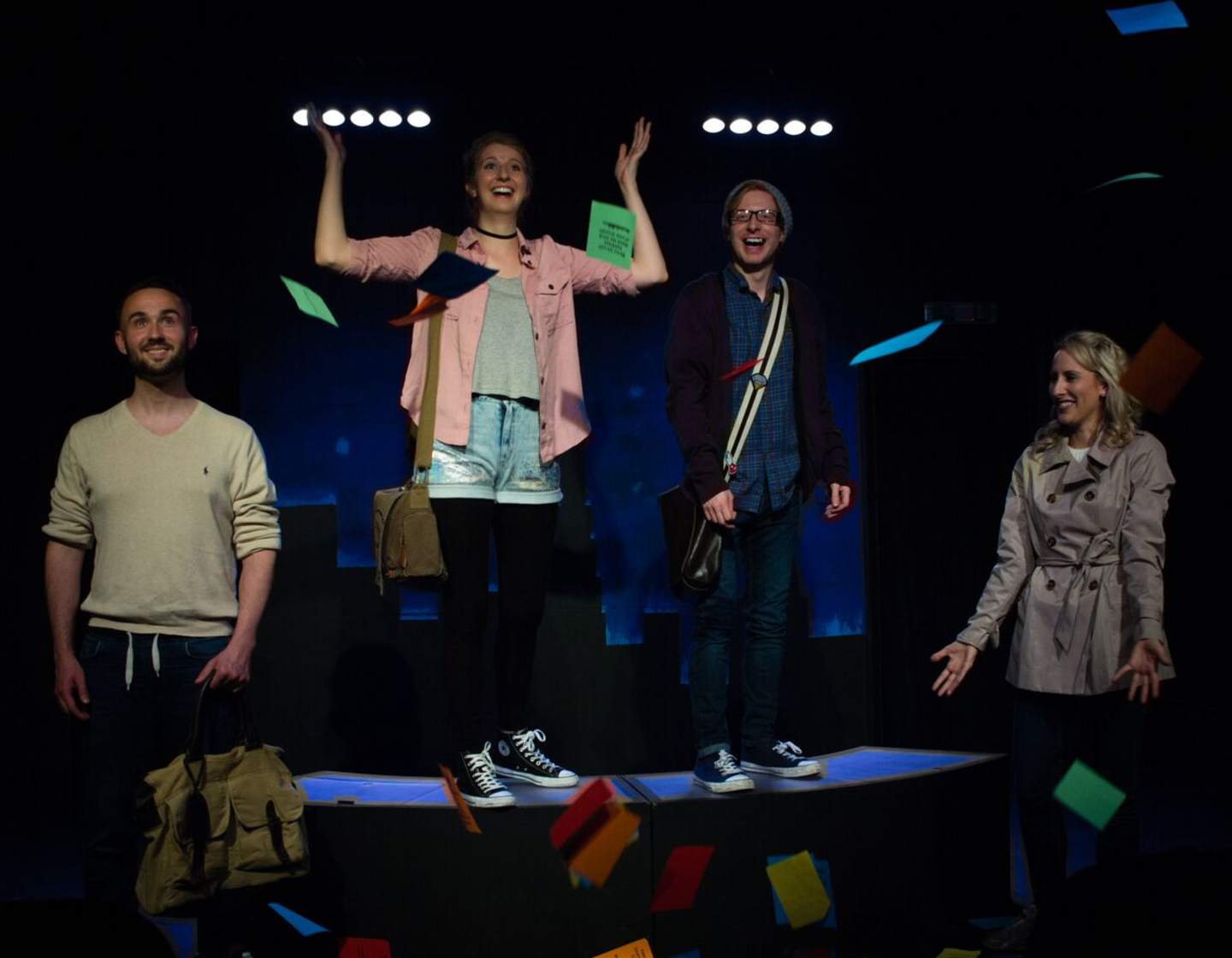 What are Edinburgh Fringe audiences like compared to London ones?
I've found that Fringe audiences are overall a bit more up for it-- they're buzzing from a day seeing shows or a day out on the Mile, instead of dragging themselves out to the theatre after a long day in the office. (And they're also really helpful about picking up props for us at the end of the show since our get-out time is only five minutes!)
The fringe is a fantastic place to showcase theatre but it's also a big gamble, why did you decide to take that leap of faith and how has it been for you so far?
To be perfectly honest, we all just wanted the experience of being at the Fringe for an entire month, getting to do this amazing show every night and talk about it all day and meet new people and see tons of theatre and just bask in all this amazing creative energy. This is the first time I've ever gotten to work as an actor full-time without having another job, and that was worth it for me. The fact that we're getting such an excellent response is just icing on the cake!
Don't miss our Warren (@neilycameron) & Deb (@norassic_park) singing a few songs on the #RoyalMile Lower Stage at 6:10pm! 🗽⭐️🎶 #EdFringe pic.twitter.com/7WmJWb8N35

— Ordinary Days LDN (@OrdinaryDaysLDN) August 20, 2017
Have you seen any other musical theatre up here you would recommend to people reading this?

Where do I start?! I haven't seen THE TOXIC AVENGER up here yet, but I did see it in London and it is still one of my favorite things ever. And our music director, Kris Rawlinson, is also MDing THRILL ME, which is powerful and intense and just brilliantly performed.
What are your 3 tips for surviving the fringe?
1. Make your physical and mental health your first priority. Sleep, eat well, take time for yourself.
2. Make new friends! This is the best opportunity in the world to meet people who love the same things you do.
3. Take a moment every day to stop and be proud of what you have already accomplished.
And finally, the big question - who is your #stageFave?
I have had the biggest talent crush on Simon Lipkin ever since I saw him as Touchstone in As You Like It at Southwark Playhouse (and then also as Nathan Detroit in Guys and Dolls). The guy is hilarious-- #comedygoals.
See ORDINARY DAYS all month at the Edinburgh Fringe and make sure you keep up with them on Twitter...