It's hardly news that London's West End is the beating heart of the UK Musical Theatre scene. Fans from all over the world flock to see their favourite shows and soak up the atmosphere and history of the area. But how can you learn even more about your favourite theatres, shows and performers?
Introducing Neil Maxfield - Musical Theatre aficionado and the brains (and face!) behind the Musical Theatre walking tour, an absolute MUST for any Musical Theatre geek!

We got the chance to ask Neil a few questions about what you can expect from the tour, his favourite theatre and of course who is his West End #StageFave?

Hi Neil. Tell us a bit about yourself! What made you fall in love with Musical Theatre? Can you remember what your first show was?
I sang from a very young age, my two older brothers were both in the church choir so I joined them. My first encounter with a musical was my first year in secondary school where I auditioned for THE SOUND OF MUSIC and landed the part of Curt. From that time on I was completely hooked.
Have you lived in London your whole life?
No, I lived in Bournemouth for twenty years which is where I got my grounding in Musical Theatre.
What drew you to the city?
I was part of several amateur societies and after a time was being asked by some of them to take on roles. I think my favouite was playing Pirelli in SWEENEY TODD, such a fun role to do. I also started my own cabaret which I did in the local hotels and was mainly singing songs from the shows. I then went to Bournemouth and Poole College, which is where Earl Carpenter and Amanda Holden studied where I got my National Diploma in Acting which then brought me to London where I studied Drama at Middlesex University.
Why did you decide to start the Musical Theatre Walking Tour?
I had been doing another walking tour with a theatre company, playing Charles Dickens and a host of other characters for a couple of years. I found that this was something I really enjoyed, the audience interaction, the multi - role playing, the chance to improvise and the historical element. One week I had the inspiration to see if there were any tours which explored Musical Theatre and was actually really surprised to find there weren't. Over the space of a couple of months I researched and came up with a model of visiting eleven West End theatres talking about the one subject I know most about and am most passionate for. I have now been running the tour for two years which had its anniversary in June.
Give us a run-down of the tour. What should we expect if we book a place?
The tour focuses on a now expanded thirteen theatres around the West End and covers everything from performers who have starred there, the flagship shows, writers, producers and history of the theatres themselves. The tour is in character with me playing Noel Coward, who subsequently meets other interesting characters along the way inluding Michael Ball and a host of others. I also sing an excert from a show I talk about at each theatre and encourage my customers to sing along too if they so wish, which they frquently do.
What's your favourite stop on the tour?
I love them all for different reasons, the Coliseum has lovely architecture for instance, but I think my favouite is probably the Adelphi as I get to talk about Sir Andrew Lloyd Webber who is my favourit composer. I have seen all of his musicals and Phantom of the Opera will always remain in my top five.
What's the question you get asked the most?
"How do remember all those lines?" and "what's your favourite musical?"
What's the silliest question you've ever been asked?
I don't think there are any silly questions. One of the best things about doing the tour is talking to the customers as we go around and sharing thoughts and experiences about Musical Theatre.
Describe the tour in 5 words or less.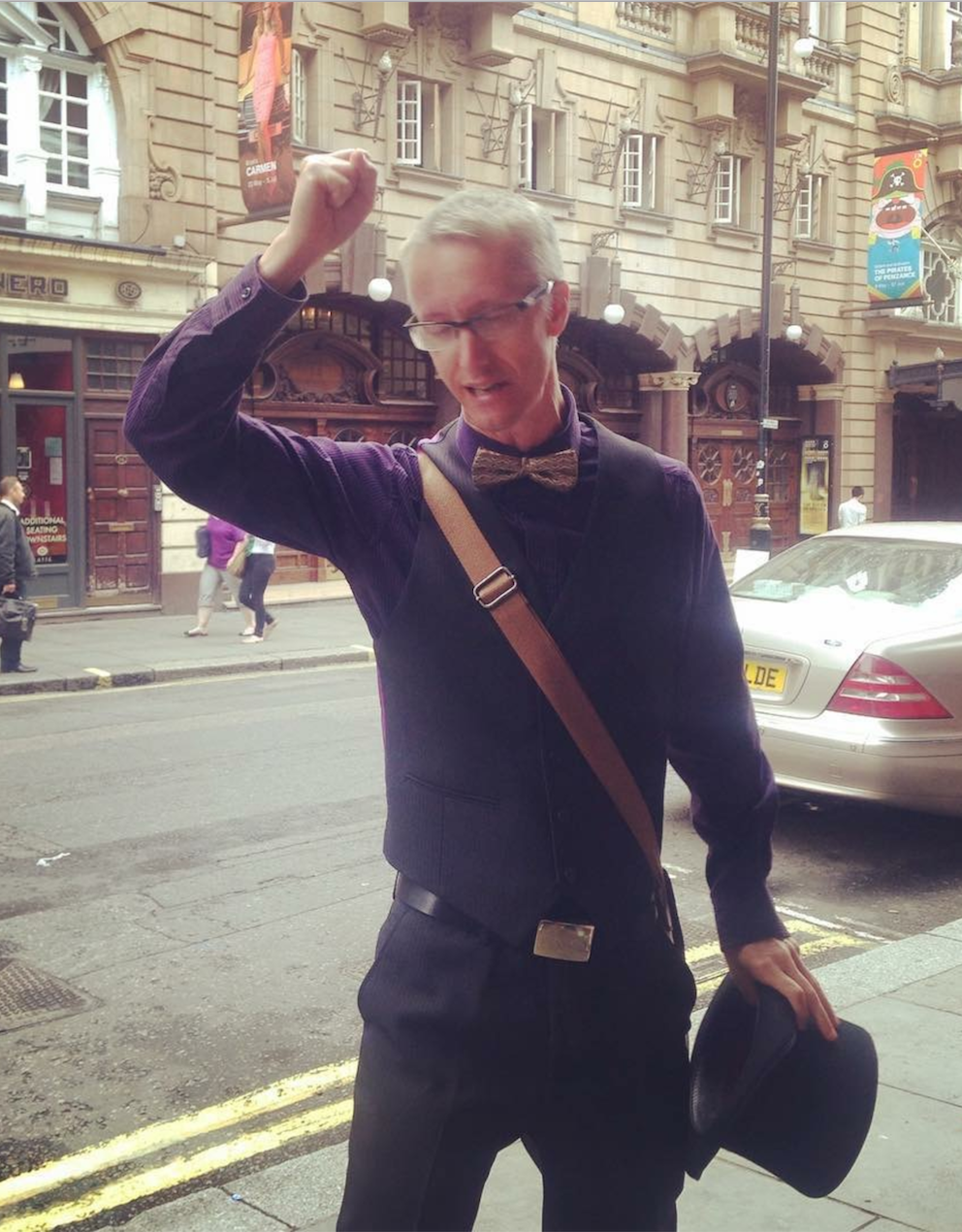 Unique, fun, entertaining, historical,singtastic.
And now for the Quickfire round:
What's your favourite musical?
I have two; 42ND STREET and JECKYLL & HYDE.
What musical have you seen the most times?
MISS SAIGON
What Broadway show would you love to see come over here?
DEAR EVAN HANSEN
What show do you wish was still on in the West End?
STARLIGHT EXPRESS.
And finally...who's your West End #StageFave??
Kerry Ellis, pure star quality. I've seen her in several shows and she never dissapoints.


You can find out more about Neil and the Musical Theatre Walking Tour at his website www.musicaltheatrewalkingtour.com. The tours run on Friday and Sunday and are the perfect outing for any musical theatre fan.
Make sure you tweet us a selfie @StageFaves when you go!