Kirsty Findlay's last London stage outing, Our Ladies of Perpetual Succour, led to the Olivier Awards stage at the Royal Albert Hall. The Scottish actor now stars in another genre-busting transfer, Stewart Melton and Finn Anderson's ISLANDER, coming this week to London's Southwark Playhouse after its sell-out Edinburgh run. We caught up with her.
Conceived and directed by Amy Draper, with a book by Stewart Melton and music and lyrics by Finn Anderson, ISLANDER runs at London's Southwark Playhouse from 2 to 26 October 2019, with a press night on 4 October.
Eilidh stares out to sea and dreams of a new life beyond her lonely island. Myth and reality collide when the tide washes a mysterious stranger onto her beach, changing her life forever. Epic storytelling intimately staged with a contemporary Scottish folk-inspired score.
ISLANDER explores themes of loss, identity, migration and home. It was created on the Isle of Mull and is inspired by the sights, sounds and smells of the wind-beaten and wave-struck Western Isle. Two actors - Kirsty Findlay and Bethany Tennick - play a host of characters while weaving, building and layering their voices using looping technology to create an expansive, ethereal soundscape.
---

Talking to... Kirsty Findlay
Scottish actor Kirsty Findlay plays Arran and other parts in Islander, reprising her performance from the musical's premiere at this year's Edinburgh Fringe. She was part of the company of another recent Scottish hit, National Theatre of Scotland's Our Ladies of Perpetual Succour, which transferred to the National Theatre and on to the West End, for which she - along with the rest of the all-female cast - was nominated for an Olivier for Best Actress in a Supporting Role and the show won Best New Comedy. Findlay's other stage credits include Unspotted Snow, Sleeping Beauty, Shattered, Beauty & the Beast and Dead Letter Office.
We loved Our Ladies of Perpetual Succour – how was it for you?
I loved doing Our Ladies - to be involved in a show that champions female friendships with such a talented team was an absolute joy. I'm incredibly proud to have been a part of it.
How did you celebrate the show's Olivier Awards success?
When the show won the award for Best New Comedy, we were all stunned! Being up on stage in the Royal Albert Hall with that cracking group of people, and then receiving an Olivier in front of so many people I admire was an experience I'll never forget. It's safe to say we were up until the wee hours partying like the girls in Our Ladies.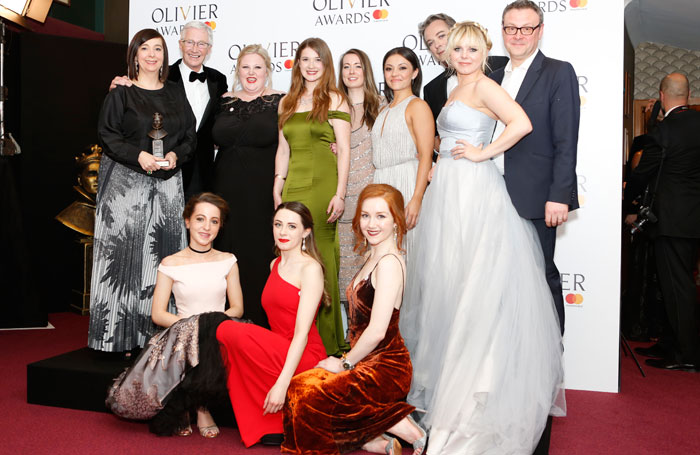 Our Ladies of Perpetual Succour won the 2017 Olivier for Best New Comedy


What did you think when you first read the script for Islander?
When I auditioned for Islander, there was no script! It began as a devising process so, initially, the only pieces of information I knew were: it was an a cappella musical that used looping technology, there was probably going to be some whales and there were two characters - a boy and a girl.
In the end, the creative team decided to change the part of Arran from a boy to a girl so I was definitely surprised when the offer came through for a part I hadn't even auditioned for. Right from the get-go, though, I knew Islander was going to be something special. I had never used any sort of looping technology before, but the idea of creating a whole show purely using voices fascinated me.
In a nutshell, what's it about?
At the heart of it, Islander is about our connection to what we call 'home'. The two main characters, Eilidh and Arran, are going through major turning points in their lives that have left them feeling unsure of where they want to be, geographically and in life. In the midst of all this, these two young women stumble across each other and, even though they come from totally different backgrounds, find a bond with each other they didn't even know they needed.
Amy Draper, our director, is such a dream to work with. Even though there are huge stakes in the show and some pretty fantastical stuff going on, she always makes sure Bethany and I stay rooted in the heart of the story. It's a really beautiful tale about human connection and what it means to feel at home with yourself.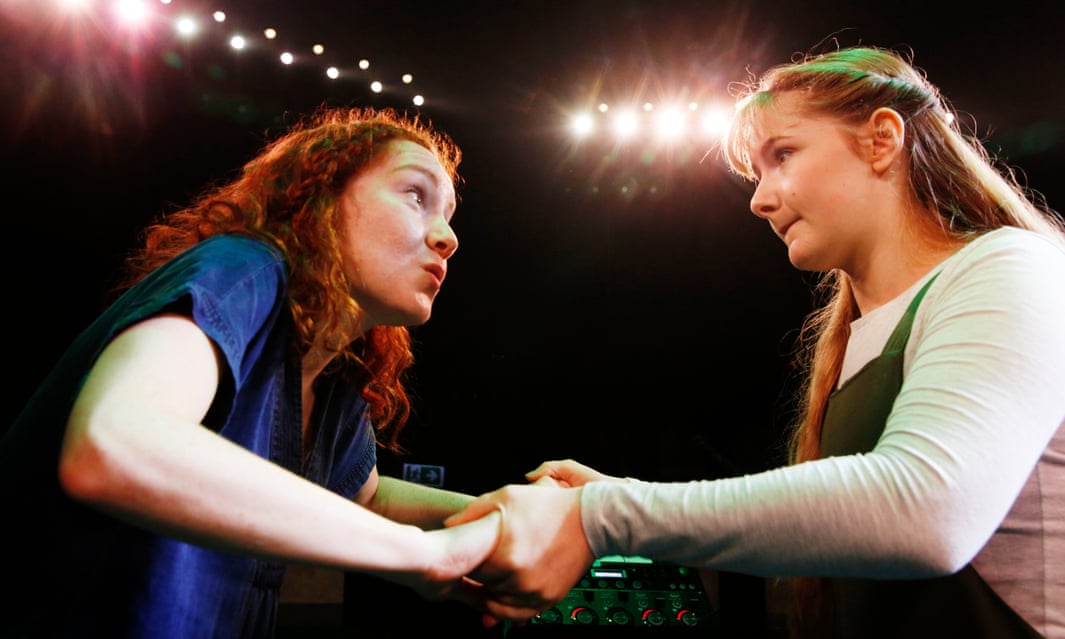 Kirsty Findlay & Bethany Tennick in Islander


Tell us about the character(s) you play.
Bethany Tennick and I are the only actors in the show so we get to play a big mix of eccentric characters as well as the two protagonists, which is great fun. One of the main characters I play is Arran. She comes from a moving island called Setasea that follows whales around the world. Even though Arran's background is quite otherworldy, Stewart Melton, our writer, has somehow managed to keep her problems relatable and rooted in reality. Another of my favourite characters to play is Eilidh's gran. She is hilarious and the total matriarch of her Island. It's a treat to play an older character who's so full of joy and fun.
How would you describe the music & how it's performed?
Finn Anderson, our composer, has created the most beautiful, lyrical, folky score. He's an incredibly talented composer. It's so satisfying to be able to sing such stunning music that you can really get your teeth into as an actor as well. Plus, as it was a devising process, the music was written specifically with our voices in mind. You can't really get any better than that!
As there are no musical instruments in the show, Bethany and I only use two microphones and two loop pedals to record and layer our voices live in front of the audience. It's like nothing I've ever done or seen before. It was scary to do at first as there are so many things that can go wrong, but really, that's all part of the magic of it.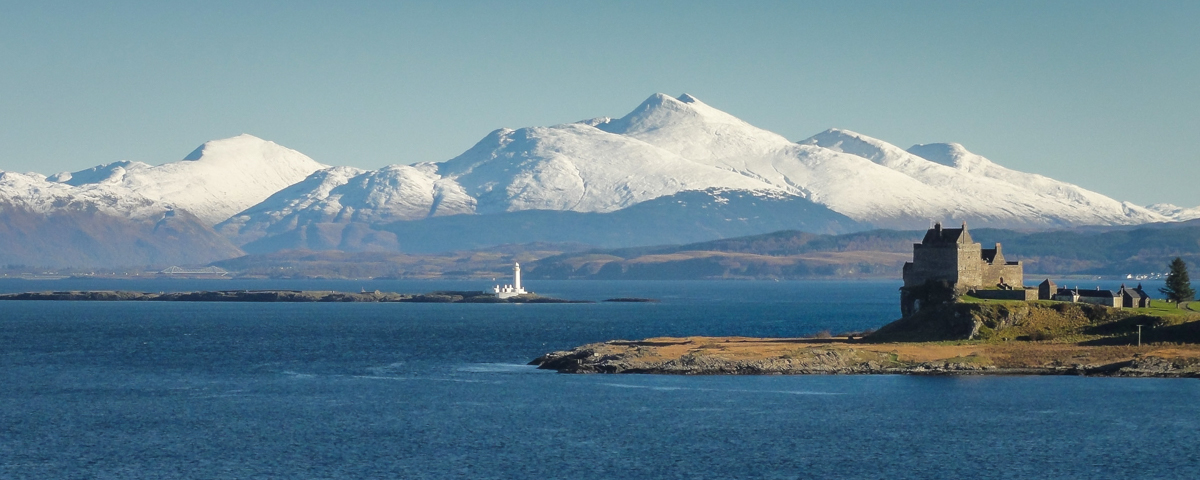 The Isle of Mull


Have you been to the Isle of Mull?
I went to Mull for the first time when we began working on this show last year. It's a beautiful place and totally different from living in a city. Everything has a much slower pace. Tobermory, the town we were staying in, is right on the waterfront so it was the perfect environment for us to play with capturing the feeling and sounds of the sea.
You had a huge hit with Islander at the Edinburgh Fringe. What was your personal festival highlight?
At the Fringe, there are so many creative people around every corner that I always end up discovering a new play or artist that I never would have found otherwise. A highlight for me this year was going to a gig by Rachel Sermanni. Her music was so beautiful. It was the perfect antidote to the madness of the Fringe to just chill out with some friends and listen to great music.
What have you been looking forward to most about performing the show in London?
There's no denying the standard of theatre down here is incredible. There's just so much of it and I'm glad to get to be a part of it. I also love discovering how the reactions of audiences differ wherever you go. There could be points in the show that will evoke one response from an audience at the Fringe and a completely different one from a London audience. That always keeps me on my toes when I go with shows to different cities and I love it!
Anything else you'd like to add?
This show is pure storytelling and imagination. There is so much heart weaved throughout the entire show that you can't help but be swept along with the character's stories. There's great music, mystical mermaid fairy people, and oh did I mention there are whales? What's not to love?!
---
Enter to win by Friday 4 October