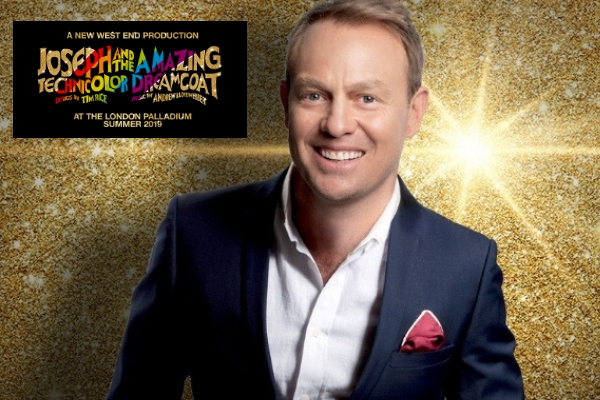 Is there a pattern emerging? First Michael Ball returns to Les Misérables to play Javert, now Jason Donovan will return to the London Palladium in the new production of Joseph & the Amazing Technicolor Dreamcoat to star as the Pharaoh, 28 years after he triumphed in the title role at the same theatre. No loincloth this time though!
Joseph & the Amazing Technicolor Dreamcoat plays a strictly limited 11-week season from 27 June to 8 September 2019 (press night is 11 July). Jason Donovan joins Sheridan Smith, with the double Olivier Award-winning actress recently announced as The Narrator. Casting for the role of Joseph is to be announced soon.
Donovan made his defining stage performance as the title character of Joseph in the 1990s, also at the London Palladium, in a sold-out 18-month run which produced a No.1 single and best-selling soundtrack album. It remains one of the most successful revivals of all time. He now returns to the show as Pharaoh, who rocks 'Song of the King' in the iconic musical by Andrew Lloyd Webber and Tim Rice, soon to be re-imagined in this brand new production.
Jason Donovan commented:
"You never know the measure of a moment until it becomes a memory, and what a moment that was for me. Joseph was a ground breaker in 1991, and what a blast it will be to be back on the prestigious Palladium stage and be part of it all again with a brand new cast in this re-imagined 2019 production. I'm looking forward to breathing new life into Pharaoh and I'm so relieved he doesn't wear a loin cloth!"
Joseph & the Amazing Technicolor Dreamcoat will be directed by Laurence Connor (School of Rock, Miss Saigon). Connor will be joined on the creative team by choreographer JoAnn M Hunter, Morgan Large who will design the set and costumes, lighting designer Ben Cracknell and sound designer Gareth Owen.
The legendary @JDonOfficial is back… as PHARAOH! 🙌

Go, Go, Go and get your tickets to see Jason Donovan's return to the iconic musical @LondonPalladium this summer: https://t.co/N2XteoyjKo pic.twitter.com/ANB7hVY5OL

— Joseph the Musical (@JosephMusical) March 14, 2019