Tense new courtroom musical drama THE JURY gets its London premiere next month in a limited season at Highgate's Upstairs at the Gatehouse. It runs from 4 to 16 February 2020, with a press night, including post-show Q&A chaired by Faves founder Terri Paddock, on Thursday 6 February. Time to get booking!
"Ready or not what is your verdict?
What is our verdict?
What is the verdict?"
Jason Schofield has been charged with the murder of his wife. He's claiming self-defence. After an eternity of waiting, the case has finally come to trial and it's up to twelve strangers to decide his fate. What really happened on that night? Was it cold-blooded murder? Was Emily Schofield really the victim here?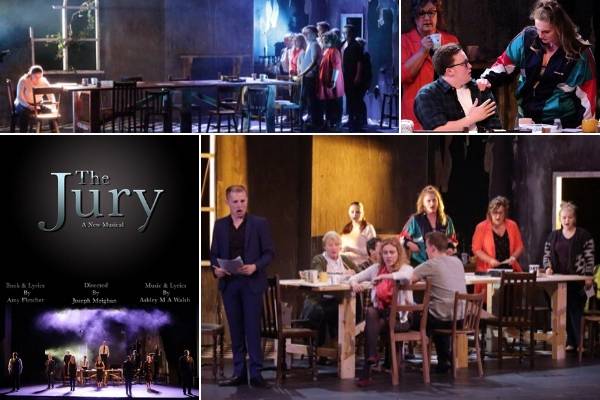 View more photos of The Jury on the show's StageFaves page

A 'fly on the wall' production sees 12 strangers collide in a case that will change them forever. The evidence is tainted, the verdict is divided, and the rules are abandoned.

The Jury has music and lyrics by Ashley M A Walsh, book by Amy Fletcher and additional lyrics by Fletcher and T. Michael Vest. The premiere production is directed by Joseph Meighan.
The 12-strong cast are Laura Meaton, Katherine Green, Ashley Ball, Bethany Grace, David Gibbons, Kaidyn Hinds, Tom Blackmore, Huon Mackley, Elizabeth Brooks, Laura Coard, Janice Fryett and Charlie Culkin.
The Jury comes to London after a premiere season at the Brindley Theatre in Runcorn in 2018. It's produced by Anton Benson Productions, J R Theatre and Ashley M A Walsh.
---
Listen