Newcomer Sarah Louise Hughes takes the title role of Little Voice in a brand-new production of Jim Cartwright's 1992 modern classic THE RISE & FALL OF LITTLE VOICE. In this exclusive first interview, Sarah tells us more about her audition experience for such a big role, her time at Italia Conti and her advice for other performers... plus, are you ready for the documentary? Watch a sneak-peek here...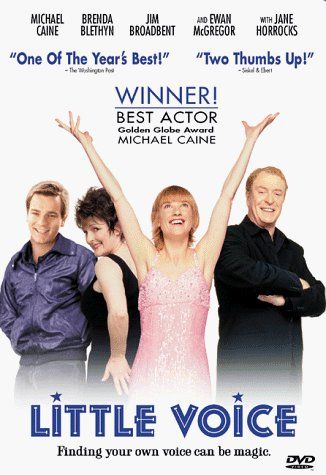 Twenty-one-year-old Sarah Louise Hughes was born and raised in Carlisle in Cumbria, north-west girl. Having just graduated from Italia Conti Academy's three-year musical theatre BA course, she now makes her professional debut taking the title role in Jim Cartwright's renowned Northern fairy tale about a young girl with an uncanny talent.
In The Rise and Fall of Little Voice, Little Voice (LV) is a reclusive girl who's hiding a very big voice with an ability to impersonate the greatest female singers of the 20th century. She's pushed around by her foul-mouthed, hard-drinking mother Mari and coaxed into the limelight onstage by her mother's latest talent agent boyfriend RaySay. But timid LV will need to conquer more than just stage-fright if she is to find her own voice in the world.
The role of LV was originated on stage and screen by Jane Horrocks. This brand-new stage production is directed by Michael Strassen and also stars Gillian McCafferty as Mari.
---

Sarah Louise Hughes with Gillian McCafferty, who plays her mother Mari
Talking to ... Sarah Louise Hughes
What was it like to audition for The Rise and Fall of Little Voice?
I was really nervous; it was my first professional audition. I've always enjoyed Jim Cartwright's work and used LV's final monologue for my auditions for drama school. I'd already read the play when I was 18, but I re-read it a couple of times again just so I was completely familiar with all the dialogue. For the first round, we had to bring a monologue of our own choice and perform a selection of impressions. For the second, we performed some of the scenes from the show and even more impressions. I was happy I was able to show everything I wanted to so I really enjoyed the experience.
How did you feel when you heard you'd got the role?
When I got a recall for my first audition I was already shocked ... but when I got the call to say I had the part I couldn't actually believe it. Once I did - I cried. Then went for a celebratory drink!
What are you most looking forward to about starring in The Rise & Fall of Little Voice?
I can't wait to work with [director] Michael Strassen. He came into Conti and held a short workshop with our year and I absolutely loved it. I know I'm going to learn so much from him. I'm also so excited to work in a brand new theatre like the Barn. I haven't visited it yet, however, I have heard some really great things! It'll be nice to get out of London for a bit, too. I love the city, but it's sometimes extremely busy so I'm looking forward to going somewhere a bit calmer.
Who are your favourites of the divas that LV impersonates? Do you have any tips for actors in getting a voice right?
I really enjoy listening and impersonating all of the divas, and listening to them on repeat is certainly not a chore! My favourites are probably Judy Garland and Marilyn Monroe - I've always been known for a good Cher impression too! I think taking it to the next level is to practise the sounds over and over again. Pulling each line apart word for word and practising until you sing them the exact same. I think you can hear when your voice matches the singers perfectly and when you do it's the most satisfying feeling.
What did you gain from studying at Italia Conti?
I have honestly loved my three years at Conti and wouldn't change any of it. My highlight was performing in a Shakespeare production, which isn't always a something you get to do on a musical theatre course. It was a production of The Tempest and I played Caliban. We toured it around schools. It was an amazing experience to watch all the children have such a good time.
What inspired you to become a performer?
Not trying to sound clichéd, but I've wanted to be a performer from before I can remember. My mum always said that I've been set on it ever since I knew what an actress was. Strangely enough, I'm the only performer in my family. My mum is a teacher and thinks she can sing … but it's not that great!
With your professional debut, you're taking on quite an iconic role. What other iconic roles would you like to play in your career?
If I had to pick one, it would be Ophelia in Hamlet. I've always loved that play and that role in particular. However, I try not to think too hard about the future as I want to be grateful for the amazing opportunities that I'm being given right now. I think anyone who has the opportunity to come to The Rise and Fall of Little Voice should book tickets; it's going to be a really wonderful show.
---
About those auditions...
How did director Michael Strassen discover Sarah Louise Hughes at Italia Conti? Sneak a peek as Sarah starts her new journey, via some astounding audition tapes of her singing as Judy Garland and Cilla Black.