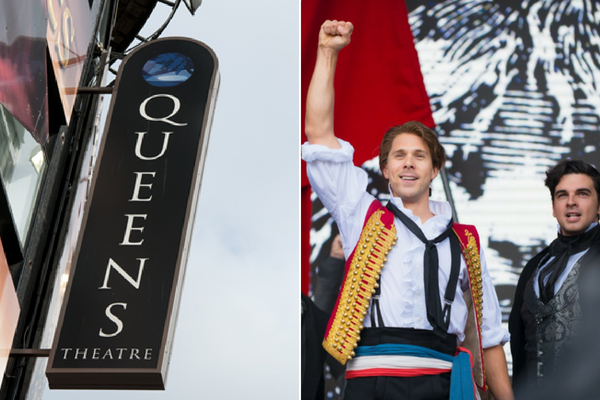 First it was the Victoria Palace Theatre in readiness for the opening of Hamilton, now Delfont Mackintosh Theatres is turning its attention to its other venues in need of a little TLC, and that includes the West End home of Les Miserables.
Delfont Mackintosh Theatres is implementing a recommended programme of restorative works which will include strengthening and extending the life of the ceilings of its other theatres and completing the restoration of its auditoriums. All but two of the London theatres are now in their second century of continuous operation. Extensive surveys have shown that work is now required to ensure these unique historic buildings will last another 100 years.
This will mean that four of DMT's five playhouses, all designed by the great Edwardian architect William Sprague, will each need to close for a period of two to four months to complete the necessary works within the next three years.
These theatre closures will take place between scheduled productions apart from the Queen's, where Les Misérables, the world's longest-running musical continues to play to 95% capacity in its 33rd year.
This theatre also requires a major renovation backstage. As the run of Les Misérables looks set to continue for many years to come, the closure will also allow an opportunity to restore Sprague's original boxes and loges as well as improving other facilities.
Plans are being finalised to ensure that this legendary musical success will continue its run in the West End during the Queen's Theatre closure and an announcement with these arrangements will be made in the autumn.
The first theatre to undergo these improvements will be the Wyndham's commencing early in August 2018. It will be followed by the Noel Coward and the Gielgud in 2019 and the Queen's in 2019/20.
Cameron Mackintosh said:
"There are major financial consequences, not just the considerable cost of the capital works, but the knock on costs of closing these theatres for several months will run into many millions of pounds. However, I love these buildings and luckily my success as a producer has given me the resources to preserve their life for another 100 years – so that the show can go on and on and on!"