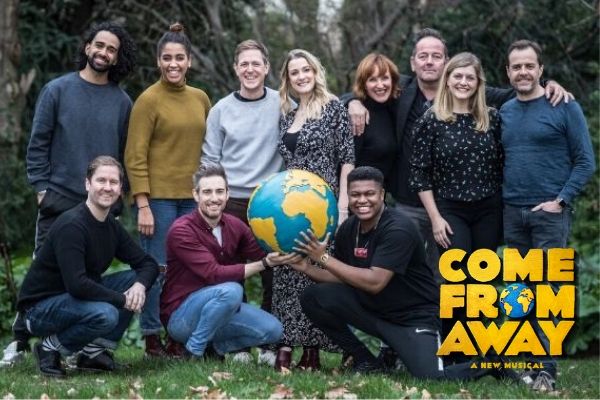 Did you hear that Gander is going to be welcoming (via London's Phoenix Theatre) a bunch of new members of the Come From Away community from 10 February 2020 as the award-winning musical begins its second year in the West End? Surely a return visit is in order.
The new cast of Come From Away in the West End will include Tarinn Callender (Bob and others), James Doherty (Claude and others), Alice Fearn (Beverley/Annette and others), Kate Graham (Diane and others) and Alasdair Harvey (Nick/Doug and others), with Ricardo Castro, Stuart Hickey, Sorelle Marsh, Micha Richardson and Matthew Whennell-Clark.
They join Jenna Boyd (Beulah and others), Mary Doherty (Bonnie and others), Mark Dugdale (taking over the roles of Kevin T/Garth and others), Jonathan Andrew Hume (Kevin J/Ali and others), Harry Morrison (Oz and others), Emma Salvo (Janice and others), Cat Simmons (Hannah and others) and Chiara Baronti, Alexander McMorran and Jennifer Tierney.
Under the musical direction of Alan Berry (keyboard/accordion/harmonium), the band includes Matt Bashford (whistles/irish flute/uilleann pipes), Aoife Ní Bhriain (fiddle), Oli Briant (electric, acoustic and nylon guitars), Ray Fean (bodhrán/percussion), Joey Grant (electric bass/acoustic bass), Justin Quinn (acoustic guitar/mandolins/bazouki) and Ian Whitehead (drums/percussion).
Come From Away features a book, music and lyrics by Irene Sankoff and David Hein and is directed by Christopher Ashley, with musical staging by Kelly Devine.
Hugging our new crew 'cause they're HOME! 🤝🤗

Join us Monday 10th Feb, when our new come from aways will be welcoming YOU to the Rock for the very first time! 👇🏻🌍https://t.co/AHQ5WYp3uP pic.twitter.com/HmiAnVLZ6u

— Come From Away UK (@ComeFromAwayUK) January 11, 2020