You probably know Tony Hawks for his hilarious books and radio appearances, but did you know he was a finalist for a musical theatre prize on three occasions? You do now. He told us about fulfilling a long-time ambition by bringing Midlife Cowboy to the stage - read the interview then book your tickets!
The new show from actor, comedian and best-selling author Hawks runs at The Pleasance Theatre from 13 September to 6 October 2019, with a press night on 19 September.
Midlife Cowboy follows the fortunes of the members of the Swindon Country and Western Club as they bid to end many years of hurt by finally winning first prize at the prestigious Railway Museum Gala Evening. Along the way, they discover the true nature of heroism. But this is not just about country music. A marriage is in crisis, friendships are at risk, there is more than a sniff of infidelity in the air, and lives are changed when two new members to the club arrive and turn everything upside down.
It is a tale of heartache, love and friendship, laced with new country, blues, romantic and comedy songs.
Hawks leads the cast as Stuart, a man struggling with a midlife crisis, with Debra Stephenson as his country music-loving, puppet-making wife Jane. Duncan Wisbey, Georgina Field and James Thackeray complete the cast.
Tony Hawks on Midlife Cowboy
Hi Tony, what can you tell us about Midlife Cowboy?
Midlife Cowboy is a new comedy musical about a couple, Jane and Stuart, who run a cowboy club in the garage on the side of their house in Swindon. Their marriage is in crisis, something happens that makes it feel threatened and the whole show is about how they bring it all back together.
With the help of their friends Graham, Penny and Dan they learn how to communicate and reconnect and retrieve their life and marriage and then attempt to end many years of hurt by finally winning first prize at the prestigious Railway Museum Gala Evening - and along the way discover the true nature of heroism.
There is a lot of fun and music along the way and, even though I say so myself, lots of great songs !
How did the show come about?
It had a somewhat unusual birth as I originally wrote it because a friend of mine was putting on a one act show in a theatre many years ago which was set in a cowboy bar room set and needed something for the second half. He asked me to write something that could work in that environment. It was called The Heartbreak Kid, had just a few songs and starred me and Ben Miller, but that gave me the idea for Midlife Cowboy although it took a couple of decades for me to have the time to sit down and turn the initial thought into a full length musical.
You are perhaps best known for your best selling books and Radio 4 comedy work so had you always wanted to write a musical as well?
Yes, very much so, and long before I became a comedian or wrote the books. I wanted to be a songwriter while I was still at school and I was a finalist three years in a row for the Vivian Ellis Prize for young composers for the musical stage, so in a way I've always wanted to do this and have been preparing for many years.
Who is with you in the cast?
We've got a multi-talented cast of actor musicians, so they will be like a band at times during the show as we'll play all the instruments between us.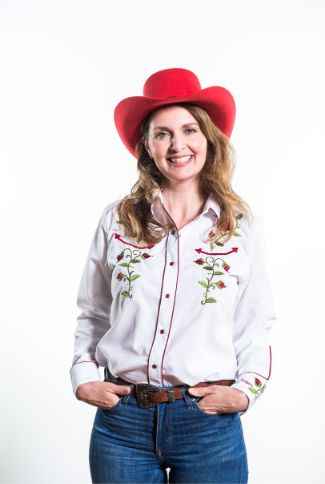 We are delighted to have the wonderful Debra Stephenson in the lead role of Jane. She is obviously very well known for her roles in shows such as Coronation Street and Bad Girls as well as her amazing skills as an impressionist on Dead Ringers and The Imitation Game but she is also an incredibly talented singer and I think that her songs and performance will make a big impact on audiences.
We've also got Duncan Wisbey in the role of Graham. He is probably best known for his impressions on Dead Ringers and Alistair McGowan's Big Impression and his numerous voice-over work on programmes such as Four in a Bed, but he's a phenomenal musician and a very funny man.
Dan is played by James Thackeray, a young actor who is also a brilliant singer and guitarist, and then Georgina Field, who plays all sorts of instruments and is a very funny and talented actor and singer, plays the role of Penny.
Why is it set in Swindon?
The songs are all my own compositions but are drawn from across more than 20 years of writing, so I've gone back through my own catalogue to pluck, rewrite and rework them as well as composing several new songs as the script and characters evolved in this new full length version.
One of the songs I wrote many years ago was called Swindon Bound. It was my response to the many tracks that American artists write about their own cities such as New York, Philadelphia or Chicago. I thought it was about time we hit back. As Swindon Bound is a funny and affectionate tribute to the town, I wanted to include it in the show, so it then made sense to place the whole musical there as well.
What can the audiences expect?
We hope the audiences will have a great night out as we've showcased it in various formats during the development and it has always gone down well and got lots of laughs. People seem to enjoy the songs, it's a fun evening and I also hope they'll be touched at times as well.
We did a one-off charity version of the show with a read and sing through at the Lyric Theatre in the West End with a star studded cast that included Ben Miller, Jack Dee, Alistair McGowan and Doon Mackichan. It was introduced by Graham Norton on film and Sir Tim Rice in person. We were delighted that it got a standing ovation and was a big success and the audience seemed to love it, which gives us a confidence that the show works as it has been tried and tested in front of almost 1000 people.