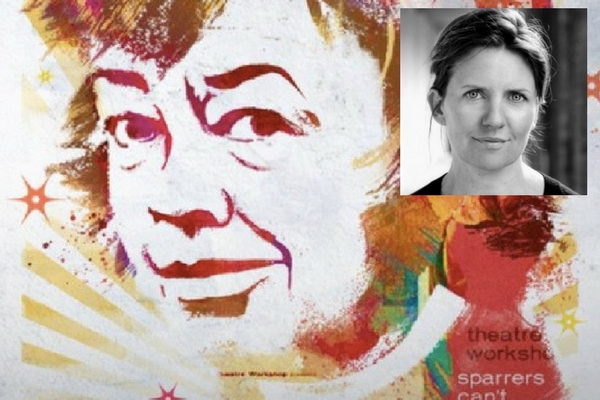 Clare Burt will portray Joan Littlewood in a brand new musical by Sam Kenyon, opening at the Swan Theatre, Stratford-upon-Avon on 22 June 2018.
Oh, What A Lovely War!, A Taste of Honey and The Hostage were just a few of the successes created by Littlewood's groundbreaking Theatre Workshop and she was also responsible for breathing new life into the then-derelict Theatre Royal Stratford East.
Born into poverty, Littlewood raged her way to have a lasting influence on British culture. Anti-establishment, communist, visionary, rude and glorious, she fired the imagination of a generation.
Burt is joined by Aretha Ayeh, Sandy Foster, Amanda Hadingue, Dawn Hope, Emily Johnstone and Sophia Nomvete who will also play the part of Littlewood at different stages of her life.
The cast includes: Daisy Badger (Rosalie), Greg Barnett (Jimmie Miller/Cedric Price), Laura Elsworthy (Shelagh Delaney), Solomon Israel (Gerry Raffles), Natasha Lewis and Tam Williams (Murray Melvin).
Sam Kenyon has written the book, music and lyrics for Miss Littlewood which is directed by RSC deputy artistic director Erica Whyman.
Kenyon says Littlewood's life story will be told with her own uncompromising candour and reveals a mighty love story at its heart:
"I'd always wondered about the imaginative moment when Fanny Brice became Funny Girl; when Gypsy Rose Lee became Gypsy; when Eva Perón became Evita. When I read Joan Littlewood's autobiography, Joan's Book, and she wrote that she'd quit RADA aged 19 and walked – walked! – to Manchester, I knew immediately that I was on to something. And then I found the most searing love letters buried in the centre of the book. I've written this in homage to the Stockwell-born 'illegitimate' daughter of a teenage mother, who has inspired theatre makers worldwide and yet is barely known by her name."
Bios
Clare Burt's recent theatre credits include: The Divide (Old Vic at Edinburgh International Festival), Big Fish (The Other Palace), Flowers for Mrs Harris (Sheffield Crucible, Chichester Festival Theatre autumn 2018), London Road, The Miracle/DNA/Babygirl and Coram Boy (National Theatre), and Sunspots (Hampstead Theatre).
Sam Kenyon composed music for the RSC's Vice Versa (2017), A Midsummer Night's Dream: A Play for the Nation (2016), and The Christmas Truce (2014). He wrote music and lyrics for The Borrowers, which won the UK theatre award for Best Show for Children and Young People in 2013, and in 2010, with Erica Whyman, he co-directed Joan Littlewood's Oh! What a Lovely War for Northern Stage/national tour. He studied at Cambridge University and the Royal Academy of Music, and has performed in numerous stage productions including John Doyle's productions of Sweeney Todd (2004), Amadeus (2006) and Merrily We Roll Along (2008).