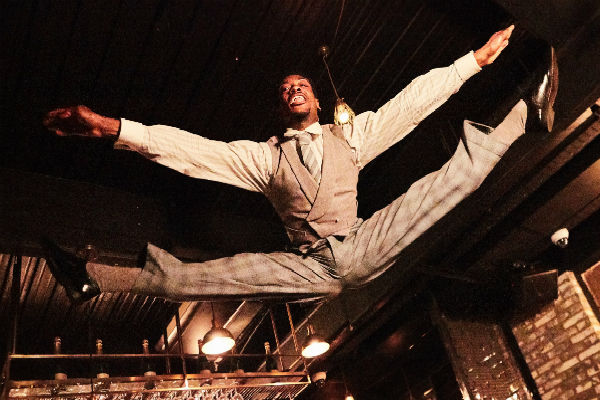 There may be Five Guys Named Moe but there's more than five #StageFaves in the newly-announced cast for the new production of Clarke Peters' Olivier Award-winning and Tony-Award nominated musical. A trailer has also been released for the production will open on 14 September 2017, giving us a sneak peek of the new temporary theatre in Marble Arch, London where the show will run.
Edward Baruwa will play Nomax and the 'Moes' will be played by: Ian Carlyle (FourEyed Moe), Dex Lee (Know Moe), Idriss Kargbo (Little Moe), Timothy Martin (Big Moe) and Emile Ruddock (Eat Moe).
Underbelly Productions have also released the first look at how the inside of the new Marble Arch Theatre will look. Specifically designed for the production will be reminiscent of 1940s New Orleans Jazz clubs, occupying the whole space. There will be cabaret table seating in the centre of the space with a drinks table service.
In addition to the theatre, there will be a connecting foyer designed in the style of a New Orleans courtyard with hanging atmospheric foliage, festoon lighting, a beautiful bespoke bar, a performance area for a jazz trio and concession stands selling popcorn, sweets, snacks and merchandise as well as a cloakroom area.
Check out this trailer below
Five Guys Named Moe was first seen at the Theatre Royal Stratford East in 1990, it transferred to the West End and played for four years, subsequently playing on Broadway from 1992. Clarke Peters' career defining musical features the irresistible hits of trailblazing 'King of the Jukebox' Louis Jordan, including Early In The Morning, Is You Is or Is You Ain't My Baby, Choo Choo Ch'Boogie and Saturday Night Fish Fry. The soundtrack of soul, blues, gospel and early r 'n' b is performed on stage by a live band.
The production, which is to be directed by Peters himself, is currently booking from 29 August to 25 November 2017, with an Opening Night on 14 September.
Five Guys Named Moe will be directed by Clarke Peters (The Wire, Treme, Person of Interest, Porgy and Bess, The Ice Man Cometh) with musical staging and choreography by Andrew Wright (Half a Sixpence, Singin' in the Rain, Guys and Dolls), inspired by Charles Augins' original choreography, set and costume design by takis (Side Show, In The Heights, Hairspray, The Good Person of Sichuan), lighting design by Philip Gladwell (The James Plays, Cymbeline, Trainspotting, After Miss Julie, Hairspray), sound design by Ben Harrison (Cabaret, Dreamboats and Petticoats, Dancing in the Streets, The King & I, Starlight Express, Blood Brothers, Soul Sister) and musical supervision from Steve Hill (Fame, RENT, The House That Nat Built, Bent, Hair).
Cameron Mackintosh said:
"I am really thrilled that Underbelly are producing a brand new production of Five Guys Named Moe in London later this year. It's a show that brought fun and joy to audiences in the West End for many years so it's great to see its return for its 25th Anniversary. I am particularly excited that this new production is being staged in a Spiegeltent theatre specifically tailored for Five Guys so that Underbelly's unique style will give audiences and the show a special intimate experience which will definitely make it the best party in town – a party which I'm delighted to support Underbelly in throwing."
Clarke Peters said:
"It's a rare and wonderful thing to have the chance to direct a show that not only you have created but also performed in. It's a show that is very close to my heart and soul and is so much of who I am. It's an honour to return to it on its 25th Anniversary and reimagine the show in this new theatre space; one which is perfect for creating a closeness and dynamic energy between the story and the audience. Further to this it's a treat to be working with a fantastic creative team and I can't wait to transport audiences into the magical world of rhythm and blues. This rhythm will lift one and all from their blues!"
Robert Davis, Westminster City Council Deputy Leader and Cabinet Member for Business, Culture and Heritage said:
"Westminster City Council is delighted to be working with Underbelly Productions to bring Five Guys Named Moe to Marble Arch in its very own, bespoke theatre. Bringing this internationally acclaimed musical to this worldrenowned, iconic space is a truly mouth-watering prospect that will further increase the cultural offer available to residents, businesses and visitors throughout the City of Westminster. To quote the show itself; 'Let The Good Times Roll!'"
The ensemble cast includes: Omari Douglas, Nathaniel Morrison and Mykal Rand