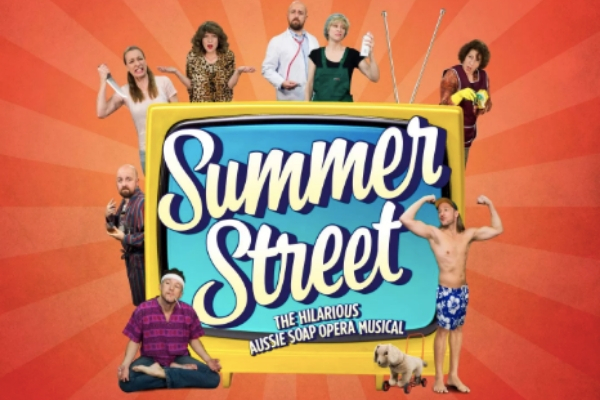 Bringing sun, songs and 90s nostalgia, Summer Street – The Hilarious Aussie Soap Opera Musical! is heading to the Brighton Fringe before transferring to Waterloo East Theatre this May. As four Aussie soap stars try to resurrect their careers, there are hilarious and unexpected consequences – and, of course, plenty of songs to tap your foot to.
With the 30th anniversaries of Neighbours and Home and Away last year, Summer Street provides the perfect opportunity to recapture the glory days of Kylie and Jason and relive the joy of tuning in every week to watch the captivating tales from Down Under. Writer and director Andrew Norris looks back to the 90s Aussie soap opera scene and brings it to life with this original musical comedy. The show runs at The Blockhouse, Brighton from 3-7 May 2019, and at London's Waterloo East Theatre from 13 May-2 June 2019.
The cast features Julie Clare (Showstopper! – The Improvised Musical; In the Midnight Hour; Good Rocking Tonight), Simon Snashall (The IT Crowd, Channel 4; Spooks, Humans, Silent Witness, BBC), Sarah-Louise Young (Showstopper! – The Improvised Musical; An Evening Without Kate Bush; La Poule Plombee; Julie Madly Deeply), and Myke Cotton (My Fair Lady, Drury Lane; Hey, Mr. Producer, Lyceum Theatre; Paddington 2, StudioCanal and Heyday Films; Safe, BBC).
Andrew Norris said:
"Summer Street – The Hilarious Aussie Soap Opera Musical! is a nostalgic trip down memory lane to the heyday of the Aussie soap opera, which is packed full of fun and accompanied by a soundtrack of pastiche songs from the 1990s. Summer Street explores the world of soap, the stars who inhabit it and exactly how much some people are prepared to pay for fame. Everyone has their price!"