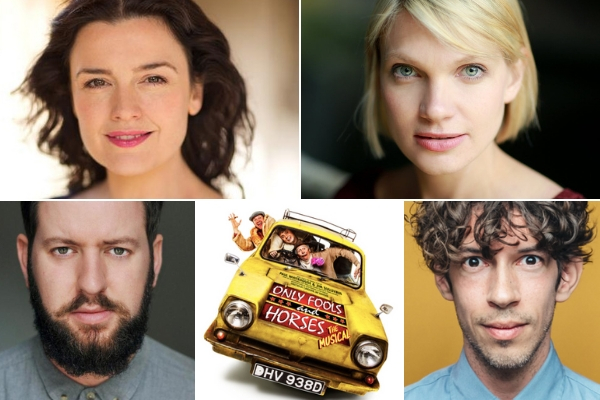 No plonkers here! Just more details about the cast line-up for the musical version of Only Fools & Horses The Musical, opening at the Theatre Royal Haymarket on 9 February 2019. Dianne Pilkington plays Raquel, Pippa Duffy is Cassandra, Jeff Nicholson plays Boycie and Peter Baker plays Trigger. Cushti...
The hugely lovable characters from the TV show will be brought to life on stage by a talented cast of actors with a wealth of West End credits. Marlene will be played by Samantha Seager, Trigger will be played by Peter Baker and Denzil will be played by Adrian Irvine. The Driscoll Brothers will be played by Pete Gallagher and Adam Venus, Mickey Pearce will be played by Chris Kiely and Mike the Barman will be played by Andy Mace.
Completing the cast are Oscar Conlon-Morrey, Melanie Marshall, Chris Bennett, Lee Van Geleen, Lisa Bridge, Andrew Bryant, Samantha Lane and Bradley John.
They will join Paul Whitehouse (Grandad), Tom Bennett (Del Boy) and Ryan Hutton (Rodney) in this brand-new, home-grown West End musical spectacular, based on John Sullivan's iconic and record-breaking television series. With a script and original score by John's son, Jim Sullivan and Whitehouse, the classic comedy will be brought to life once again through 20 ingenious and hilarious songs.
Featuring musical contributions from Chas n Dave, Only Fools and Horses The Musical is directed by Caroline Jay Ranger.