It's that time of year again! Less than a week to go until the third annual WEST END BAKE OFF. The judges have been announced: hoin Babs, Arlene and Janie Dee - as well as #StageFaves' own Perry O'Bree - this Saturday 20 May 2017 as they judge this year's competition. (Will The Girls of the Women's Institute have too unfair an advantage?!) We'd better not spot any soggy bottoms...
West End Bake Off, in aid of theatrical charity Acting for Others, has announced that Dame Barbara Windsor will return to the judging panel for a third year alongside first-time Bake Off judges Arlene Phillips and Janie Dee. The third annual West End Bake Off will take place at The Actor's Church St Pauls on Saturday 20 May.
This year's participants from hit West End musicals include SCHOOL OF ROCK, THE GIRLS, ALADDIN, THE PHANTOM OF THE OPERA, MAMMA MIA!, THE BOOK OF MORMON, LES MISERABLES, KINKY BOOTS and HALF A SIXPENCE as well as Mischief comedies The Play That Goes Wrong and The Comedy About a Bank Robbery.
Last year, 20 West End shows baked for Acting for Others and more than £6000 was raised.
The event is free for members of the public to attend, with a suggested entry donation of £1. Judging will begin at 10.30am, and the winners announced at 11am, when Bake Off will be declared open for the public to buy cakes, show memorabilia and mingle with cast and crew from the shows.
West End Bake Off is being held in aid of Acting for Others, an umbrella organisation that represents 15 UK theatrical charities and uses the funds it raises to offer emotional and financial support to members of the entertainment industry who have fallen on hard times through illness, injury or circumstance.
For those unable to attend the event, Acting for Others can can still be supported by donating at its Just Giving page: www.justgiving.com/ctcafo.
#StageFaves will be there
We're sending our fave vlogger Perry O'Bree along to West End Bake Off so look out for his live-tweeting and vlogging to get all the latest from Theatreland's most delicious event of the year. In 2016, the cast of Titanic caused waves with their titanic construction... but they were sunk by the green-thumbed contribution from The Secret Garden. Which show's team will win this year?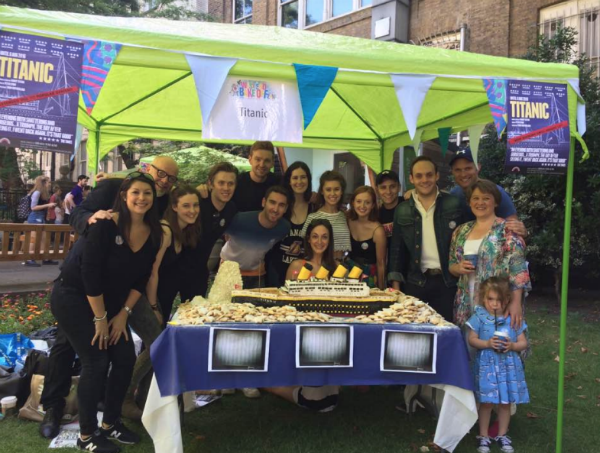 Buy Tickets to The Book of Mormon
Price:
from £0.00 to £28.00