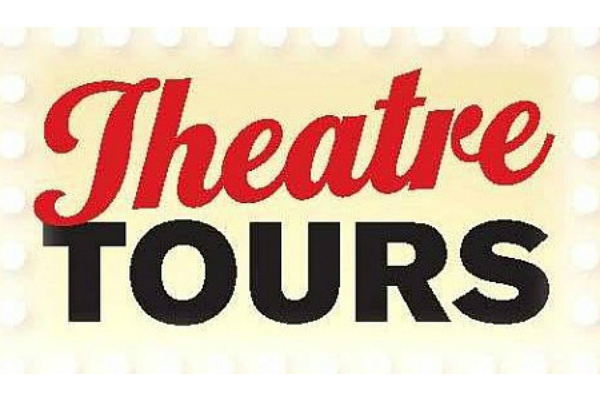 After her thoughts comparing The West End with Broadway, Musical Theatre Appreciation Society's Katie Rose turns her attention closer to home - West End shows vs their touring counterparts...
Recently I read a review posted on Musical Theatre Appreciation Society about the current tour of Joseph And The Amazing Technicolor Dreamcoat. It had sparked some debate with a mixture of views and this got me thinking - what better way to follow my Broadway Vs The West End blog, than with a Touring Vs West End production?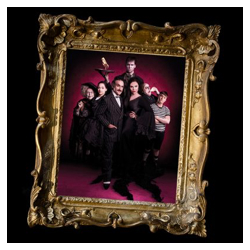 Those who are not within a short commute to London can all benefit from touring productions of musicals. Mainly, these are shows that have been on The West End, or shows that are brand new and preparing to break in to London - productions such as Big, The Wedding Singer and The Addams Family are currently travelling the UK for the first time.
These are shows that we cannot put our finger on but in which we witness something different and new to the theatre scene. They also have no basis for comparison, unlike the tours thathave come from musicals previously performed on The West End.
For me, it's great to have three amazing theatres nearby that hold so many touring productions. They enable me to see shows again, but also to catch those I sadly missed the first time around. When it comes to new viewings of touring shows, I like to attend with an open mind - I come away happy that I have finally seen the production, but I do have nevertheless my criticisms.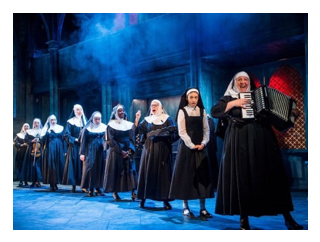 Take the current tour of Sister Act, directed by Craig Revel Horwood (from Strictly Come Dancing fame). He decided to tell the story differently to the West End, by having the actors and actresses both perform and play the instruments throughout the show. Although it was indeed different, for me it just didn't work - a lot of characters were lost behind the instruments, stopping them performing to the best of their ability. I commemorate Craig on trying something new, but sometimes it's just not worth it.
It is sad to hear of shows closing on the West End, especially the ones that we grow to love and see. But we rarely miss the chance to be in the audience once again, as many musicals then start a tour, for example Miss Saigon is to start its tour later this year and Funny Girl kicked off its UK run in February this year. For both musicals, I was lucky enough to have enjoyed their run at the Prince Edward Theatre and the Savoy Theatre respectively. I would love to see them again if they are coming to a theatre near me, but at times I feel reluctant when purchasing tickets, due to previous tours that I have seen where the directors, or producers, decide to change certain parts that to me often don't work.
Why change something that is already brilliant and did well in the West End?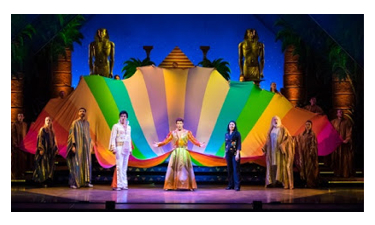 A few years back I purchased tickets for Joseph and The Amazing Technicolour Dreamcoat tour. I decided to see it in Portsmouth when it was starring Ian H Watkins - this show is very close to my heart. It was the first ever musical I saw, starring Jason Donovan, and I am privileged to have also seen Phillip Schofield in the title role. I loved every second of it, so I wanted to reminisce that time by viewing it again. But much to my surprise I came away a little disappointed - it just wasn't the show I remembered, it seemed more childlike and parts were a little tacky (with the inflatable sheep and the weird caption signs). Now that's not to say the performers were bad, in fact I know that to others, it may be the best production they have seen and loved. Bill Kenwright's take on the musical just isn't for me and has in fact put me off seeing any future tours of this production again. I remember the 1992 productions where I didn't sit down, but stood in awe at what I was seeing.
The last regional production of Legally Blonde (shown at the Curve theatre, Leicester) made changes such as the limiting of scenery, which was good and worked well - although for some reason they decided to change the Rap number in 'What You Want' to a Bombay theme, which to me did not work at all! I think the thing with tours is that the main focus is to get bums on seats and these changes may be a reason for this. The casting tends to be a focal point too, it seems that tours focus a lot more on A-list casting rather than using the talent they have around them.
Take the recently finished tour of Chitty Chitty Bang Bang for instance. Not many people know that Jon Robyns, a West End performer, initially took the leading role of Caractacus Potts for this tour and performed at the West Yorkshire Playhouse. This was before celebrities Lee Mead and Jason Manford took on the roles for the remainder of the tour. I, for one, decided to make the four hour journey to see Robyns play the role (as he is a favourite of mine) and I was not disappointed.
It seems that the producers/ directors don't think ashow will sell unless there is a celebrity involved - I beg to differ. Tours will always create mix reviews. For some it is their only chance to see a top West End show, but they also introduce people to the theatre too. Although I can have strong views on some productions, and think twice on those I have seen, it will not stop me in going to my local theatres.