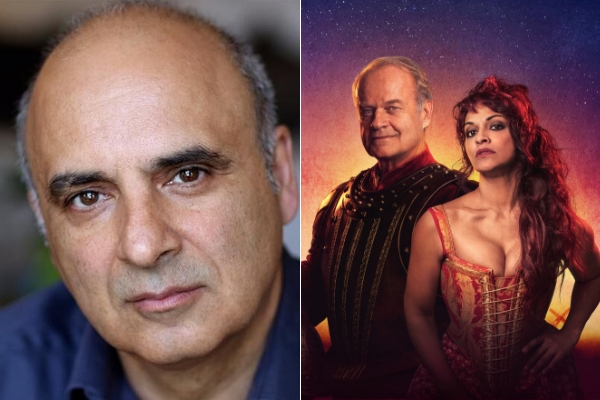 Did you hear the gossip? The multi-talented Peter Polycarpou – well-known for his stage, film and TV performances – has been cast in the role of Don Quixote's squire, Sancho Panza, alongside Kelsey Grammer's Don Quixote in the first West End production of Man of the Mancha for 50 years, running at the London Coliseum from 26 April to 8 June 2019. Could that be double trouble?
Polycarpou joins the already announced cast of Kelsey Grammer, Danielle de Niese, Nicholas Lyndhurst and Cassidy Janson in the musical which runs at the London Coliseum which will be performed with the ENO orchestra.
Featuring the iconic song 'Dream the Impossible Dream', Man of La Mancha is inspired by Miguel de Cervantes' masterpiece Don Quixote. It is produced by Michael Linnit and Michael Grade, the same team who brought to the Coliseum the productions of Sweeney Todd, Sunset Boulevard, Carousel and Chess.
Completing the cast are: Eugene McCoy (Dr Carrasco/The Duke), Lucy St Louis (Antonia), Natasha Leaver (Fermina), Debra Michaels (Maria), Julie Jupp (Housekeeper), Minal Patel (Padre), Emanuel Alba (Barber), Rakesh Boury (Muleteer), Stephen John Davies (Muleteer), Paul F Monaghan (Muleteer), Ryan Pidgen (Muleteer), David Seadon-Young (Muleteer/Pedro), Samuel Thomas (Muleteer), Teddy Wills (Muleteer), Femi Akinfolarin (Muleteer), Tim Hodges (Ensemble), Luke Jackson (Ensemble), Dominic Owen (Ensemble), Joseph Poulson (Ensemble), Jocelyn Prah (Ensemble), Anna Woodside (Ensemble), Tash Holway (Swing), Helen Walsh (Swing), Luke McCall (Swing) and Alex Pinder (Swing).
Man of La Mancha will be directed by Lonny Price, who directed Linnit and Grade's acclaimed London production of Sunset Boulevard at the Coliseum starring Glenn Close, as well as its hugely-successful subsequent Broadway transfer. The music in Man of La Mancha is by Mitch Leigh, lyrics by Joe Darion and book by Dale Wasserman.
Peter Polycarpou to play Sancho Panza, Don Quixote's faithful squire. #ManofLaMancha Performances begin April 26 - book now https://t.co/cKCOk7jdfl pic.twitter.com/KPagCyLp6a

— Man of La Mancha (@LaManchaLDN) March 15, 2019