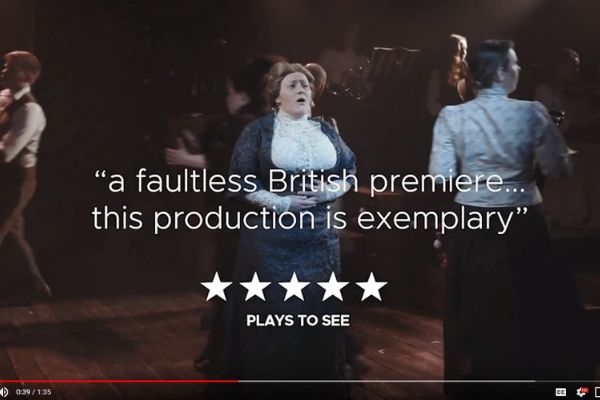 Have you forgotten why everyone fell in love with Queen of the Mist when it ran at the Jack Studio? Well, no, probably not. How could you forget?! But just in case check out the trailer for the upcoming transfer to the Charing Cross Theatre, then book your tickets to see it live!
Pint of Wine Theatre Company's production of Michael John LaChiusa's musical plays a strictly limited seven-week season from 15 August to 5 October 2019, with a press night on 19 August 2019.
Based on the outrageous true story of Anna Edson Taylor who, in 1901, on her 63rd birthday, set out to be the first person to survive a trip over Niagara Falls in a barrel of her own design, the musical explores the fickle world of celebrity and sensationalism with an unconventional heroine determined not to live an ordinary life. With a soaring score that incorporates turn-of-the-century themes with Michael John LaChiusa's insightful and engaging style, this award-winning musical is the story of how one woman risked death so that she could live.
Check out the trailer:
Trudi Camilleri leads the transfer cast as Anna Edson Taylor, returning to Charing Cross Theatre where she previously appeared in Ragtime and Death Takes A Holiday. Camilleri is joined in the cast by Will Arundell, Emily Juler, Emma Ralston, Tom Blackmore, Conor McFarlane and Andrew Carter. The production is directed by Dom O'Hanlon, with musical supervision by Jordan Li-Smith and musical direction by Connor Fogel. The traverse seating transfer will feature a new set design by Tara Usher.
When it was staged at the Jack Studio Theatre, Musical Theate Reviews said of the show: "To find a production as good as this one with singer/actors of this calibre is a joy," while Stage Review described it as "powerfully sung & finely acted".
Pint of Wine Theatre Company is an innovative theatre company providing opportunities for artists, technicians and practitioners to challenge the conventions on how theatre should be presented. They aim to challenge the conventions of how theatre should be presented and look to be disruptive in what is understood of, and expected from, the London fringe theatre scene. Previous productions include Let The Debauchery Begin, a cabaret staged at the CLF Art Cafe in April 2018.