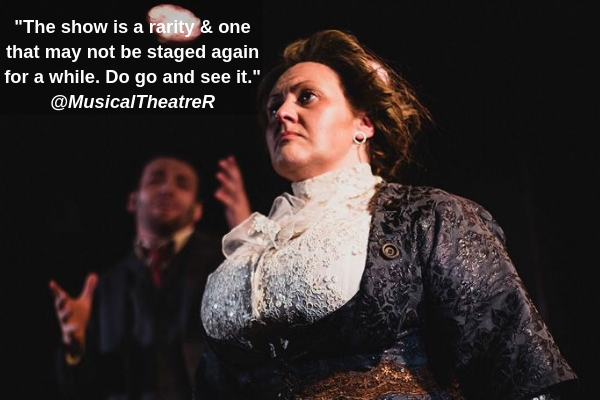 "To find a production as good as this one with singer/actors of this calibre is a joy." Audiences and critics have taken to Twitter to praise the UK premiere of Queen of the Mist at Brockley's Jack Studio Theatre. Take a look at some of our favourite tweets, then book your tickets for the show that runs until 27 April 2019!
Michael John LaChiusa's Queen of the Mist is inspired by the astounding and outrageous tale of the fearless Anna Edson Taylor who, in 1901, on her 63rd birthday, set out to be the first person to survive a trip over Niagara Falls in a barrel of her own design. The musical explores the fickle world of celebrity and sensationalism at the turn of the century with an unconventional heroine determined not to live an ordinary life. With a soaring score that incorporates turn of the century themes with Michael John LaChiusa's insightful and engaging style, this award-winning musical is the story of how one woman risked death so that she could live.
LaChiusa's musical premiered off-Broadway in the autumn of 2011 as part of Transport Group's 20th Century Project. It received positive reviews, won the Outer Critics Circle Award for Outstanding New Off-Broadway Musical and was nominated for six Drama Desk Awards, including Outstanding Musical.
Pint of Wine Theatre Company, which stages Queen of the Mist is an innovative theatre company providing opportunities for artists, technicians and practitioners to challenge the conventions on how theatre should be presented. They aim to challenge the conventions of how theatre should be presented and look to be disruptive in what is understood of, and expected from, the London fringe theatre scene. Previous productions include Let The Debauchery Begin, a cabaret staged at the CLF Art Cafe in April 2018.
---
What's being said on Twitter?
Loved @PintWine #QueenoftheMist because everything from the direction to the musical direction, the band to the ensemble, are excellent, but especially because @TrudiCamilleri and @WillArundell are magnificent. Together they all told me a compelling story. Pure theatre. See it.

— Francesca Canty (@FrancescaCanty) April 19, 2019
'To find a production as good as this one with singer/actors of this calibre is a joy. The show is a rarity & one that may not be staged again for a while. Do go and see it.'

★ ★ ★ ★ for #QueenOfTheMist at @BrocJackTheatre @PintWine https://t.co/QFSfDi4Ck9 pic.twitter.com/5XHlFzC8FK

— MusicalTheatreReview (@MusicalTheatreR) April 19, 2019
A musical triumph for @BrocJackTheatre with #QueenOfTheMist from @PintWine . Talented performers both on stage and in the orchestra - putting this on in a space as small as the BJ is almost as brave as the exploit it recounts, but they pull it off. Hope it secures a transfer.

— Philip Mitchell (@Dulwichtwit) April 18, 2019
Overwhelmed by #QueenOfTheMist @BrocJackTheatre, musical about #AnnaEdsonTaylor, who went over Niagara Falls in barrel & survived. Unbeatable lead performance by @TrudiCamilleri & knockout cast @WillArundell @EJuler @Emmaralstonuk @tomblackmore93 @ConorMcFarlane @AndyCarterVoice pic.twitter.com/aaLYY2JxJ4

— David Guest (@RevWhoGuest) April 13, 2019
REVIEW ★★★★ @PintWine brings the roar of Niagara Falls to @BrocJackTheatre with the extraordinary story of #AnnaEdsonTaylor in a powerfully sung & finely acted production of #MichaelJohnLaChiusa Off-Broadway hit #QueenoftheMist. Full review https://t.co/RCdsSwU4Fz pic.twitter.com/SDAgVkk8w7

— Anne Cox (@stage_review) April 13, 2019
An absolute pleasure of finishing our 5th Wedding Anniversary by watching @ejuler in @PintWine's #QueenOfTheMist at the @BrocJackTheatre. It's incredible, intimately set but so wonderfully huge in scope and performance. The cast are exceptional and the musical is stunning. #proud

— Tom Capper (@CapMeister) April 13, 2019