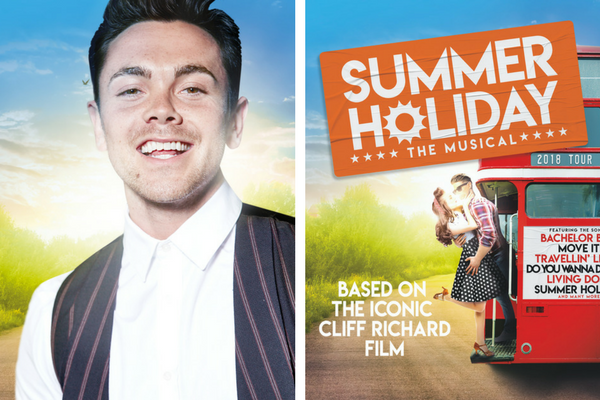 We're all going on a summer holiday... starting in May. Singer-songwriter and X Factor favourite Ray Quinn takes on the lead role of Don, made famous onscreen by Cliff Richard, in the new stage musical version of 1963 classic film SUMMER HOLIDAY.
Based on the iconic 1960s film of the same name, starring Cliff Richard and The Shadows, Summer Holiday will include all of the number one hits from the movie, plus some additional Cliff Richard classics. The new production launches its tour on 8 May 2018 from Liverpool Empire. The initial 20 stops include London's New Wimbledon Theatre from 18 to 22 September.
Summer Holiday tells the story of Don and his friends, London Transport mechanics as they journey together in a red double-decker bus through Paris, the Alps, Italy and Greece. Along the way, they pick up a girl singing group and a young American pop star who is on the run from her domineering mother!
This musical features many 1960s hit songs including 'In the Country', 'Summer Holiday', 'Travellin' Light', 'Bachelor Boy', 'Move It', 'Living Doll', 'The Young Ones' and 'On the Beach'. The stage adaptation of Summer Holiday is by Michael Gyngell and Mark Haddigan and is directed by Racky Plews.
Ray Quinn shot to fame as the runner-up in ITV1's The X Factor in 2006. This spurned a career in both music and of late musicals, with his debut album 'Doing it My Way' entering the charts at number one, and quickly gaining platinum status. He is perhaps best known of late for 'doing the double' on ITV1's hugely successful show Dancing on Ice, winning for the first time in 2009, and then again on Dancing on Ice: Champion of Champions in 2014. Quinn's theatre credits include Danny Zuko in Grease (West End), Dirty Dancing (West End), Legally Blonde (UK tour) and most recently, The Wedding Singer (UK tour).