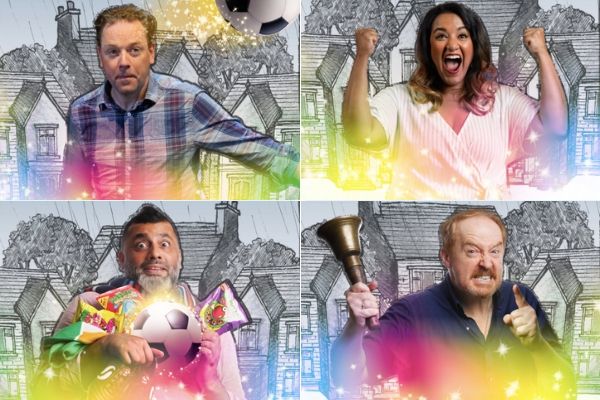 It's a pretty exciting combination: Robbie Williams, Guy Chambers and Mark Ravenhill all creating a brand new musical adaptation of David Walliams' novel The Boy In The Dress for the RSC in November 2019, directed by Gregory Doran. But now we know some of the casting too with Rufus Hound, Irvine Iqbal, Natasha Lewis and Forbes Masson all taking lead roles in the much-anticipated production.
David Walliams' heart-warming comedy, telling the story of star striker and fashion lover Dennis, comes to the stage for the first time in a musical adapted by former RSC writer-in-residence Mark Ravenhill, with new songs from Robbie Williams and Guy Chambers, directed by artistic director Gregory Doran.
Hound plays Dennis' dad; Iqbal plays Raj, the shopkeeper; Lewis plays Dennis' best friend Darvesh's mum; and Masson plays Mr Hawtrey, the headmaster from Dennis' school, in the production which runs in the Royal Shakespeare Theatre from 8 November 2019 to 8 March 2020 (press night is 27 November).
Gregory Doran said of the production:
"It is tremendous to welcome such a talented cast of new and established RSC company members to our new musical production of The Boy in the Dress, particularly one with such a strong background of excellent musical theatre performances and first-class comic talent.
"The cast join an already impressive line-up of UK and international creatives, including comic writer, performer and beloved children's book author David Walliams and chart-topping songwriters Robbie Williams and Guy Chambers. I am excited to work together with them over the coming weeks to bring this life-affirming, funny story to the RST stage."
This morning we announced that @RufusHound will be playing Dennis's Dad in our upcoming production of The Boy in the Dress!

How did Rufus do when he faced a grilling from the brilliant Marley and Arthur...?