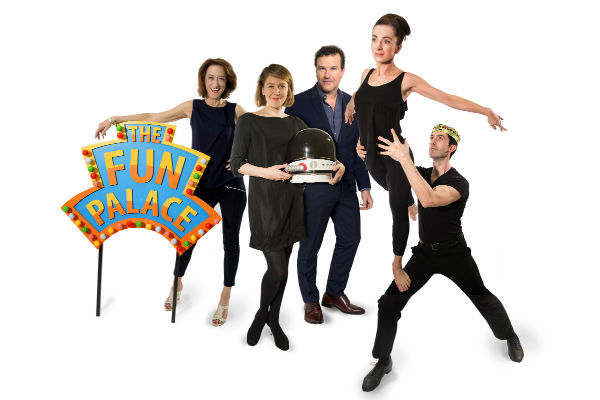 Final casting has now been announced for NEW SONGS 4 NEW SHOWS, which runs for one night only at the West End's Lyric Theatre on Monday 28 November. Olivier Award winner Sally Dexter and Clive Carter, both Wicked West End alumni, and rising star Katie Bernstein (Allegro, Mrs Henderson Presents, Urinetown) join the previously announced members of the line-up below.
NEW SONGS 4 NEW SHOWS will give the West End a unique experience of seeing star performances of songs from four new musicals, in a one off Gala Concert at the Lyric Theatre Shaftesbury Avenue on Monday 28 November 2016 at 7.30pm produced by musical theatre production company The Stable.
The star cast of NEW SONGS 4 NEW SHOWS also includes: Mel Giedroyc, Olivier Award winner Douglas Hodge, Gemma Whelan, Ian Shaw, Alex Gaumond and Haydn Gwynne, along with top West End performers Jos Slovic, Niamh Perry, Emmanuel Kojo, James Smoker and Daniella Bowen.
NEW SONGS 4 NEW SHOWS is just that, the first opportunity to enjoy a sneak preview of four exciting new musicals that will go into full production from 2017 onwards, hearing their songs for the first time in this fully staged concert production. The best in new British musical theatre with:
Commenting on her involvement Mel Giedroyc said: "I have adored musical theatre since the age of five when I would listen to Jesus Christ Superstar religiously (!), everyday after school and act out all the parts. So I am hugely excited to be performing not in my parents' living-room, but in The Stable's first-ever public Gala!"
Douglas Hodge said: "I've always had a secret life as a songwriter, so when The Stable came forward to commission my musical Wigmaker I leapt at the chance. The story started life as a short film and then when I married a wigmaker in real life it seemed crazy not to follow the notion all the way to the West End. I've always been envious of the way Broadway generates and develops as many new musicals as plays, and now The Stable is supporting home grown brand new musicals. It won't just be a chance for the audience to see new work it will be the first chance too for the composers to see their work up on its feet."
The line-up for NEW SONGS 4 NEW SHOWS comprises:
WIGMAKER – a modern hairy fairy tale about a beautiful wigmaker – but when she locks the door at night the wigs come to life, with music and lyrics by the acclaimed Tony award winning actor Douglas Hodge and book by celebrated playwright Bryony Lavery. Hodge will be performing songs from the show alongside Clive Carter and Haydn Gwynne, who will sing the show stopping Women Go Grey!
FANATICAL – a romantic comedy which takes place at a Science Fiction Convention by Matt Board and Reina Hardy, includes: Mel Giedroyc as Trix, the rather inadequate conference organiser, singing the comic patter number Best Con Ever; and a power Ballard to be performed by Game Of Thrones' Gemma Whelan in her musical and West End debut. A talented young production team will work with the FANATICAL sequence, directed by Lotte Wakeham (And The World Goes Round, Stephen Joseph Theatre) and choreographed by Tim Jackson (Made in Dagenham, Hornchurch).
JOAN – the life and times of Joan Littlewood written by Gwyneth Herbert and Mel Brimfield, with performances from Ian Shaw (singing Hey Joan, inspired by Murray Melvin's recollections of life with Joan), Sally Dexter and Herbert, along with a cast of children and a brass band.
THE HAPPY PRINCE – the classic Oscar Wilde story brought to life, with a score by opera singer Hal Cazalet and book by Michael Barry. Performances will include the heart-breaking pas de deux between the tragic Swallow and the happy Prince, directed by quadruple Oliver Award winner Maria Friedman and choreographed by hotshot Drew McOnie (In The Heights) and danced by Sophia Hurdley and Alan Vincent, both principals with Matthew Bourne's New Adventures Company.
The Stable is headed up by Neil Marcus alongside his expert team, all of whom have enviable reputations in the world of musical theatre. The Stable is also very proud of their close working relationship with The Kevin Spacey Foundation on their Artists Of Choice Initiative both in New York and London.