What's the secret to a modern librettist-composer relationship? How did an episode of BBC Radio Four's From Our Own Correspondent lead to an original British musical? Ahead of SAN DOMINO's full-scale run at London's Tristan Bates Theatre, we catch up with collaborators and former bandmates Tim Anfilogoff and Alan Whittaker about their partnership and the show's journey to date...
One night in 1939, Carlo, Claudio and their friends are arrested in Catania. Condemned without any trial, they arrive on San Domino: a prison island solely for gay men. For all the indignity and squalor of prison life, men previously forced to live in the shadows now have no need to hide who they are. But whatever kind of life they may be trying to build, in the background war is looming.
San Domino conjures up "an intimate tragi-comic world of love, loss and the struggle just to survive". In the creative team are librettist and lyricist Tim Anfilogoff, composer Alan Whittaker, director Matthew Gould, musical director and orchestrator James Cleeve, lighting designer Mitchell Reeve and set and costume designer Faye Brad.
San Domino first previewed to an audience at the Courtyard Theatre, then played at Arcola Theatre's Grimeborn Festival in 2014. The writers were inspired by the story of 45 gay men rounded up in Catania one night in 1939. The musical is produced by TKD Productions and M Green Productions.
---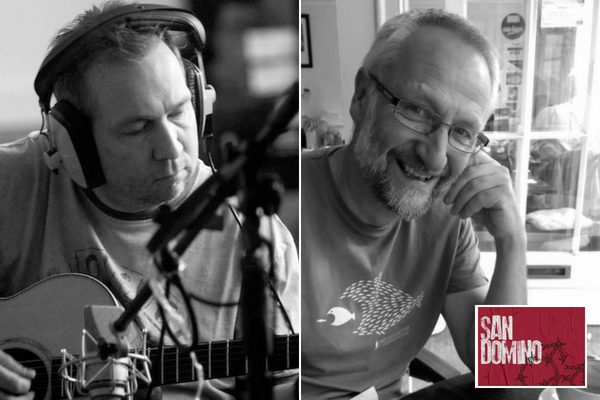 Alan Whittaker & Tim Anfilogoff


In conversation with... the writers
San Domino is the fourth collaboration between librettist and lyricist Tim Anfilogoff and composer Alan Whittaker.
How and when did you meet and become friends?
Tim: Al joined a music group we got together for a party in the Nineties, which we called the Scratch Band. We didn't play much but every party we did we seemed to get asked to do another. We all had young families so just playing now and then worked well for us. I played keyboards (adequately) and Al is an amazing and very patient guitarist. We found out we shared a love of Genesis, beer, the blues and throwing in 7th chords when the rest of the band weren't expecting them. Every year, we would get drunk and say we must write a musical. After doing this for about fifteen years, we did. That was The Kafka Diet/A Body to Diet For, which we took to Edinburgh in 2013.
Alan: I met Tim through a mutual friend who asked me to play in his band at a party (about twenty years ago?). Tim and I hit it off immediately sharing many common interests, most notably writing music, and in Tim's case, plays. When Tim told me about his radio playwriting, I was quite persistent in suggesting we write a musical together (having been indoctrinated by the Hollywood classics by mum). Tim eventually gave in and sent me a script to work on which became our first show. We have since written four shows together, including San Domino.
Describe your friend's talents as an artist.
Tim: Al is an amazing musician with a fantastic ear and an incredibly creative and prolific talent. He is also very patient and flexible. He has helped me hone my music-writing talents, and he always has useful suggestions about lyrics too. Interestingly, if I am thinking a line should be stressed one way, he will assume it should be stressed another. This can be quite creative and is often quite funny. We have never - I think - had an argument about music or words. We rub along very well, trying to get to the best place.
Alan: In addition to his playwriting and lyrical talents, Tim is a talented musician and songwriter (but doesn't like to admit it). He contributed several songs to San Domino and his jazz/blues influences are quite distinctive relative to my more pop/rock-oriented influences. Tim's storytelling and lyrics are highly original and not at all typical of musical theatre. He likes to challenge the audience, and at times, make them feel uncomfortable. He researches topics in obsessive detail… He's quite the academic intellectual, which I like to tease him about.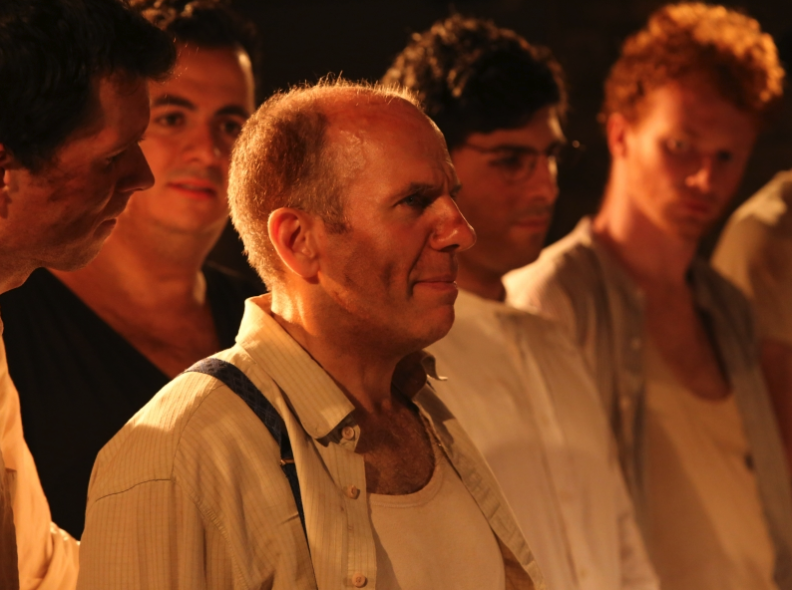 2014 staging of San Domino
To what do you attribute the success of your collaboration?
Tim: We share a sense of humour. Al pretends he thinks I am intelligent. I think our personalities are quite alike, even though we inhabit very different universes. Al will always buy a round. I haven't yet damaged one of his guitars, but if I did, that would be the end of it. We are both interested in doing something not in the standard musical mould. We both work very quickly once we get started - similar levels of obsession, I guess.
Alan: Tim's a lot of fun to work with. We have a lot of laughs when writing and especially working up demos in character. We have different/complementary styles and perspectives. Tim's stories and songs take unusual twists and turns - he likes to surprise his audience. We both like to work at pace and are quite open to discarding ideas, constructively criticising each other and not being overly precious about songs or ideas.
What was your inspiration for San Domino?
Tim: I was driving between meetings at work, and the moment I heard Alan Johnston's piece on From Our Own Correspondent on Radio 4 (aired in June 2013), I thought, this story sounds like the makings of a great show. I thought maybe a play, but also possibly a musical. I first chatted to director Matthew Gould, who said to write it as a musical. I wasn't sure Al would be keen as it is so not rock'n'roll. But I also was confident he would rise to the challenge if he got excited by it, which he did. Especially as it allowed him to buy a mandolin (and less obviously a bazouki!) to try out different soundscapes.
Alan: San Domino was Tim's idea, sparked after he'd heard that BBC radio piece about a gay vigil to the island of San Domino. He wanted a classical/Italian folk feel to the piece and I wasn't sure I could do it justice but was really encouraged by Matthew and Tim. I was in Edinburgh for three weeks with our first show and decided to buy a couple of folk instruments to help me create an acoustic soundscape (which became the overture). The musical inspiration is a mix of folk, classical and film score influences from the period with Italian overtones.

Did you always envisage it as an actor-musician show?
Alan: That was Matthew's idea. I really like this approach as it sets up the characters in a 'musicians' club', in fact, a gay bar. Having the actors play instruments allows us to explore a wider range of musical textures complemented by a small band.
Tim: The musicians' club came as part of wanting our characters not to be (mainly) flaunting their sexuality in the streets of Catania but keeping their heads down and having a cover - as many 'respectable' Sicilians who were homosexuals must have been doing.
What's the journey for the show been like to date?
Tim: So far, we've had two nights at the Courtyard Hoxton and three nights at the Arcola's Grimeborn Festival. It's always gone down well and sold out. But it is a big cast and complicated to put on, which is why it's taken us four years to get it back out there. I think we've knocked off some rough edges here and there in terms of the book and tightened some of the story.
Alan: The initial writing was at breakneck speed due to Tim's obsessive and contagious passion for the story. We staged workshops at the Courtyard Theatre in 2014, which were extremely well received by a supportive audience. Later the same year, the show was premiered for three sell-out performances at the Arcola Theatre's Grimeborn festival. Since then, the creative team have been involved in many other projects, but keep returning to our desire to bring San Domino back to the stage. Earlier this year we discussed the show with Joel Fisher, who runs Tristan Bates Theatre and shared our enthusiasm. We are delighted to be presenting the full run of this show here.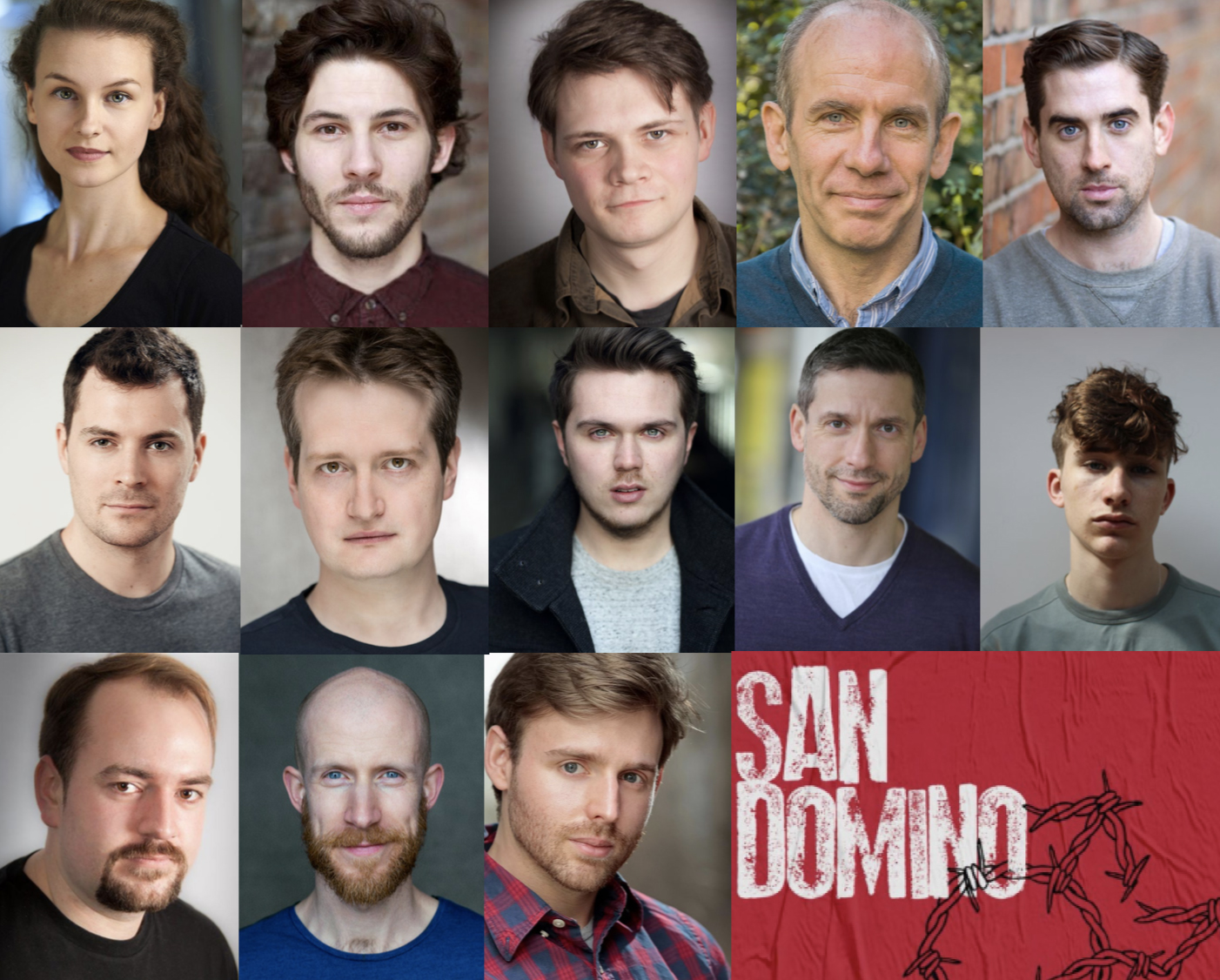 The full cast of San Domino at Tristan Bates
What are you most looking forward to about San Domino's run at Tristan Bates?
Tim: It's great to be working with the old team again – director Matthew Gould and musical director James Cleeve as well as some of the original cast. It is such an ensemble piece that everyone has a song or a powerful scene and the team spirit has always been great. Having a proper run will give us a lot of opportunities to test any tweaks.
Alan: As much as we all enjoyed our original workshops, we knew we could improve the piece. We've had time to really develop, refine and hone the story and score. I am excited to see these changes come to life on stage complemented by James' lovely orchestrations. I'm also looking forward to seeing our talented cast breathe life into the characters playing on a completely new set and lighting design. It's an emotional piece, and I feel immensely proud of the creative team who've worked so hard to bring the show to life.
What do you hope audiences will take away from San Domino?
Tim: I think it's one of those stories that no one knew about, though it's not a big surprise that fascists did this stuff, of course. The madness of the Italian fascist state putting gay men together on a Mediterranean island with no other company and thinking that would cure them of their homosexuality demonstrates the distance between fascism and logic, and it is an irony at the heart of the piece.
Of course, we are very careful to show the misery as well as the humour in this madness. Mussolini was such a dangerous buffoon, and some of the 1930s seems to be happening all over again - on both sides of the pond - so I am sure audiences will reflect on that. While we tend to take for granted advances like gay marriage in this country, there are still many places where San Domino reflects how gay people are treated today.
Alan: I think there's a lot for the audience to enjoy and hope people find the story compelling and the music lingering long after the show. Some will find the history of San Domino interesting and still sadly relevant to modern-day prejudices. I hope people will warm to the characters' emotional journeys and relationships, share in their joy and their sadness… and feel the occasional tingle down the spine from the music.
Anything else you'd like to add?
Tim: I hope everyone enjoys seeing it as much as we have had putting it on.
Alan: A huge thank-you to all who have been involved in bringing San Domino to the stage and in particular to our fabulous cast and creative team. Also to our guest Q&A speakers, The Peter Tatchell Foundation and Interbank LGBT for their support.
---
Win tickets!
Enter our competition to win one of five pairs of tickets to San Domino by Monday 4 June 2018.