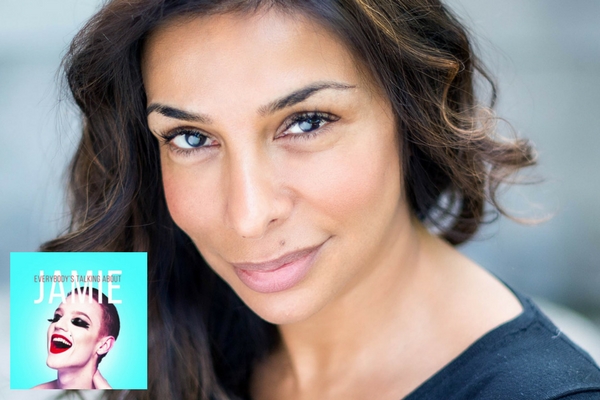 Actress Shobna Gulati, best known for playing Sunita Alahan in ITV's Coronation Street, is joining the London cast of Everybody's Talking About Jamie, taking on the role of Ray from 7 May 2018.
Shobna Gulati joins the current line-up, namely John McCrea (Jamie), Josie Walker (Margaret), Tamsin Carroll (Miss Hedge), Lucie Shorthouse (Pritti Pasha), Phil Nichol (Hugo), Alex Anstey (Laika Virgin), Luke Baker (Dean Paxton), Luke Bayer, Courtney Bowman (Fatimah), Marvyn Charles, Ken Christiansen (Jamie's Dad), Jordan Cunningham (Sayid), Daniel Davids (Levi), James Gillan (Tray Sophisticay), Ryan Hughes (Mickey), Daniel Jacob (Sandra Bollock), Cherelle Jay, Rebecca McKinnis, Harriet Payne (Bex), Chloe Pole, Shiv Rabheru (Cy), Lauran Rae (Becca) and Kirstie Skivington (Vicki).
She commented:
"Everybody's Talking About Jamie is a wonderful show; it's truly warm, infectious for the soul and incredibly uplifting. The entire cast and team are so gifted and such energetic storytellers who give us a universal tale for right now. The show is full of the rich diversity that makes my heart sing and what makes Britain great! This musical celebrates life! This incredible production and ensemble is one I am so proud and so pleased to become a part of."

With songs by singer-songwriter Dan Gillespie Sells (The Feeling) and writer Tom MacRae, Everybody's Talking About Jamie is directed and conceived by Jonathan Butterell and inspired by the story of Jamie Campbell and his mother Margaret.
Everybody's Talking About Jamie will be screened live from the Apollo Theatre into cinemas across the UK, Ireland and select European territories on Thursday 5 July 2018.
Bio
Shobna Gulati has become a household name for her role as Anita in Victoria Wood's Dinnerladies and as Sunita in Coronation Street. Theatre credits include Daisy Pulls It Off (The Park), Anita & Me (Birmingham Rep and Touring Consortium), Grease (Leicester Curve Theatre), Mamma Mia! (international tour), April in Paris (Derby Playhouse and UK tour), B!rth, Hunger for Trade, Come Closer, Pretend You Have Big Buildings, Cafe Vesuvio (Royal Exchange, Manchester), The Jungle Book (West Yorkshire Playhouse), dinnerladies (UK tour), Romeo and Juliet (Leicester Haymarket) and A Midsummer Night's Dream (Tara Arts, UK tour). She has also written and directed the critically acclaimed comedy show for young women, The Masala Girls.