In the first of our three-part SHOWSTOPPER! The Improvised Musical interview series, co-founder Dylan Emery told us about he and Adam Meggido brought The Showstoppers to life, with influences from the likes of Ken Campbell and Alan Marriott. What happened next? We talk to Dylan about some highlights since from Edinburgh Fringe to the Olivier Awards... (Have you entered our competition yet?)
To celebrate their 1000th one-of-a-kind performance, SHOWSTOPPER! The Improvised Musical is playing a limited eight-week run season at The Other Palace from 22 January to 16 March 2019, alongside their regular monthly performances in the West End's Lyric Theatre, Shaftesbury Avenue. With eleven years as an Edinburgh Festival must-see phenomenon, a critically acclaimed West End run and the Olivier Award for Best Entertainment and Family Show to their name, The Showstoppers have blazed a trail in world-class improvised musical comedy and delighted audiences across the globe.
Transforming audience suggestions - for setting, musical styles, show title and more - into all-singing, all-dancing productions with hilarious results, The Showstoppers guarantee audiences an entirely different show every single night as each performance is a brand-new musical West End hit waiting to happen.
---

Could you imagine when you started that Showstopper! would still be going so strong after 11 years?
Absolutely not. I have no idea why we're still going! All we knew when we started was that: it was unlike anything else that we had done before; it had an extraordinary effect on audiences; and we could see how much better the show could be. But we weren't sure how to get to that point.
It's an endless process of trying things out, throwing things out, trying again, picking up things we used to do but now we know how to implement them helpfully and constantly starting again.
For us, that's where the longevity comes in. For audiences, there is the simple fact that every show is different so you can come back time and time again, combined with the fact that Adam and I are constantly pushing the show forward. The kinds of stories we can tell and the scope of the musicals we can create now are a million miles further forward than what we could do ten years ago.
Winning an Olivier Award must have been a highlight on the journey. What went through your head when your win was announced on the night?
I was in shock – you can see it in the video footage. Especially because we are not particularly well-connected in the world of West End theatres, we have no big stars in the show and a tiny marketing budget.
Also, the show is unlike any other mainstream theatre show. There's the sporting element - watching your favourite players show their talents and work together as a team; there's a circus element - sitting on the edge of your seat, wondering if they will be able to pull it off; and then there is the sublime element - when the audience starts to care about the characters and lives the journey with them.
To really get the show, you have to see it, and so when it came to getting votes for the Olivier (and getting audiences), it's all about word of mouth from people who have seen it. I was absolutely not expecting us to win. Adam was different – he had a strong sense that we could win it, that it was the right time.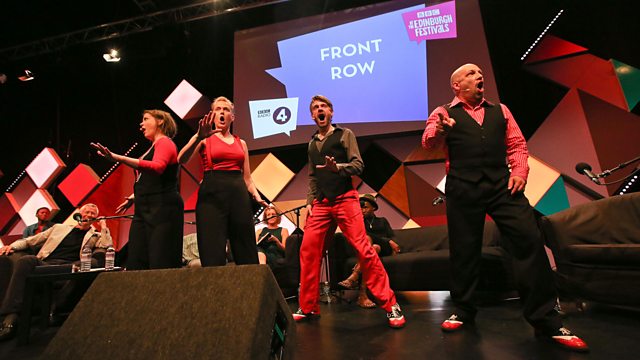 Showstopper! in Edinburgh
Beyond London, Showstopper! has legendary status at the Edinburgh Fringe. What do you love about the Fringe?
The Fringe is our spiritual home. It's where shows are supposed to take risks and where audiences also take risks – by seeing shows that they normally wouldn't see.
I think why our shows work so well up there – and why impro shows generally are flourishing at the Fringe – is that a good impro show relies on risks. That's one of the reasons you go and see impro in the first place. Unlike most shows where you try to eliminate any chances of things going wrong, that would actually kill an impro show. For us, the Fringe is a perfect match.
Look out for the next and last in our series with Dylan Emery on Showstopper!'s journey...
---
Enter our competition
We're giving away five pairs of tickets to Showstopper! The Improvised Musical. Deadline is Monday 4 February 2019.