It's been a while since so many fantastic shows simultaneously closed on London's West End but this September is certainly a tough time for a lot of theatregoers! With five great musicals holding final performances on 2 September, we were overwhelmed with all the feels! Blogger Becky Mary found that it was one particular show that struck a chord with her, so this is her final love letter to the fantastic OUR LADIES OF PERPETUAL SUCCOUR! Smash the system for us girls, one last time...
I don't often say this but Saturday the 2nd September 2017 was a day I was dreading (which for a student and a theatre goer is a phrase you never hear!) As many will know, not just one show but five shows had their final performances that day. I was lucky enough to attend the final performance of the well talked about OUR LADIES OF PERPETUAL SUCCOUR, playing at the Duke of York Theatre.
The show follows 6 school girls from Oban in Scotland who travel to Edinburgh for a choir competition. Little do we know that the girls don't actually care about the competition, they just want to have fun drinking, smoking and getting laid. But we soon find out there are stories behind each girl that slowly unravel throughout, showing a glimpse into the problems and situations that teenagers face on a daily basis - such as sexuality, financial struggles, cancer and even death. The girls - although struggling to find themselves whilst doing some of the craziest things - ultimately stick together, relaying a perfect example of friendship and trust.
The show itself runs straight though with no interval, which means that you feel like you're on the emotional rollercoaster ride with them. It also means that you don't have time to reflect on it until you have seen the show in its full form - which works to its advantage, especially with some of the content within it.
There is a lot of swearing, rude themes and some things you wouldn't dream of appearing on a theatre stage, but that's what makes it so unique. It is not scared to take these topics and throw them at you making you think about them like you never have before. I commend the actors and director for doing this in such a way that it really does touch you. It's key to point out that not everyone will agree with what is done but this doesn't mean that it is not the right thing to do. The inclusion of these topics made the show attract to younger people especially, ultimately making it something that could affect their lives in a positive way.
An element that was also great to see was the use of on stage seating, often sold at the box office as day seats. This seating was kept from before the show transferred to the West End and provided a different feel than many others. It made it feel more inclusive and personal as the actors would address both the audience on stage and in the auditorium.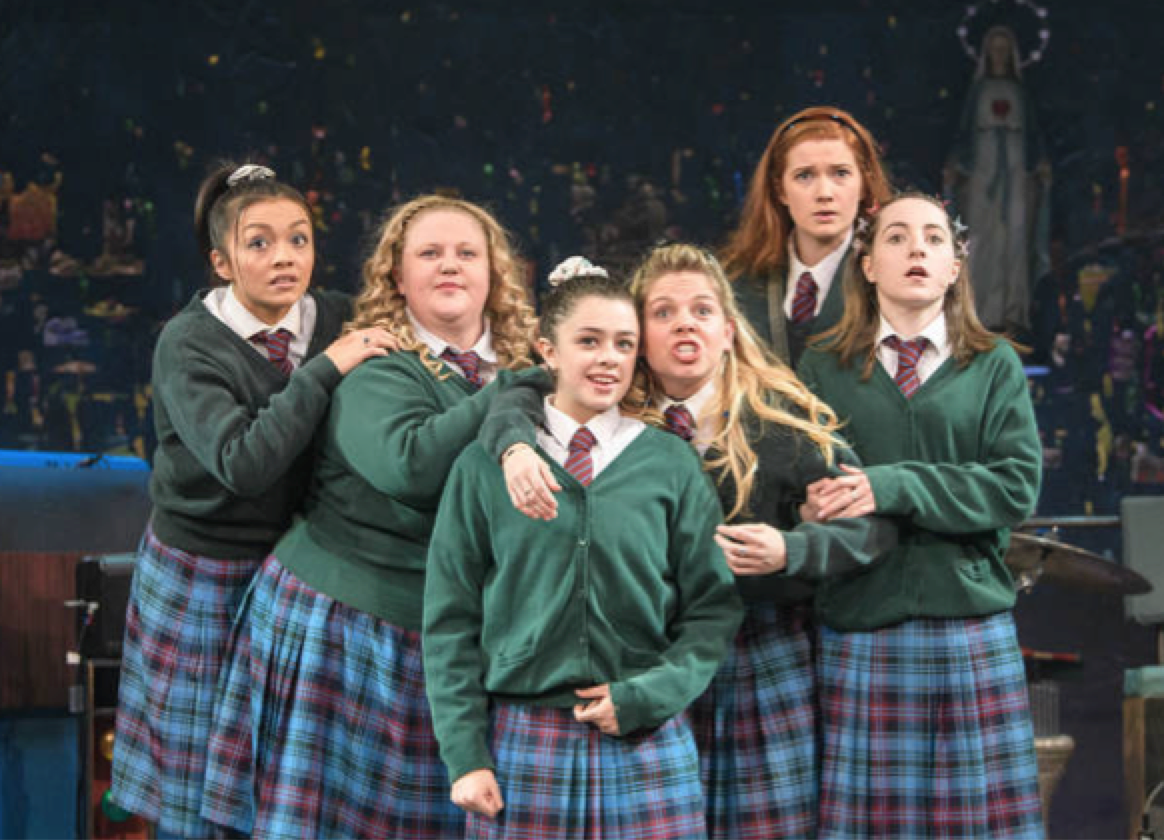 Now let's talk about the actress's, all of which are female! Yes, that's right the show is an all-female cast which gives it another unique factor compared to other shows. There are 6 actresses on stage, but I do think that technically it should be classed as 9 as there are the 3 band members who play and essential role throughout and do interact with certain parts.
In the cast we have Isis Hainsworth (Orla), Caroline Deyga (Chell), Karen Fishwick (Kay), Kirsty MacLaren (Manda), Frances Mayli McCann (Kylah) and Dawn Sievewright (Fionnula). All of the girls are exceptionally talented – not only able to play the main characters but also to change to smaller roles throughout the show. You can clearly see that on stage they are a truly connected with each other and have a lot of trust which is essential for this nature of theatre. On top of this the singing was unbelievable, hitting notes that make your draw drop but also having songs with pure emotion pouring out of them.

I was lucky enough to talk to all of the actressed and each person was so appreciative of the support they got from fellow fans and took the time to stop and say hello and sign things even on the final night.
The band members were Lilly Howard (Keyboard), Becky Brass (Percussion) and Emily Linden (Guitar), often found rocking out to ELO songs along with the rest of the cast. The band were on fire every single night, often seen to be having fun and really enjoying themselves. It was nice to see how appreciative and inclusive the cast were of the band which often doesn't happen.
Overall I will say this: OUR LADIES OF PERPETUAL SUCCOUR was one of a kind and will be missed by many. I was thankful that I have not only been able to see it more than once, but have made some lifelong friends. The show will always have a special place in my heart and I think it will not be forgotten. I wish all the cast luck on what they move onto next and hope to see them all soon.
And while you're there, why not pick up some exclusive fan merch with your favourite actress's name on (by going on their StageFaves page)!?