This year, 23 April wasn't just Shakespeare's birthday, it was also the #LondonMarathon! 40,000 brave runners took on the challenge of a lifetime and raised thousands of pounds for charity. Loads of #StageFaves took to the streets either to run or support their friends. The fantasic Jo Parsons, who recently starred in LES MISERABLES, documented his journey from his training days right through to the finishing line! Read his story here...
Prologue
I always said I wanted to run the London Marathon before I was 30, well if I let you all in on a big secret then 2017 was my last chance to achieve it!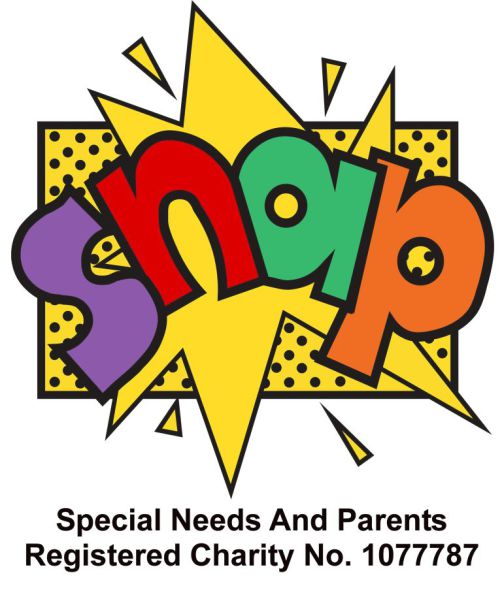 Fortunately I was given snap-logothat opportunity by the incredible charity SNAP- Special Needs and Parents that was founded by the amazing Hilary Needham 23 years ago, 7 years after her son and my gorgeous girlfriend Rosie's brother, Jack was born.

As SNAP is an independent charity supporting thousands of families across the county of Essex I felt a great deal of pressure… oh and the constant reminder that when Rosie's Dad, Phil ran the Marathon in 1989 he achieved an unbelievable time of 3 hours 29 minutes- although I don't believe there is any real record to confirm this and he constantly took great pleasure in telling me he ran it when he was 35 and there were no trainers with real support, gels or isotonic drinks to aid you through it… great!
Act 1
Anyway, I started my training the first week of January whilst I was working in Frankfurt.

The Main River, running through the city was an idyllic place to follow the schedule, however the frozen footpaths and minus temperatures were not so desirable. It was great to have the support of local, Thomas Elsner (aka Jurgen Klopp) who guided me to an amazing forest on the outskirts of the city with various running trails. I will never forget the 10km we ran on my birthday in -5 degrees, my legs felt fantastic but my lungs were on fire… the training blues began!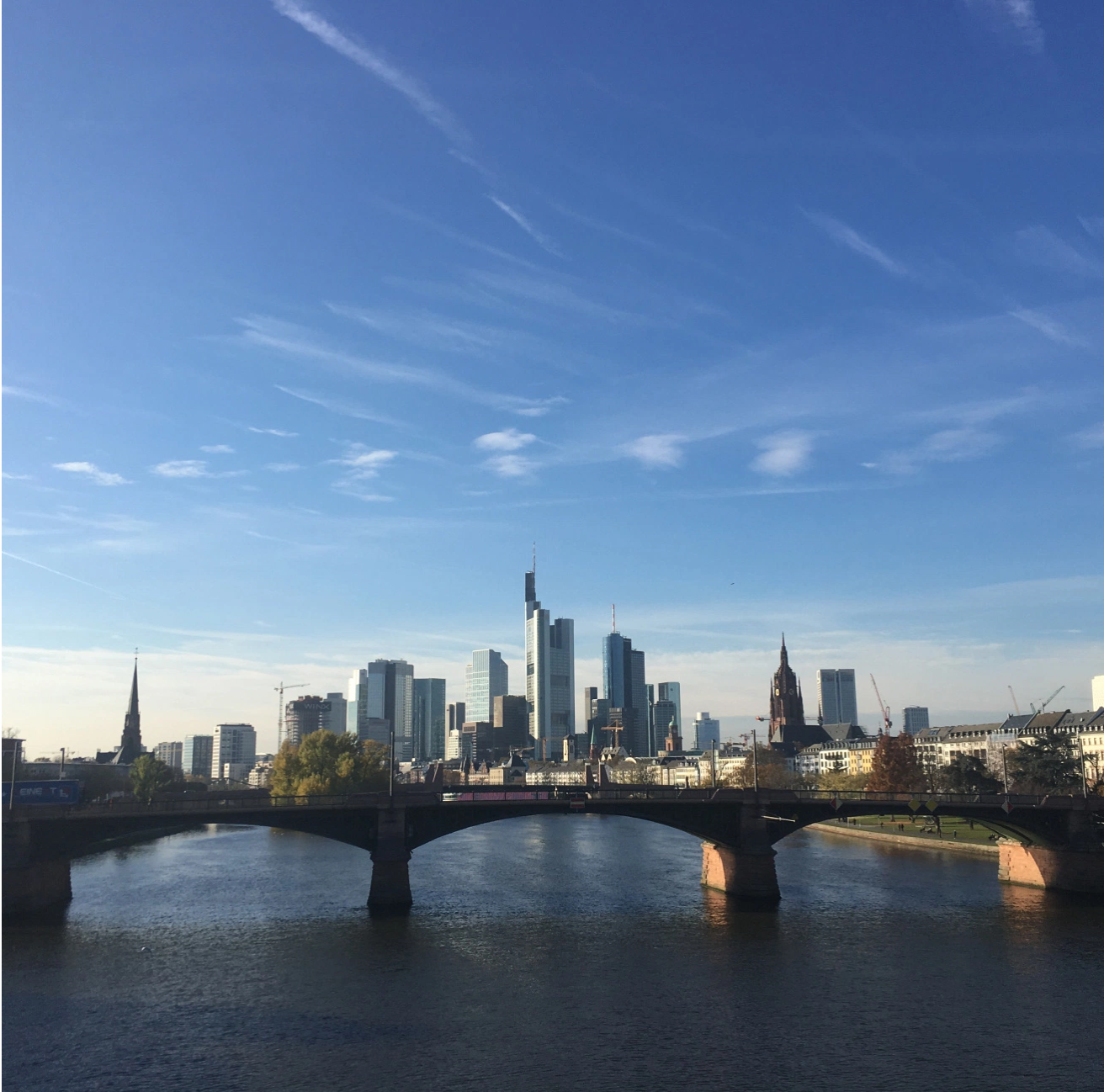 As I stepped up my long runs in the 'European Capital of Banking' it was on a 16 mile adventure that I started to question my durability for the task ahead. I began to experience excruciating pain in my ankles and stiffness in my knees for at least 2-3 days after a run. I visited a well respected running shop in the city whom essentially laughed in my face when I presented the trainers I had been using (ironic really as the natives are not really known for their comedic nature!).

Anyway, in an exchange that had me attempting my very best Basil Fawlty-esque broken german and their rather elegant standard english it was evident I was running like a caveman, my Nike trainers were by no means sufficient enough to complete a marathon and I may as well be training barefoot or as they suggested with Apfel Strudel glued to my feet. To the sound of £150 later, I was kitted out with the correct footwear to put me on track to complete an 'injury free' Marathon.
Act 2
My time In Frankfurt was coming to an end and midway through March I happily returned to Blighty with an 18 mile run through the countryside of Essex. It was the closest thing to what I can only imagine hell would feel like. I forgot my vaseline and after about 12 miles the second piggy to the left of my big toe began to squeal. I persevered but was unbelievably dehydrated and on my shoulder sat Saturn laughing louder than ever in a cynical and sarcastic tone.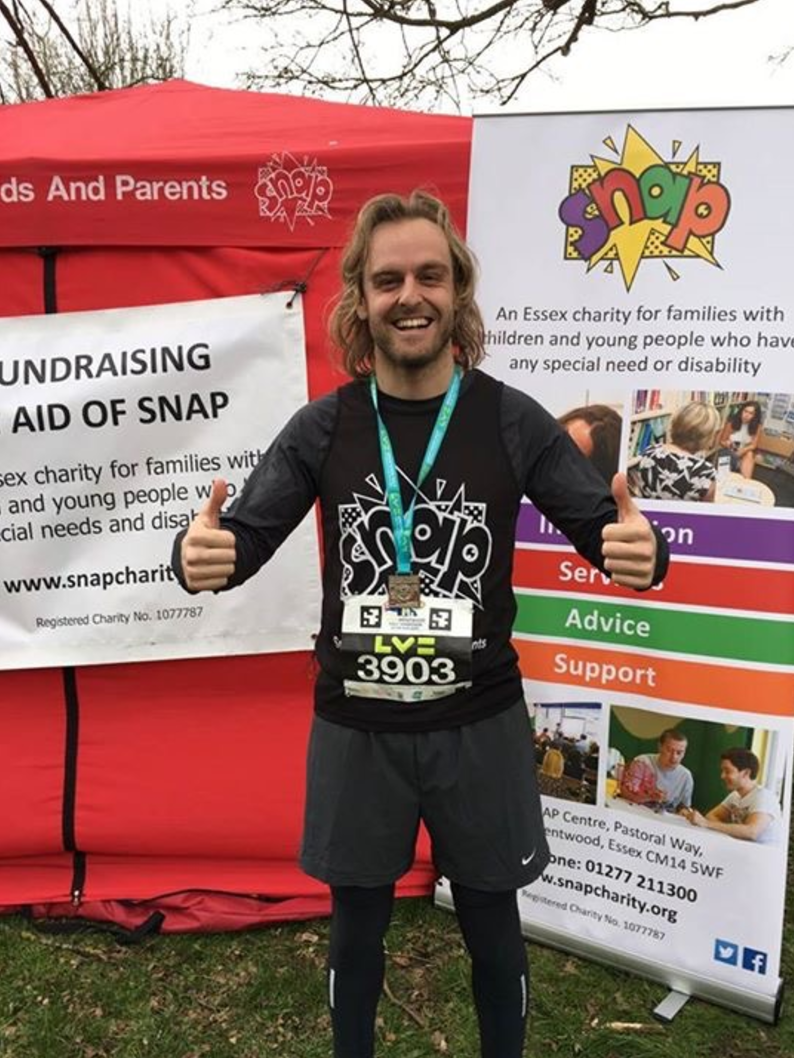 After what felt like Forrest Gump's longest run (3 years, 2 months, 14 days, and 16 hours) I finally arrived home broken and never, ever wanting to run again. My toe looked like I had been dropped onto the summit of Everest and had instantly suffered frostbite, in reality it was a small blister filled with blood waiting to pop. I hobbled into the shower and when the hot water hit my un-vaselined nipples I rock screamed (what I believe was a top D) and for one moment in my life I was a Tenor capable of playing Galileo whilst my nipples were ablaze like the Great Fire of London.

Next stop- ankle supports and 5 days later I ran the Brentwood Half Marathon. It was a tough day, I ran well but at no point did I enjoy the experience. It didn't help that I had performed three consecutive gigs with The Other Guys and only got home at 2.30am from Lincoln to then wake up again at 6.30am. Fortunately, the pain was relieved from my ankles but moved into my feet where the swelling against the compression of the ankle supports gave me a minimal insight into giving birth to an oversized baby (I am sure no lady would thank me for this, sorry!).

It was the last week of March and I visited an experienced Sports Therapist and Ex-Marathon Runner, Lisa Sullivan who helped me immensely and regained my confidence for the big day. Although I had completed most of my longs runs and stuck relatively well to the schedule I decided that I would begin my taper with the idea that giving my knees, ankles and feet a chance to really replenish themselves before the big day in 4 weeks time would give me the best chance to enjoy and complete the marathon.
3 weeks before the big day I tasted my last drop of alcohol, continued eating well, consumed copious amounts of water, took the relative Vitamins, Cod Liver Oil and bathed in Epsom Salts… ain't she grand dear!
Only 48 hours until the big day and I started to feel the nerves. Going to collect my official number with my good pal & 'West End Wendy' Adam Pearce was a great day but the challenge ahead really began to dawn on me. On Saturday morning I felt anxious and on arriving at Rosie's, I knew she could sense my nervy nature and squeaky bum, fortunately she kept me chilled and positive. After some good food and a relax in the hot tub I was ready for bed and knew the next day was the big one.


Opening Night
I thought I slept well, Rosie would suggest otherwise, especially at 5am when I asked her what time it was and her response (if you can imagine whilst reading this a mother telling her child) "5am- just RELAX." I turned over and before I knew it both our alarms went off, it was 6.30am and I was up like a bolt of lightning into the shower, dressed in all the gear and munching on toast with peanut butter and jam. From Essex to Greenwich the trains were buzzing with Marathon runners, supporters and volunteers and at this point the nerves disappeared. I met Pearcey and we took the walk up to Greenwich Park, the atmosphere was incredible and after half a protein ball and one last leak I found myself in Pen 4 counting down from 10 for the race to begin...
To read the rest of the article - from the full "opening night" to Jo's big marathon "curtain call" - head to his blog here.