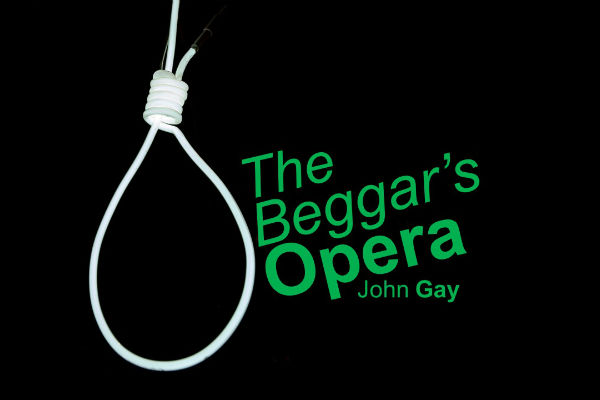 Join StageFaves founder Terri Paddock at Lazarus Theatre's THE BEGGAR'S OPERA on Tuesday 15 November 2016 for a post-show debate on John Gay's ground-breaking, 18th-century musical satire and its enduring political and artistic legacy to this day...
Best known for its radically modern adaptations of classic plays from the canon, Lazarus Theatre company now turns its unique approach to musicals. The company, under artistic director Ricky Dukes, will re-imagine THE BEGGAR'S OPERA, John Gay's ground-breaking 1728 musical satire of London, which went on to inspire Brecht's The Threepenny Opera and The Buskers Opera, both staged in London this year…
Polly Peachum longs for her newly-married husband, the roguish highwayman, Macheath. Their whirlwind romance is derailed by her parents, his lover, the law and the noose.
John Gay's renowned satire is set deep within London's underbelly, a frantic, dangerous and lascivious world of highwaymen, hangmen and harlots. This uncompromising exposure of moral and financial corruption comes to the stage with an original score and contemporary staging.
THE BEGGAR'S OPERA marks Lazarus' return to The Jack Studio after its sell-out production of The Caucasian Chalk Circle earlier this year. The company's other recent acclaimed productions of re-interpreted classics include the just-finished 'Tis Pity She's a Whore, Tamburlaine (both at Tristan Bates Theatre), The Bacchae and an all-female Henry V. THE BEGGAR'S OPERA is the first musical the company has undertaken since The Hat Pin in 2012.
Terri Paddock is delighted to be asked back to chair her fourth post-show debate for Lazarus. For this event on Tuesday 15 November 2016, a panel of experts, including Lazarus artistic director Ricky Dukes, will discuss why Gay's 18th-century classic was so ground-breaking, what spin-offs it has inspired, which theatremakers it has influenced and why its tale of political corruption seems quite so ripe in London 2016.
This one should be especially interesting following Terri's post-show discussion with the company of Dougal Irvine's The Buskers Opera at the Park Theatre in May – and for anyone who attended!