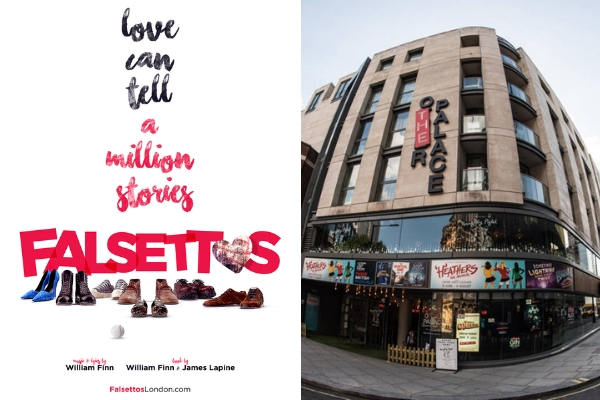 Our day in Falsettoland is finally here thanks to Selladoor Worldwide who is presenting the European premiere of William Finn and James Lapine's Falsettos at The Other Palace from 30 August to 23 November 2019. It's the first time UK audiences will have had the chance to see March of the Falsettos and Falsettoland professionally produced together here. We can't wait.
Selladoor Worldwide (producers of 9 to 5, Big Fish, American Idiot and Avenue Q) will present the long-awaited European premiere of the multi award-winning musical Falsettos which arrives in the UK from 30 August to 23 November 2019 (press night is 5 September) at London's The Other Palace.
It will be the first time UK audiences have had the chance to see March of the Falsettos and Falsettoland – the two pieces that make up Falsettos by William Finn (music, lyrics and book) and James Lapine (book) – professionally produced together.
David Hutchinson, CEO, Selladoor Worldwide, said:
"This is a show we have wanted to bring to London since we embarked on our careers as producers. We've been exploring and planning this one for nearly a decade, and I am delighted that today we can tell the world that this beautiful, critically-acclaimed musical – is finally coming to the capital."
The double Tony Award-Winning Falsettos is a hilarious and poignant look at a modern family revolving around the life of a gay man Marvin, his wife, his lover, his soon to be bar mitzvahed son, their psychiatrist, and the lesbian neighbours.
Originally created under the spectre of the AIDS crisis, this ground-breaking musical about family dynamics manages to remain buoyant and satirically perceptive even as it moves towards its heartbreaking conclusion.
Casting and creatives will be announced in due course.
Genuine #squee moment as we announce FALSETTOS (@UKfalsettos) opening at @TheOtherPalace in August! @sell_a_door #amillionstories pic.twitter.com/X4mR5umDq7

— Phillip Rowntree (@PhillipRowntree) April 15, 2019