When should we stop commenting on all-female shows? How can we be more tolerant in our own families? Should you be suspicious when someone says they're going for a week? Janet Fullerlove, who takes the title role in the European premiere of UNEXPECTED JOY, answers our questions...
Unexpected Joy is the story of three generations of female singers, long-held family tensions and a week together where change is in the air – Joy, a baby boomer pop star, is visited by her daughter, Rachel and granddaughter Tamara.
Rachel is married to a prominent televangelist, so Joy is reluctant to divulge that she's planning to marry Lou, another singer who happens to be a woman. A week with all four together is bound to lead to tension, laughter, discoveries and happiness that really is unexpected. Let the sparks and music fly!
Unexpected Joy encourages its characters, as well as the audience, to take a journey of self-discovery because, at the end of the day, we really are all just one big family. It has book and lyrics by Bill Russell (Tony-nominated for Side Show) and music by Janet Hood (Elegies for Angels, Punks and Raging Queens). Amy Anders Corcoran directs an all-female cast led by Janet Fullerlove in the title role, along with Jodie Jacobs, Melanie Marshall and Kelly Sweeney.
---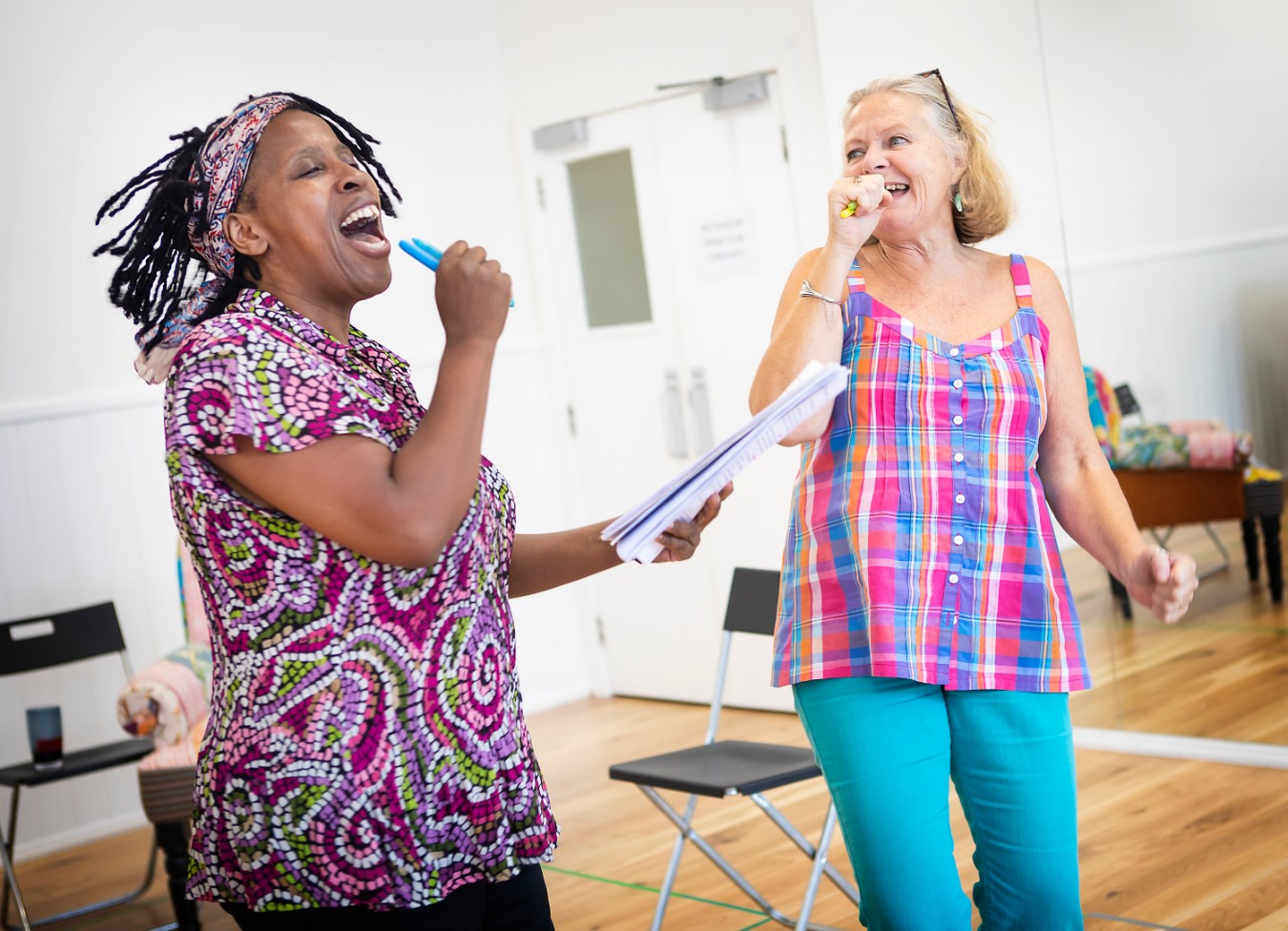 Janet Fullerlove in rehearsal with Melanie Marshall
In conversation with... Janet Fullerlove
Janet Fullerlove takes the title role in the European premiere production of Unexpected Joy. Janet's many other stage credits include Oxy and the Morons (Ipswich New Wolsey), Fiddler on the Roof (Grange Park Opera House), Shakespeare in Love (Noel Coward Theatre), Fortune's Fool (The Old Vic), The Taming of the Shrew (Royal Shakespeare Company), The Beggar's Opera (Regent's Park Open Air Theatre) and Macbeth (Shakespeare's Globe).
What's Unexpected Joy about in a nutshell?
Four women, three of whom are different generations from one family trying to celebrate the life of a lost loved one and come together also for a controversial marriage despite their differences. Music is the uniting theme.
What drives your character Joy?
A love of music, the thrill of living in the moment, a sense of humour.
How do you feel being part of an all-female cast?
I LOVE IT! Not that I don't enjoy casts with men too but it is a refreshing change.
Was there a different atmosphere during rehearsals?
I think the dynamics of any group of people in a rehearsal room are different simply because we are all different, regardless of gender. However, I guess it is different in a way that there isn't the flirtation thing going on anywhere... simply because the option doesn't exist.
I have to add that, in future, what would be great when part of a heavily female cast/creative team, would be not being asked how it feels - simply because it will have become so normal. Then we'll know we're finally getting there! It's a long old haul in this male-dominated world. We've got to keep on chipping away at it.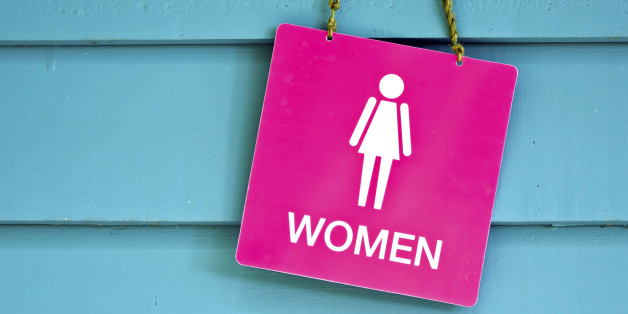 When is a wee more than a wee?
Unexpected Joy explores how we can become more tolerant of different views, values & lifestyles within our own families. Why do you think this is such a timely message now?
Because of the political situation here in the UK, including Brexit, and in the US with Trump. Voices of intolerance to difference, in general, have been (re)validated and given permission to shout loudly. This makes the show's message of tolerance very relevant in general terms. But, as far as within families, I think this is also very relevant. More and more people are realising that they have the right to be who they truly are and that should take the plunge and, for their own happiness, come out to family...who often actually already have more than an inkling.
Have you had any similar familial challenges in your own life?
As one of four siblings, all of whom had identical upbringings, I am amazed at how very different all of us are. There is discord between my younger sister and me, which I would dearly love to resolve. I fully accept both my brother and older sister (and the younger one who won't speak to me) as amazing and very different people to me, and I acknowledge that there is no one right way to live a life. I respect what they do and how they live... and am in awe of them! We each live the life that is right for us. I feel sad that my younger sister doesn't accept my differences. If she did, we'd be speaking. It has been very difficult, especially as I haven't been allowed to see my niece - who is nearly 18 - for nearly eight years.
I don't think stopping communicating is the right way to go about handling differences and disagreements. It builds walls and creates hatred based on supposition. We should always try to accept and respect difference - and value it!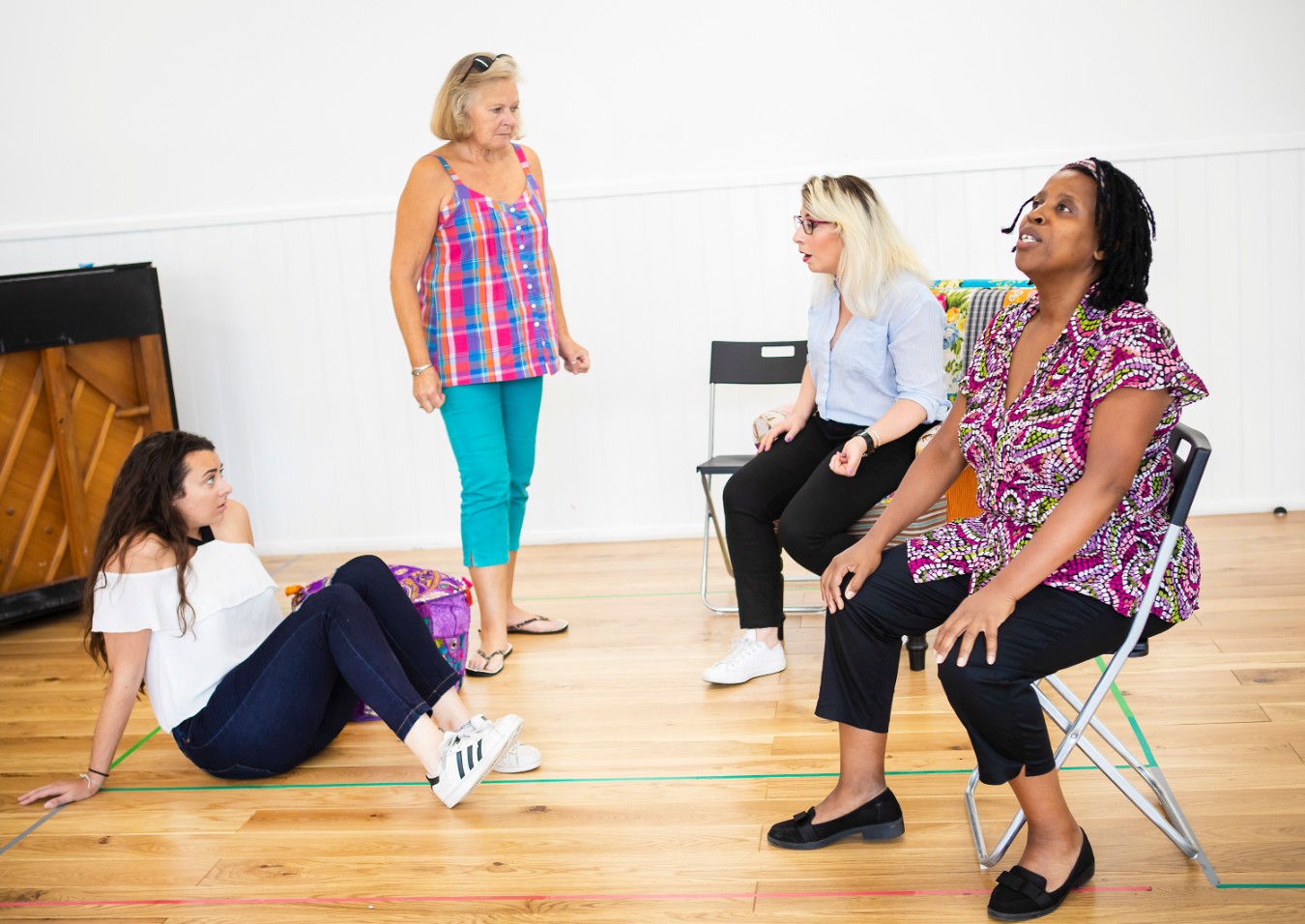 The cast of Unexpected Joy in rehearsal


I look forward to the day when difference is not questioned but simply accepted. My husband is 13 years younger than me. If the age gap were the other way round, people wouldn't bat an eyelid nor assume that we are anything other than a couple. I get really fed up with people assuming that, because I'm older, I couldn't be his wife but must be some older family relative such as his mum or an aunt. If that age difference was an accepted norm, no one would assume that.
We assume too much and prejudge too much in this life, and we're a long way off true acceptance. If I were a bloke with a young partner, it would be said that I was 'doing well'. Yet so often I am labelled a cradle-snatcher or he's labelled a toy-boy. He is just my husband, and we love each other for who we are. I wish the world was a more accepting place. In Unexpected Joy, there's that message, that prejudging is wrong... it is so relevant today.
Prior to London, Unexpected Joy had its US premiere in New York. Apart from the cast, how does this European premiere differ?
I didn't see the US production, but I watched the trailer and heard the recordings of the New York cast doing the songs. I can't say exactly how ours differs, but I do know that our director, Amy Anders Corcoran, came in and, entirely to her credit, had a wonderfully open mind to our interpretations of the piece so I think it will be very different. We certainly don't sing in the same style as the American cast. Some of our songs have a more rocky feel. There have also been tweaks to the script to make sure everything is understood here in the UK. US English is very different from UK English - as we have been finding out.
At Southwark Playhouse, the show runs as the centrepiece of this year's From Page to Stage Festival. Does that make it feel any more significant or exciting for you as a performer?
Yes, most certainly more significant and exciting. I feel honoured to be in this show at the heart of this event. We really want to live up to expectations, and I hope those who come to see Unexpected Joy feel that we have.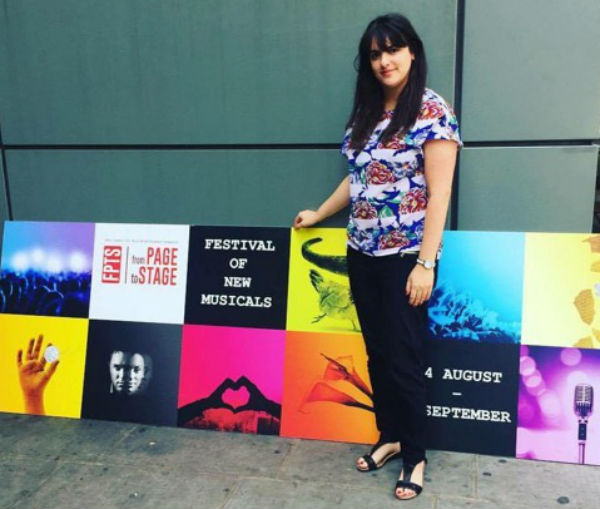 Producer Katy Lipson presents Unexpected Joy as part of 2018's From Page to Stage
Any anecdotes from rehearsals?
I don't think it's necessarily because it's an all-female show, but we all had a huge feast together in the rehearsal studio on Bank Holiday Monday, when most folks would have had the day off. Melanie Marshall (who plays Lou) brought us in a wonderful spread. I followed with one for tech Monday. I'm not sure you'd get many blokes doing a load of home-cooked food to bring in and share as much as women do. It's just a great vibe between us all as a company. There is one section in the show where the character of Lou has a huge rant at Tamara (Joy's granddaughter,) and at the end of it, Lou sits down and does this sort of shrug, which is just so comic we nearly always all corpse on it. It's very hard to keep a straight face at that point. Mel is just so funny! I love how, even though we are different generations, we really get on and support one another.
Another thing is we have lots of discussions comparing different things US to UK... some more amusing than others. For instance, in the UK, we often might say, 'I'm just going for a pee' or 'a wee', but in the US, there's no way they'd say that. They say they're 'going to the bathroom'. So Amy, our director, said, jokingly, it sounds as though we are not actually going for a pee, as though we're saying that as a sort of excuse. Giving too much information makes her feel suspicious. Does that mean she thinks we're doing more than just peeing in the loo?
---
Enter our competition by Friday 7 September