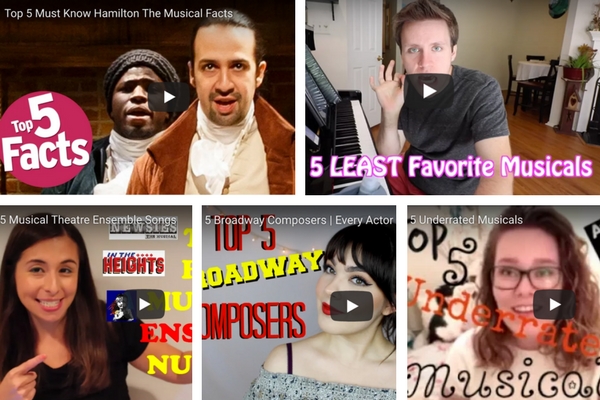 Here at StageFaves we LOVE to geek out about our favourite musicals and if there's one thing we know from office rants (our editor is constantly listing the reasons WICKED is one of the the greatest shows ever...) and heated musical theatre-themed debates it's that everyone has their own opinions on what shows are the best, the most underrated, or just plain unlistenable! We decided to take a little gander at what YouTube had to say on all matters Musical Theatre and we've compiled our #TopFive videos...of Top 5 lists!
1. We'll start with the underdogs. Our friends at the Musical Theatre Appreciation Society have an awesome YouTube channel where their vloggers share their opinions on top shows. Our first #Top5Top5 is...
"The Top 5 Underrated Musicals"
2. Another MTAS entry shows us the importance of the ensemble...
"Top 5 Musical Theatre Ensemble Songs"
3. Let's be honest, it may be the stars who catch our attention on the stage, but they would be nothing without the tireless work of the composers to produce the best score that really tells the story! So...our third video is...
"Top 5 Broadway Composers Every Actor Should Know"
4. The next video is for the real Musical Theatre geeks amongst us, because it's a round-up of top 5 facts! The smash hit Broadway show HAMILTON has touched hearts and minds all over the world and with the show heading across the pond to the West End this winter 2017, everybody is talking about it! Video number four is...
"Top 5 Must Know Hamilton The Musical Facts"
5. And finally, number 5 is our guilty pleasure! We like to be positive at StageFaves and we wouldn't usually share something with negativity, but Kevin Lynch's impassioned rant is just SO FUNNY we simply had to share it. The potty-mouthed muso shares his least favourite musical theatre shows and with some choice snippets on the piano and added explatives for good measure, he'll have you in creases within thirty seconds. The language is colourful so it might not be suitable for work, so save it for home-time, pour a glass of vino and get ready for a giggle...
"Top 5 LEAST FAVORITE Musical Theatre Shows"
What was your favourite list? Did you agree with any or would you add your own? Tweet us @StageFaves and let us know...