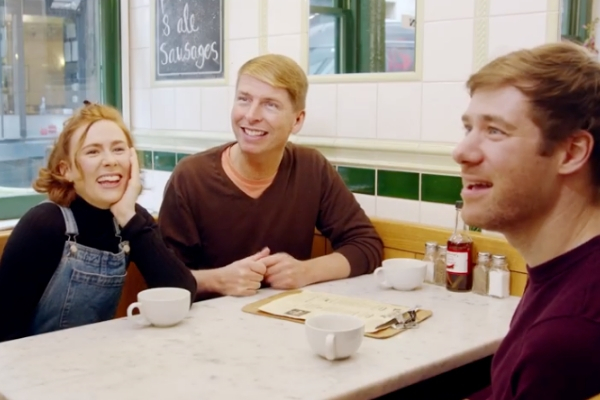 If you are counting the days until the West End production of Sara Bareilles' musical Waitress opens for previews at the Adelphi Theatre on 8 February, here is a double dollop of video delight for you. There's a chance to step inside the rehearsal room to see the cast, including Katharine McPhee as Jenna, perform a selection of numbers from the show, plus we also have access to a fun video of David Hunter and Laura Baldwin offering US actor Jack McBrayer a taste of the best of British pies. Yummy…
Lucky for us, the doors to the Waitress London rehearsal rooms were opened recently and we were able to have a taste of the treats to come. In the video below director Diane Paulus introduces Jenna (Katharine McPhee), Dawn (Laura Baldwin) and Becky (Marisha Wallace) performing in the pantry via 'A Soft Place to Land', Jenna and Dr. Pomatter (David Hunter) getting to know each other during 'It Only Takes a Taste', and finally Jenna reveals what baking really means to her in 'What Baking Can Do'.
Plus, did you know that 23 January is National Pie Day in the US? Well, it gave Laura Baldwin and David Hunter the perfect opportunity to try out some traditional London pies with US actor Jack McBrayer. You will have to watch below to see which one was Jack's favourite!
Rehearsals are now underway ahead of the show's official opening night on 7 March 2019. The West End premiere of Sara Bareilles' Waitress will star Katharine McPhee as Jenna, Emmy-nominee Jack McBrayer as Ogie, Marisha Wallace as Becky, Laura Baldwin as Dawn, Peter Hannah as Earl, David Hunter as Dr. Pomatter and Shaun Prendergast as Old Joe. Currently playing its third year on Broadway, Waitress will bring with it an all-female lead creative team – a West End musical first: book writer Jessie Nelson, director Diane Paulus and and choreographer Lorin Latarro.
Waitress also recently announced the first of its "Cast Album Karaoke" nights in London, meaning that theatre lovers who have always dreamt of singing on the West End stage will soon be able to make their dream a reality. The first ever karaoke nights will be held post-show on Tuesday 19 February and Monday 18 March 2019.