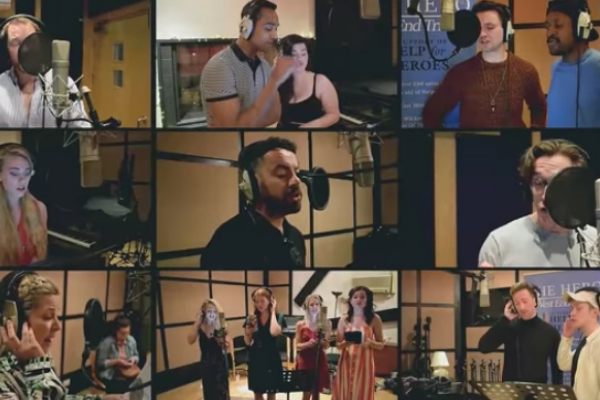 A stream of A-listers including Paul McCartney, Bryan Cranston, Judi Dench, Henry Cavill, Whoopi Goldberg, Jack Black, Steve Martin and more have contributed to a music video for 'The Hero – A West End & Friends Tribute' alongside stars of London's West End (Charlie Stemp, Marisha Wallace, Cleve September, Kerry Ellis and oodles more #StageFaves). Everyone involved wished to pay thanks to servicemen and women around the world and to raise money for the UK charity, Help For Heroes.
The project had an unlikely start, far from the bright lights of Hollywood, in the valleys of South Wales. Married writers Daniel and Laura Curtis planned on producing the song they had written featuring only a handful of friends who were currently starring in the West End.

Laura Curtis said:
"In between writing new musicals or cabaret for Broadway and West End performers we try and raise money for good causes. We were in Florida during the INVICTUS games in 2016 and we met some true heroes and their amazing families who were staying at the same hotel as us. We decided then and there we wanted to do something but it took us a little bit of planning before we came up with the idea of writing this song."
The project had so many artists wanting to take part, that production extended into nearly a year. The couple and the performers donated their time whilst several businesses helped to underwrite the costs of production, which were kept to a bare minimum.

Daniel Curtis explained: "It became quickly clear that this project was bigger than our previous ones, people really engaged with the song, which is about a female recruit and her journey. Soon we had artists from Broadway signing on, we even had to change the name from 'A West End Tribute', to 'A West End and Friends Tribute'. Then, when some of the biggest names in Hollywood came on board to record spoken contributions, it was clear to us that so many people shared our vision to make a fitting theatrical tribute for these heroes."


The couple is hoping the online video, filmed only with mobile devices and their own basic camera will capture a large audience. Laura adds: "We have set up a Just Giving Page for Help For Heroes and will include the link with the video. All proceeds from digital sales of the single will also be donated to the charity. We are also appealing to people watching in different countries to also donate to their own local charities which support veterans"
The release of 'The Hero – A West End & Friends Tribute' coincides with the commemorations surrounding the 100th Anniversary of the End of World War One.

The full list of those providing spoken contributions are: Paul Bettany, Jack Black, Dan Brown, Simon Callow, Craig Cash, Henry Cavill, Bryan Cranston, Judi Dench, Stephen Fry, Josh Gad, Whoopi Goldberg, Kelsey Grammer, Richard E. Grant, Kerry Howard, Jeremy Irons, David Jason, Carole King, Steve Martin, Brian May, Paul McCartney, Kevin McKidd, Alan Menken, Piers Morgan, Matthew Morrison, Wendi Peters, Tony Robinson, Jonathan Ross, William Shatner, David Suchet, Zoë Wanamaker and Levison Wood.
West End & Broadway Performers:
Stephen Ashfield (Book Of Mormon Broadway); Sam Bailey (X Factor Winner); David Bedella (Rocky Horror Show); Norman Bowman (42nd Street West End); Christina Bianco (Joseph & The Amazing Technicolor Dreamcoat); Alan Burkitt (Kiss Me Kate West End); Sophia Anne Caruso (NBC Sound Of Music Live!); Rodney Earl Clarke (On The Town West End); Collabro (Britain's Got Talent Winners); Maria Coyne (Wicked West End); Louise Dearman (Wicked West End); Killian Donnelly (Les Misérables West End); Samantha Dorsey (Les Misérables West End); Kerry Ellis (Wicked West End); Alice Fearn (Wicked West End); Ben Forster (Phantom Of The Opera West End); Emma Hatton (Wicked West End); Kara Lily-Hayworth (Cilla UK Tour); Matt Henry (Kinky Boots West End); Rob Houchen (Les Misérables West End); Ida; James Monroe Iglehart (Hamilton Broadway); Charlotte Jaconelli (Heathers The Musical West End), Emma Kingston (Evita International Tour); Luke McCall (Phantom Of The Opera West End); Jai McDowall (Britain's Got Talent Winner); Nadim Naaman (Phantom Of The Opera West End); Trevor Dion Nicholas (Aladdin West End and Broadway); David Phelps; Siân Phillips (Cabaret West End); Laura Pitt-Pulford (Seven Brides For Seven Brothers West End); Joe Aaron Reid (Dreamgirls West End); David Ribi (Dreamboats and Petticoats West End) Oliver Savile (Wicked West End); Cleve September (Hamilton West End); Charlie Stemp (Hello Dolly! Broadway); Savannah Stevenson (Wicked West End); Marisha Wallace (Dreamgirls West End); Emma Williams (Mrs Henderson Presents West End); Michael Xavier (Sunset Boulevard Broadway).