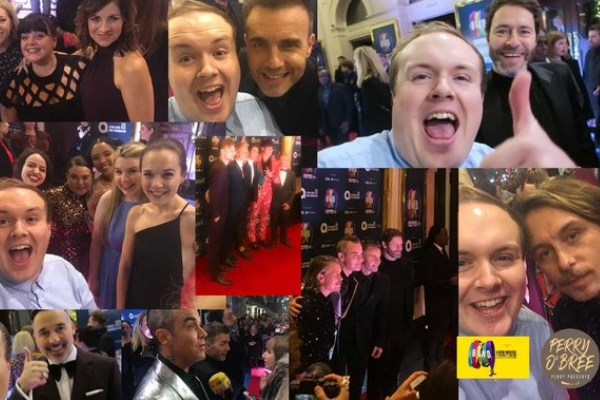 StageFaves' Perry O'Bree attended the West End charity gala opening of The Band at the Theatre Royal Haymarket, a special night raising money for the Elton John AIDS Foundation. Perry was there on the Red Carpet to chat to all the talented cast – one confessed to being a big fan of Perry – as well as Take That's Gary Barlow, Howard Donald, Mark Owen and Robbie Williams too! Are you ready to see them 'Shine'?
Tim Firth's award-winning new musical The Band, with the music of Take That, opened at Manchester Opera House on 8 September 2017 to huge critical acclaim and has taken £20 million at the box office. Its six-week West End season at the Theatre Royal Haymarket continues to 12 January 2019. The tour will then continue until 16 March 2019.
The musical stars Rachel Lumberg as Rachel, Alison Fitzjohn as Claire, Emily Joyce as Heather, Jayne McKenna as Zoe, AJ Bentley, Nick Carsberg, Curtis T Johns, Yazdan Qafouri and Sario Solomon, winners of BBC's Let It Shine, as The Band, Faye Christall as Young Rachel, Katy Clayton as Young Heather, Rachelle Diedericks as Debbie, Sarah Kate Howarth as Young Claire, Lauren Jacobs as Young Zoe, Martin Miller as Jeff and Andy Williams as Dave. The Band is directed by Kim Gavin and Jack Ryder.
The Band runs at the Theatre Royal Haymarket until 12 January 2019. PURCHASE TICKETS HERE!
---
First-night video
---
First-night tweeting