Kwame Kwei-Armah, the new artistic director of London's Young Vic Theatre, will open his inaugural season with the London premiere of his and Shaina Taub's community musical version of TWELFTH NIGHT, first seen in New York in 2016. Find out why, and who will star, here...
This musical version of Shakespeare's Twelfth Night, in a new Young Vic adaptation, will run in London from 2 October to 17 November 2018, with a press night on 8 October. It's conceived by Kwame Kwei-Armah and Shaina Taub, with music and lyrics by Taub and direction by Kwei-Armah and Oskar Eustis.
This Twelfth Night was originally performed at The Public Theater in New York as part of their Public Works program in 2016, and revisited this summer as part of their free Shakespeare in the Park Delacorte season.
This musical reworking of Shakespeare's comedy will be designed for the Young Vic stage by Rob Jones with Oskar Eustis, Artistic Director of The Public Theater, co-directing with Kwame Kwei-Armah. Initial casting for the London run includes: Gabrielle Brooks as Viola; Gbemisola Ikumelo as Maria; Jonathan Livingstone as Antonio; and Silas Wyatt-Barke as Sir Andrew Aguecheek. These professional artists will perform alongside community members from Southwark and Lambeth in this classic tale of love and disguise.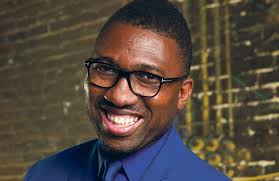 Kwame Kwei-Armah
Kwei-Armah explained his reasoning for opening the season with this production. He said:
"The Young Vic as a producing theatre has become synonymous with staging international works created by some of the world's finest directors, performers and creatives; productions and projects that say something about the world that we live in. My first season as Artistic Director will attempt to balance on those shoulders the things that are important to me: joy, community, politics and these are deeply embedded in all that we do.

"That's why the musical reworking of Twelfth Night - that I previously directed at The Public Theater in New York – is the show that I have chosen to kick-start my tenure with. A show that stands community members shoulder to shoulder with professional artists, it's filled with joyful, soulful music by Shaina Taub; it's a celebration."
In new pricing scheme introduced with the new season, all Main House show first preview tickets will be sold at just £5 via a TodayTix lottery
Shakespeare meets his match as brass bands and Beyoncé weave through this enchanting musical adaptation of #YVTwelfthNight @ShainaTaub @kwamekweiarmah @publictheaterny

🎊 2 Oct - 17 Nov. Book tickets now: https://t.co/2rUgPAjQa3 pic.twitter.com/07jelYRcyj

— Young Vic Theatre (@youngvictheatre) April 17, 2018