Is Leon Kay your #StageFave? Help grow Leon's fanbase!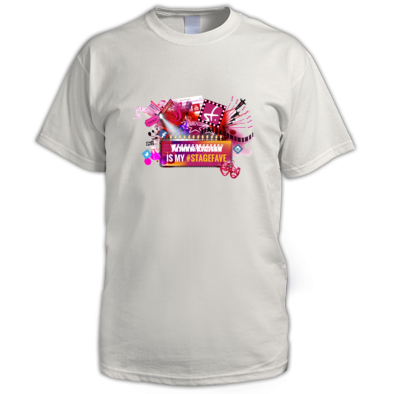 Do you think Leon should be a household name? Tell the world. Share this #StageFaves message and you'll be entered into our prize draw to win this "My #StageFave" t-shirt with Leon's name on it!
I dabble in aspects theatrical. Also a big lover of Tea, Beer, Ice Hockey, Gin & Poker.
Leon Kay is a London-based actor whose theatre credits include: Gene Kierman in Maggie May (Finborough), Ensemble & first cover Doctor Dolittle in Doctor Dolittle the Musical (UK tour), Ensemble in Billy Elliot the Musical (UK tour), Chip & understudy George / Uncle Willie in High Society (The Old Vic, London), Beast in Beauty & The Beast (Theatre Royal, Wakefield), Dave in The Outback Games (Edinburgh Festival), Frank / Country Boy & understudy Bob in Priscilla Queen of the Desert (National Tour), Topper / Ghost of Christmas Yet To Come & understudy Bob Cratchitt / Marley in Scrooge (The London Palladium), James in Jesus Christ Superstar (Križanke Open Air Theatre, Slovenia), Gliardi in The Fix (The Union Theatre, London), Swing & understudy The Bishop in Les Miserables (The Queens Theatre, London), Slim & understudy Ali Hakim in Oklahoma! (National Tour), Dr Chilton in Silence! (ATS Theatre, London), Soloist in The Twelve Tenors (European Tour), PJ in The Great Pretenders (The Gatehouse Theatre, London), Josh in The Great British Soap Opera (Jermyn Street Theatre, London), Bob in Chat The Musical (Edinburgh Festival), Larry The Lobster in SpongeBob Squarepants The Musical (National Tour), Antony in Sweeney Todd (The Union Theatre, London), Dick in Dick Whittington (Barnstaple Queens Theatre), Seabee Wise in South Pacific (National Tour).
Leon Kay merchandise shop
Here is some of our great customised merchandise for this performer. Also check out:
our general #StageFaves merchandise in the Main Shop

Open Date: 27 Mar 19 to 20 Apr 19
Part: Gene Kierman
Maggie May A hard-hitting celebration of working class life in Liverpool's docks in the 1960s, Maggie May is the story of the doomed love affair between 'street walker' Maggie May Duffy and sailor Patrick Casey, the son of a union-martyr, initially reluctant but finally proud to assume his father's mantle. Around them is a gallery of strongly-draw...

Open Date: 9 Nov 18 to 26 Jan 19
Part: Ensemble
Doctor Dolittle the Musical Eccentric Doctor Dolittle embarks on an extraordinary adventure to find the Giant Pink Sea Snail that holds the secret of life and makes the world a happier place. Helped by his human companions and an exotic menagerie of animal friends, including the Pushmi-Pullyu and trusty sidekick Polynesia the parrot, the larger-th...