Proud Haddock makes a rare foray into musical theatre with a rare London production of Canadian two-hander Billy Bishop Goes to War, in the second part of its autumn slate of productions commemorating this year's First World War centenary. Who's playing Billy Bishop... x2?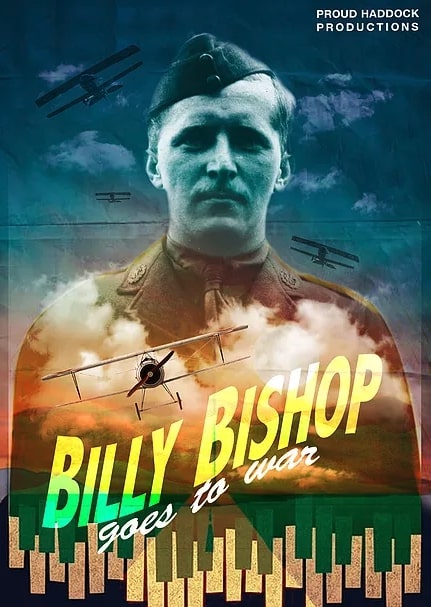 Coinciding with the centenary of the end of World War I, Proud Haddock revives Billy Bishop Goes to War as part of the company's War Season and Jermyn Street Theatre's Rebels Season. The production, the first in London in over 25 years, runs from 31 October to 24 November 2018, with a press night on 2 November.
This striking musical drama is based on the true story of young Billy Bishop, a failing military college student who became Canada's indomitable flying ace, the most successful pilot of his generation.
Helmed by Proud Haddock artistic director Jimmy Walters, Billy Bishop Goes to War will star Charles Aitken (The Knick, Happy Death Day onscreen, King Lear and Hair onstage) as Billy Bishop with Oliver Beamish (Coronation Street onscreen, Blood Brothers and War Horse onstage) as the Older Billy Bishop. Beamish will also provide the piano and musical accompaniment, and between the two, they will play a further 17 parts as they recount this extraordinary tale.
In 1914, Billy Bishop, aged only 20, signed up to fight in the Great War. A failing and bullied student, he overcame intense prejudice and astonishing danger to receive his wings and become the top fighter pilot. Through a combination of bravery and sheer luck, Billy was able to find his place and prove his worth. He became a true Canadian hero.
Brought to life with songs of the period and written by John MacLachlan Gray in collaboration with Eric Peterson, Billy Bishop Goes to War vividly transports the audience across the landscape of World War I, from the thick mud of No Man's Land to the drawing rooms of the British aristocracy. This compelling and darkly comic drama interrogates the nature of heroism and its cost while shining a light on the often-neglected complexities of Britain's colonial past during the War.
Director Jimmy Walters comments:
"Proud Haddock's War Season continues with Billy Bishop Goes to War. This is a true story with lots of heart. Billy wasn't the most academic student, was bullied at school and faced prejudice when he arrived in England during the First World War yet he overcame all of this to become the greatest fighter pilot of his generation. It's an inspiring story that is a privilege to revive."

---
About Proud Haddock
Founded by artistic director Jimmy Walters and James Ahearne in 2014, Proud Haddock has quickly established a reputation for unearthing rarely seen stories by well-known writers.
It started this autumn World War One commemorative season with the first London revival of Tony Harrison's 1992 play Square Rounds, which has just finished its acclaimed season at the Finborough. The company's previous play productions include The Dog Beneath the Skin (Jermyn Street Theatre), the sold-out hit Mrs Orwell starring Cressida Bonas and Peter Hamilton-Dyer (Old Red Lion Theatre and Southwark Playhouse), The Trackers of Oxyrhynchus, A Naughty Night with Noel Coward and A Subject of Scandal and Concern (Finborough Theatre).