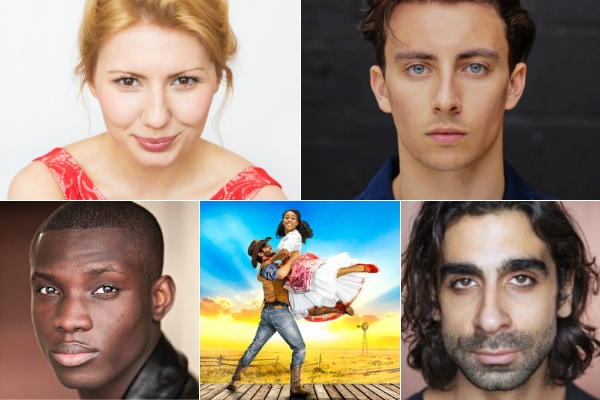 Did you hear that Bronté Barbé, Isaac Gryn, Emmanuel Kojo and Scott Karim will be joining the company of Oklahoma! at Chichester Festival Theatre from 15 July to 7 September 2019, playing the roles of Ado Annie, Will Parker, Jud and Ali Hakim. Sounds like a beautiful day to us.
The full company has been confirmed for Rodgers and Hammerstein's Oklahoma!, which Jeremy Sams directs in the Chichester Festival Theatre from 15 July to 7 September 2019.
Joining Josie Lawrence (Aunt Eller), Amara Okereke (Laurey) and Hyoie O'Grady (Curly) are Bronté Barbé (Beautiful, Over the Rainbow) as Ado Annie, Isaac Gryn (Bugsy Malone) as Will Parker and Emmanuel Kojo (Show Boat, Girl From The North Country) as Jud Fry, all making their Chichester debuts. Scott Karim (The Country Wife, Young Marx) returns to play Ali Hakim.
The company is completed by Michelle Andrews, Georgie Ashford, Lindsay Atherton, Imogen Bailey, Jeremy Batt, Alex Christian, Nicolas Colicos, Christopher Dickins, Paige Fenlon, Alyn Hawke, Bethany Huckle, Emily Langham, Michael Lin, Rory Shafford, Jak Skelly, Rhys West and Anna Woodside.
Jeremy Sams returns to Chichester to direct; his award-winning productions in London and New York include The Wizard of Oz and The Sound of Music. Set designs are by Robert Jones and choreography is by Matt Cole.
With its glorious score and spirit of exuberant optimism, Oklahoma! is the American musical by which all others are judged, breaking new ground in perfectly integrating music and dance to tell a story. Among the unforgettable songs are 'Oh, What A Beautiful Mornin'', 'The Surrey With The Fringe On Top' and the show-stopping title number.