It's their time. The Stephen Sondheim Society Student Performer of the Year Awards is a great annual event highlighting some of the best talent coming up through UK drama schools - and they're all singing Sondheim plus new music too. This year's gala will also be overseen by West End legends including Clive Rowe, Janie Dee, Julia McKenzie and Stiles & Drewe...
The Stephen Sondheim Society and Mercury Musical Developments today announce the 11th annual West End Gala for The Stephen Sondheim Society Student Performer of the Year and the 10th anniversary of The Stiles + Drewe Prize. The 2017 competition is being staged at the West End's Noёl Coward Theatre on Sunday 11 June 2017 at 3pm, hosted by Olivier Award winner Clive Rowe, with a special performance by Olivier Award winner and guest judge Janie Dee - soon to be seen as Phyllis in Sondheim's Follies at the National Theatre.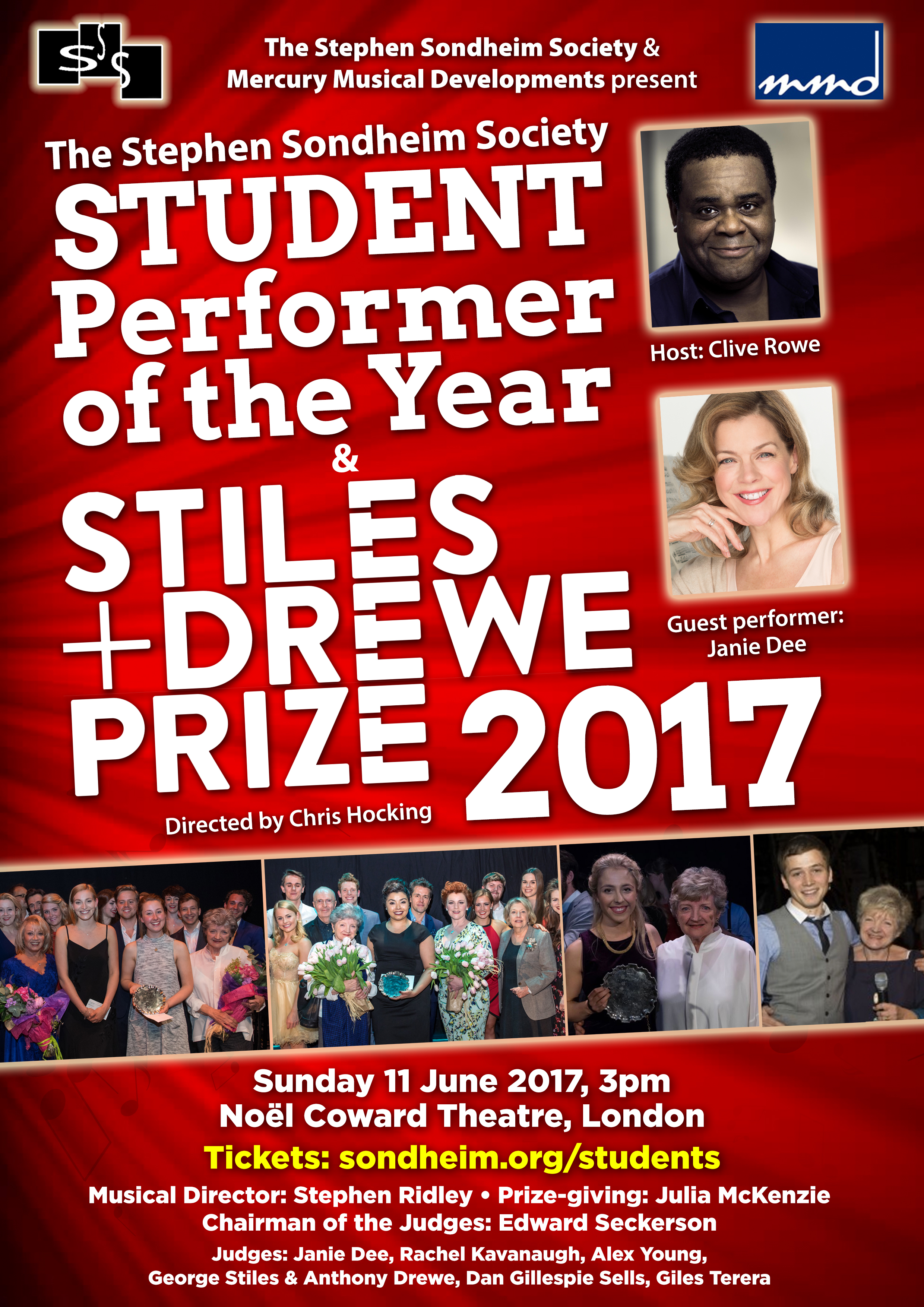 Writer and broadcaster Edward Seckerson returns to Chair the Student Performer judges as does legendary Sondheim interpreter Julia McKenzie to present the prize.
This year the annual gala will again be directed by Chris Hocking, with musical direction by Stephen Ridley and will also feature comedy double act Dominic Ferris and Martin Milnes who will be reprising their medley '33 Sondheim Numbers in 5 Minutes'.
This annual competition, co-produced by The Stephen Sondheim Society and Mercury Musical Developments, sees twelve of the top student performers from musical theatre and drama schools across the UK - finalists announced soon - each perform a classic song by Stephen Sondheim and a new musical theatre song, written by members of Mercury Musical Developments. The first prize is £1,000.
In addition to Janie Dee, the student performer judging panel includes director Rachel Kavanaugh (Half a Sixpence and The Wind in the Willows) and Alex Young (SSSSPOTY 2010 winner - recently seen as Carrie Pipperidge in Carousel at ENO).
The Stiles + Drewe Prize supports and develops new musical theatre writing via its two distinct arms. Recognising an outstanding song from a new musical, the winner of Best New Song receives £1,000 to put towards developing their work. Judging the Best New Song entries with Stiles and Drewe will be songwriter Dan Gillespie Sells (The Feeling & Everyone's Talking About Jamie) and actor Giles Terera (soon to star as Aaron Burr in Hamilton).
In addition, Stiles and Drewe's Mentorship Award - now in its second year - will also be a key part of the Gala and is generously supported by Music Theatre International (Europe). One new musical and its writers will be selected to receive mentorship over a 12-month period, culminating in an industry showcase. The inaugural winner of the Mentorship Award The Wicker Husband recently had its presentation at The Other Palace.
Olivier Award-winning writing duo George Stiles and Anthony Drewe said:
"Writing musicals is a labour of love, and can be a long and hard process. It is vital that writers have support at different stages in the development of their work, which is why our Prize recognises both an outstanding song and a first full draft of a new musical. As in previous years, this Gala offers a chance for writers to showcase their work and for us as an industry to highlight and embrace the breadth and depth of the musical theatre writing talent out there. We think new British musical theatre writing is in an inspiring and exciting place."
The Stephen Sondheim Society Chairman Craig Glenday said:
"This annual event has become a highlight in the musical theatre calendar, showcasing the very best students from the UK's top drama and musical-theatre schools. These talented young men and women are the stars of the future, and we're excited to give them this opportunity to perform on a West End stage – most of them for the first time. Sondheim himself talks about teaching as a sacred profession, and The Stephen Sondheim Society is committed to supporting and encouraging students in all aspects of musical theatre. Good luck to all twelve!"
Executive Director of MMD Victoria Saxton said:
"There are precious few opportunities in the UK to champion and nurture new musical theatre writing. We have worked closely with Stiles and Drewe over the past ten years to produce this annual event to ensure that new work can be seen and heard. The gala is a fabulous showcase opportunity for 12 MMD writers. This year we received over 140 applications for the Best New Song prize. There is talent out there – it just needs a platform. The Best New Song winners from 2015, Richy Hughes and Joseph Finlay, are now receiving a full production of the show from which their winning song featured. Showcasing events make sure new work is seen by the right people. We need initiatives like the Stiles and Drewe Prize to ensure the UK remains a source of excellent new musical theatre."
The Stiles + Drewe Prize, the Best New Song finalists for 2017 are:
Chris Ash and Carl Miller (Underneath)
Jim Barne and Kit Buchan (What'll It Be?)
Chris Dickins and Tom Wright (My Island)
Matt Finch and Melanie Lawman (Filament)
Marc Folan and Carl Miller (I'm A Dunce)
Ben Glasstone (Work To Do)
Tom Lees and Claire Rivers (Gerry And Me)
Claire McKenzie and Scott Gilmour (The Matchmaker)
Graham Mercer (My Favourite Guy)
Youn Young Park and Susannah Pearse (Doesn't Mean He'll Love Me)
Tom Slade (Apology To A Child)
Benjamin Till (Brass)
Previous winners of the Stiles + Drewe Prize for Best New Song include Tamar Broadbent, who took her one-woman show All By My Selfie to the Adelaide Fringe and is currently appearing in Miss Nightingale. The 2015 winners Richy Hughes and Joseph Finlay are receiving a full production of their musical The Superhero at the Southwark Playhouse. Their winning song 'Don't Look Down' will be performed at the Gala.
Past finalists of the student performer prize have included Hollywood star Taron Egerton and Tony Award winner Cynthia Erivo.