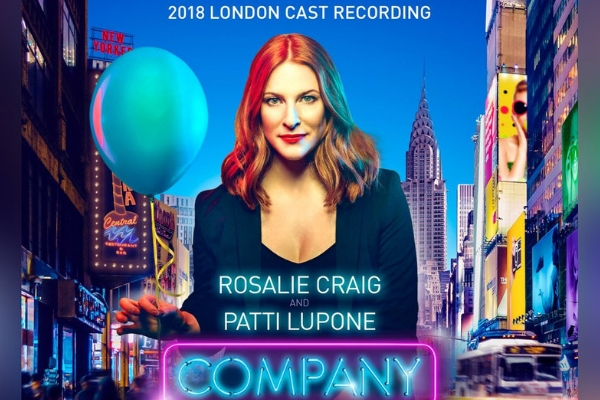 Phone rings, door chimes, in come the 2018 West End cast recording of Company. In the same week as Marianne Elliott's groundbreaking production of Stephen Sondheim and George Furth's legendary musical comedy triumphed at the Critics' Circle Awards, the digital download and streaming release has been made available and the fans can't wait!
Marianne Elliott's staging of the legendary musical comedy about life, love and marriage – continuing at the West End's Gielgud Theatre until 30 March 2019 – is the winner of two Evening Standard Theatre Awards and two Critics Circle Awards.
Marianne Elliott said:
"I'm absolutely thrilled that we are able to share our production of Company with audiences with this brand-new cast recording. We had the absolute pleasure of having Stephen Sondheim in the studio making sure it is the very best it can be. As we near the end of our run in the West End, it is a joy to have this permanent record of a show that has meant so much to all of us.'
Rosalie Craig, who plays Bobbie, added: "I am so thrilled that this wonderful and very special production of Company has been recorded for everyone to listen to for years to come – to be the first ever female Bobbie on stage and for that to be captured on a cast recording is a huge honour."
Starring alongside Rosalie Craig is an all-star cast including, Patti LuPone as Joanne, Mel Giedroyc as Sarah, Jonathan Bailey as Jamie, George Blagden as PJ, Ashley Campbell as Peter, Richard Fleeshman as Andy, Alex Gaumond as Paul, Richard Henders as David, Ben Lewis as Larry, Daisy Maywood as Susan, Jennifer Saayeng as Jenny, Matthew Seadon-Young as Theo and Gavin Spokes as Harry.
"I wanted to record this album from the moment I heard about Marianne Elliott's vision for Bobbie's gender role change and very current narrative coming to life in this new production. There are so many favourite songs for Sondheim fans that take on new meaning and a wonderful freshness on this cast recording, and we're very proud to be releasing it for the world to enjoy," stated Kevin Gore, President of Arts Music for Warner Music Group.
CD pre-orders will be available soon.