Rebecca Lock stars with Jason Manford and Carley Stenson in Kander & Ebb's whodunnit musical comedy CURTAINS, which receives its overdue West End premiere next month. She shares anecdotes from the road and thoughts on how and why the show must always go on.
It's murder putting on a new musical – literally! Jessica Cranshaw, star of the new Broadway-bound musical Robbin Hood, has been murdered on stage on opening night. The entire cast and crew are suspects. Time to call in the local detective, Frank Cioffi, who just happens to be a huge musical theatre fan. With a nose for crime and an ear for music, Frank has his work cut out trying to find the killer whilst giving the show a lifeline.
From the creators of Cabaret and Chicago, Tony Award-winning backstage murder mystery musical CURTAINS gets its West End premiere with this new production, starring comedian, actor and singer Jason Manford as detective Frank Cioffi.
---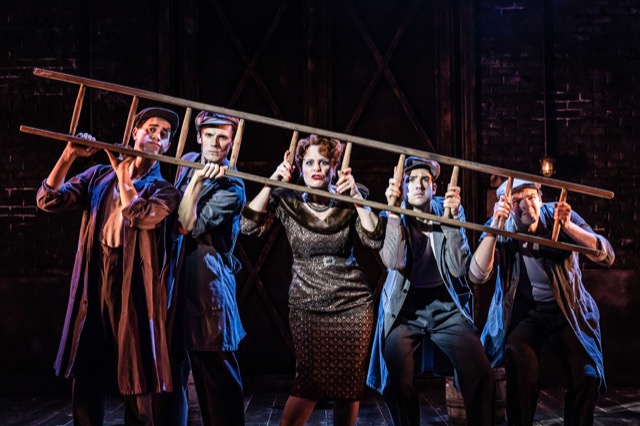 Rebecca Lock gets to dance on a ladder in Curtains
Talking to... Rebecca Lock
Actor Rebecca Lock's many other stage credits include Heathers, Mamma Mia!, The Phantom of the Opera, Avenue Q, Mary Poppins, Cats and Martin Guerre in the West End, as well as Committee (Donmar Warehouse), Oh! What a Lovely War (National) and Kiss Me Kate, Oliver!, Dear World, The Sound of Music, Merrily We Roll Along, Dorothy Fields Forever and The Pirates of Penzance elsewhere.
For those who may be most familiar with the work of Kander & Ebb through Chicago & Cabaret, how would you say Curtains compares?
Curtains is very different from Chicago and Cabaret... although the music is, of course, fabulous. Curtains is a Murder Mystery Musical set in 1959 inside a theatre – a show within a show – with nods to Guys & Dolls and Kiss Me Kate. It's very funny, quite possibly the funniest script I've seen in a while. A good old-fashioned toe-tapper of a show!
What's been the reaction of audiences to date on tour?
The audiences have been incredible so far. It can be hard to sell an unknown show on the road, but the reactions have been marvellous, people love it! I think a lot of our audiences are coming from word of mouth. By the end of each week, we are full and the atmosphere is electric.
Any anecdotes from the road?
There is always something going awry and making us giggle. The characters in this show are so funny that sometimes we just can't look at each other in a scene. Oh, and an audience member in Darlington with the loudest sneeze in the world was a joy. Of course, Jason Manford made the sneeze part of the show and brought the house down.
Tell us about your character.
I play Carmen Bernstein, who is the cutthroat producer of the show within the show. She's fabulous. I'm having a ball playing her. Some cracking lines, and I get to dance on a ladder in my number "It's a Business" - so thank you, Alistair David [the show's choreographer]!
Love this pic.....♥️ @MusicalCurtains absolutely stolen from an audience members post 👍🏼 #Sheffield pic.twitter.com/8E7jTXLpbY

— Rebecca Lock (@RebeccaLock22) November 4, 2019
As an actor, how do you feel playing a producer?
You forget as an actor how much a producer does for a show. How pressured and stressful it can be to keep the money rolling in. As actors, it's nice when your producer realises and appreciates how hard you are working as a cast, especially on a manic schedule, and how much of a sacrifice, with real-life and family, touring can be.
The well-known theatrical mantra is that 'the show must go on'. Do you agree?
"The show must go on"... I actually sing these words in the song "Show People" in Curtains. A tradition that goes back as long as showbiz, I reckon! Personally, unless I have zero voice or I can't walk then I will on stage. I'm an old-school trooper. It's my job to be there, and I will do my best to give you the best performance I can. But I have to give a massive shoutout to swings and understudies, who allow for a show to go on if there is illness or injury within the cast.
This marks Curtains West End premiere. How special is that?
We are sooo excited to be coming to Wyndham's Theatre in December. I think the West End is crying out for a show like ours. Proper showbiz escapism and I think the audiences will love it. What a Christmas treat for us all.
What's it like being in a show over the holidays?
It's going to be a busy schedule over Christmas. We have a matinee on Christmas Eve and then an early evening show on Boxing Day so we only get one day off at Christmas. I'll be home in front of my fire, and I'll probably be wearing PJs and eating chocolate all day.
Anything else you'd like to add?
Come and see us on tour or at the Wyndham's. I promise you will leave the theatre with an achy face from laughing and a spring in your step.
---
Enter to win tickets by 25 November