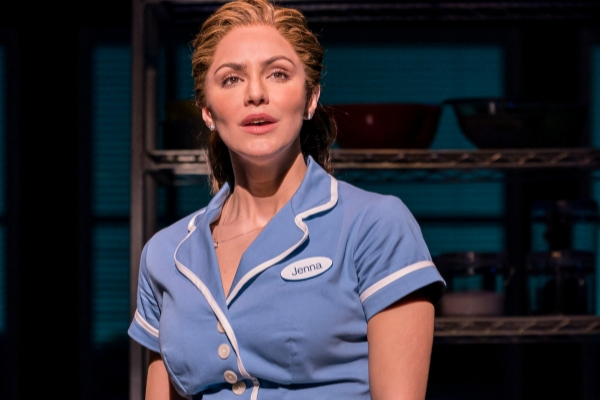 It's been confirmed that Katharine McPhee will be putting her apron down and bidding farewell to the West End production of Sara Bareilles' musical Waitress on 15 June 2019. Cue speculation about who will replace her. There are rumours that Lucie Jones is next in line, but we shall have to wait and see!
Alongside Katharine McPhee as Jenna, Waitress at the Adelphi Theatre stars Jack McBrayer as Ogie, Marisha Wallace as Becky, Laura Baldwin as Dawn, Peter Hannah as Earl, David Hunter as Dr. Pomatter and Shaun Prendergast as Old Joe.
The full company includes Kelly Agbowu, Laura Baldwin, Piers Bate, Nicole Raquel Dennis, Michael Hamway, Peter Hannah, David Hunter, Stephen Leask, Jack McBrayer, Chris McGuigan, Katharine McPhee, Olivia Moore, Nathaniel Morrison, Sarah O'Connor, Leanne Pinder, Shaun Prendergast, Charlotte Riby, Marisha Wallace and Mark Willshire.
Brought to life by a ground breaking, female-led creative team, the hit show features an original score by seven-time Grammy nominee Sara Bareilles, a book by acclaimed screenwriter Jessie Nelson and direction by Tony Award winner Diane Paulus and choreography by Lorin Latarro. The production is currently touring the US and has also announced it will have its Australian premiere in 2020 at the Sydney Lyric Theatre.
We have #WaitressLondon news! Our wonderful @katharinemcphee's final performance as Jenna will be on 15 June 2019 💗

Don't miss Katharine in Waitress! To book your tickets, visit https://t.co/woXdpCXdOk 💗 pic.twitter.com/0JKNf9pedX

— Waitress The Musical (@WaitressLondon) April 5, 2019