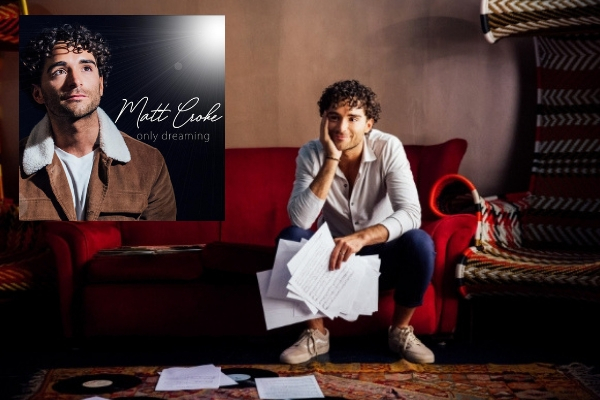 Currently starring in the title role of Disney's stage musical Aladdin, Matt Croke will release his debut album Only Dreaming – full of classic songs from stage and screen – on 7 December (digitally) and 14 December on CD. There's just time to add it to your Christmas wish list!
Produced and orchestrated by West End musical director and supervisor Alan Williams and featuring some of London's finest musicians, the album will feature Matt Croke's performances of classic songs from stage and screen including 'Singin' in the Rain', 'Come What May' from Moulin Rouge and 'Something's Coming' from West Side Story amongst many others.
The album will also feature duets with members of the international Disney family. Hiba Elchikhe, Jasmine in the Australian production of Aladdin, joins Croke for the iconic 'A Whole New World' and his London co-star, Trevor Dion Nicholas, who plays Genie, joins him for their brilliant rendition of 'Somebody's Got Your Back'. As a bonus track, Nick Afoa from the London cast of Disney's The Lion King accompanies Croke on a mash-up of 'Proud of Your Boy' and The Lion King's 'Endless Night'.
Matt Croke is the star of Disney's Aladdin in the West End at the Prince Edward Theatre. He joined the cast in June 2017 and has previously worked on a wide variety of West End shows for the past 10 years. The Sheffield-born actor, dancer, and singer graduated from Laine Theatre Arts in 2007 and has since kept close ties with his hometown. Matt Matt and his sister Rachel Croke opened the RMC Academy of Theatre Performance in 2017, offering dance, musical theatre singing, gymnastics, among other classes to students from the age of three to 18 years old.