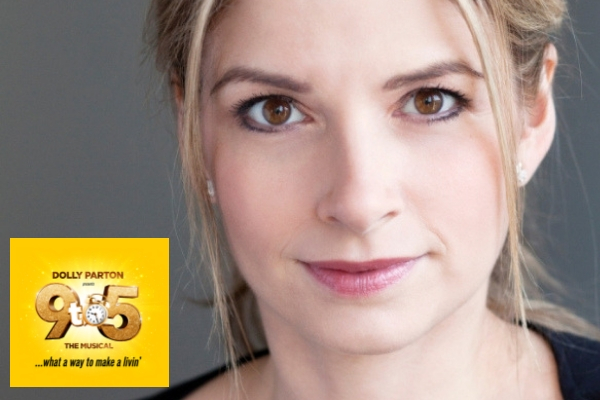 There's 13 days to go until Dolly Parton's 9 To 5 The Musical opens for previews at London's Savoy Theatre & actress Caroline Sheen has roughly that same amount of time to learn the role of Violet Newstead following injured Louise Redknapp's break from the show. Redknapp will re-join the show from the end of March. That's showbiz…
Caroline Sheen is renowned for her leading roles in the West End, US and on tour throughout the UK. These include the West End productions of Les Misérables at the Palace and Queen's theatres, Chitty Chitty Bang Bang at the London Palladium, the original cast of Witches of Eastwick at Theatre Royal Drury Lane, Once in a Lifetime and A Funny Thing Happened on the Way to the Forum at the National Theatre and the title role in Mary Poppins on tour throughout the US and the UK. She will be seen later this year as a lead role in the new BBC series Pitching In.
Due to an injury, Redknapp has had to temporarily withdraw from performing the role of Violet in Dolly Parton's 9 to 5 The Musical. The recovery time recommended means the singer and actress is no longer able to properly rehearse the show in the remaining time left before opening.
9 To 5 The Musical opens for a limited season at London's Savoy Theatre from 28 January to 31 August 2019. Sheen will join Amber Davies as Judy Bernly, Natalie McQueen as Doralee Rhodes, Brian Conley as Franklin Hart and Bonnie Langford as Roz Keith.
The cast also includes Victoria Anderson, Alexander Bartles, Ashford Campbell, Simon Campbell, Rhiane Drummond, Demmileigh Foster, Llandyll Gove, Lucinda Lawrence, Jenny Legg, Christopher Jordan Marshall, Jacob Maynard, Natasha Mould, Sean Needham, Jon Reynolds, James Royden-Lyley, Giles Surridge, Sasha Wareham and Emily Woodford.