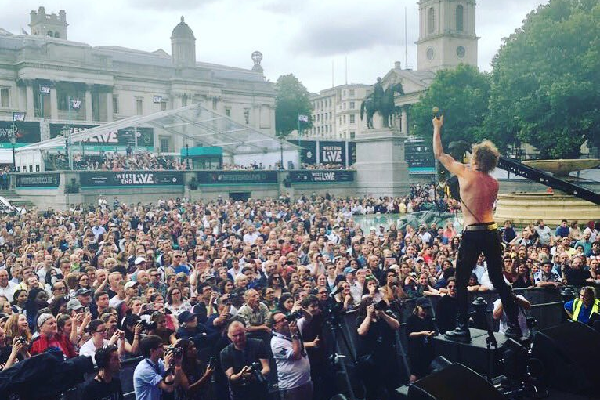 Forget Glastonbury, this past weekend the only place to be was WEST END LIVE with amazing performances from all of our favourite shows! We've rounded up 20 of our top tweets that capture some of the magic! You can find our full social media coverage, features and more on our dedicated WEST END LIVE page.
ASHLEY DAY and AN AMERICAN IN PARIS making us feel like we're standing by the Eiffel Tower instead of Nelson's Column!
We had so much fun yesterday! Thank you @WestEndLIVE ❤️🇫🇷 https://t.co/Rc1CSUefNc

— Ashley Day (@Ashleyday_86) June 25, 2017
Relive our 'S Wonderful #AnAmericanInParis performance at this year's #WestEndLIVE and let us whisk you away to a romantic 1940's Paris. pic.twitter.com/dgL41WpGt5

— An American In Paris (@AmericanParisUK) June 26, 2017
CRAIG MATHER and THE WIND IN THE WILLOWS transporting us from the Trafalgar Square fountains to the peaceful river bank!
West End LIVE 2017: The Wind In The Willows @willowsmusical @simonlipkin https://t.co/a4XmZhW8OX

— Craig Mather (@CraigMather) June 25, 2017
Surprise I brought @racheltucker1 on for a Divas Duet ! ❤️😍#takemeorleaveme @WestEndLIVE #westendlive2017 pic.twitter.com/QE9Ea9gW66

— Marisha Wallace⭐️ (@marishawallace) June 25, 2017
Day145 - Show6&7 - thank you West End Live!#batthemusical #westendlive pic.twitter.com/OHSbvXIM6o

— Andrew Polec (@AndrewPolec) June 24, 2017
For those of you wondering if we rocked #WestEndLIVE today? How's @AndrewPolec climbing the rigging for ya' 🤘🏻

WE BROUGHT THE ROCK!!! https://t.co/5LzeCVMcu0

— Bat Out Of Hell (@BatTheMusical) June 25, 2017
❤️❤️❤️ #WestEndLIVE pic.twitter.com/jfxWAElSW9

— Les Misérables (@lesmisofficial) June 24, 2017
Herods Back Bitches! Catch me in this Gold Get Up @WestEndLIVE 3.10pm Today Trafalgar Square. #0atsuperstar @OpenAirTheatre #JCS pic.twitter.com/i3KOHInwM4

— Peter Caulfield (@petercaulfield) June 24, 2017
That was EPIC!!! 🙌🏾👏🏾👍🏾👍🏾😊 @WestEndLIVE #westendlive2017 @OpenAirTheatre #OATSuperstar

— Tyrone Huntley (@TyroneHuntley) June 24, 2017
After our beautiful #angels slayed @WestEndLIVE today we had 2 of the most INSANE audiences @KinkyBootsUK Boom!!! ❤️👠👊🏻👏🏻👏🏻👏🏻 pic.twitter.com/JugoP5sdqv

— Melissa Jacques (@MelissaJacque12) June 24, 2017
The super sign language interpreters stealing the show!
Jack's back! #WestEndLive #ASL pic.twitter.com/58aSyTmW2M

— London Theatre (@london_theatre) June 25, 2017
Epic performances from KERRY ELLIS, NATHAN AMZI, BEN FORSTER and so many other incredible West End stars…
We LOVE @kerryjaneellis1 👏👏👏 #WestEndLive pic.twitter.com/DUCtYDl6PY

— London Theatre (@london_theatre) June 25, 2017
Best day = when you get to perform to amazing crowds in Trafalgar Sq with your mates! Thanks for supporting music & theatre 😁👌🏽 #WestEndLIVE pic.twitter.com/Hrtp2HtMuU

— Nathan Amzi (@theamzi) June 25, 2017
Not gonna lie.. feels quite good seeing my name all big up there ! #TrafalgarSquare @WestEndLIVE https://t.co/CniBMVf4hr

— Ben Forster (@thebenforster) June 25, 2017
A view from the stage thanks to ADAM BAYJOU!
Lovely morning/afternoon at #westendlive with @lesmisofficial! pic.twitter.com/nGuF0abXsm

— Adam Bayjou (@AdamBayjou) June 24, 2017
Celebrating the next generation of West End stars with MICHAEL XAVIER.
So delighted to see my @MTMasterclass students knock it out of the park (well the Square) at @WestEndLIVE !! #proud pic.twitter.com/fMsmLbuBvP

— Michael Xavier (@michaelxavierUK) June 25, 2017
We had the most INCREDIBLE time at #WestEndLIVE​! Thanks once again to everyone in the crowd. #FlashBangWallop https://t.co/gOPwQ2ykRZ pic.twitter.com/cbKl45udUO

— Half A Sixpence (@HalfASixpence) June 25, 2017
Signed, sealed, delivered, we're yours #WestEndLIVE. Thank You! pic.twitter.com/0OgMWzue3i

— Motown UK (@MotownUK) June 24, 2017
Green means GO! @WVerkaik and @SuzieMathers are here at #WestEndLIVE! #WickedUK pic.twitter.com/XSxYlSl4ro

— Wicked UK (@WickedUK) June 24, 2017
The HAIR tribe spreading some peace & love.
Some fantastic shots of #Hair @WestEndLIVE! #JoinTheTribe pic.twitter.com/eJnVAIHxUD

— Hair the Musical (@Hair50London) June 26, 2017
What a weekend! We enjoyed watching as much as ASHLEY JORDON PACKER enjoyed performing!
Thoroughly enjoyed performing at @WestEndLIVE. Such an incredible experience! #WestEndLIVE pic.twitter.com/MzxI2GK4Fk

— Ashley-Jordon Packer (@ajpacker86) June 26, 2017