Last year, Lucie Jones flew the flag for Theatreland and the UK in the Eurovision Song Contest. Fellow #StageFave Liam Tamne is down to the final six to represent us in Lisbon this May with his song "Astronaut". TV audiences decide on Wednesday night (7 February 2018) whether or not he has lift-off. Louisa May talked to him about his extraordinary trajectory so far...
Long before Eurovision You Decide 2018, theatregoers knew Liam from a string of West End and other musical theatre credits including Les Miserables, The Phantom of the Opera, Wicked, Hairspray, The Rocky Horror Show, Hair and, last year, Working and Starlight Express. He's also no stranger to reality television contests, having been a firm audience favourite in Series 2 of The Voice, on team Will.I.Am. He was born in Coventry in 1987 and trained at Laine Theatre Arts. =
So Liam, give us a recap of what you've been up to over the past year?
I've been up to loads! I've been performing in Rocky Horror, doing workshops, Mack & Mabel with the London Musical Theatre Orchestra, working with Andrew Lloyd Webber on a revised Starlight Express at The Other Palace and also doing Working The Musical, alongside some people I really look up to, at Southwark Playhouse.
I've enjoyed being able to be creative in the past year. With the more intimate projects, I got to express myself and help get something new on its feet. It was great to be part of Working's original European cast, especially with the addition of Lin Manuel-Miranda's songs, and seeing his work go from page to stage. I've also gained such good friendships with some people I really admire, including Stephen Schwartz, and we keep in contact … some exciting things are coming out of that!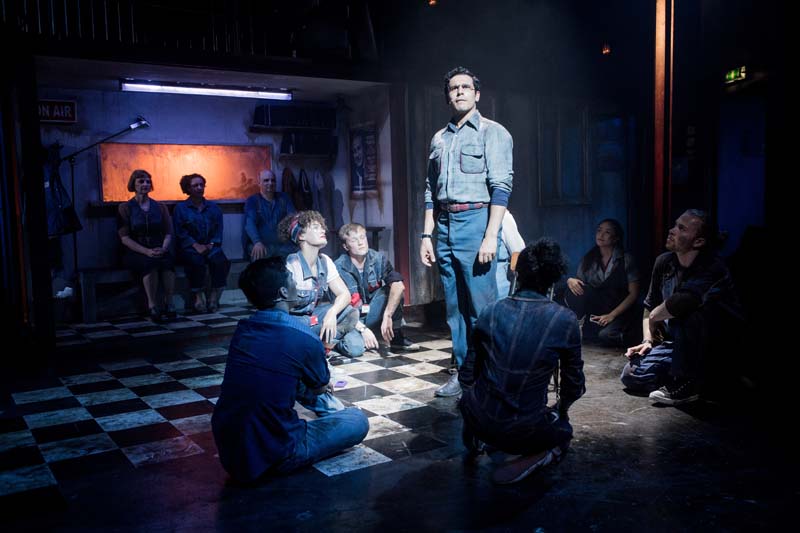 Liam in Working at Southwark Playhouse in 2017
And now you're aiming to represent the UK in Eurovision. What appeals to you most about that challenge?
It's the fact that I get to represent so many different things. I'm not just representing the UK, I'm also representing the LGBTQ community. I've always been open about my sexuality and my relationship with my husband. I'm so thankful that we live in a country where I can marry the man I love. And yet, there are still places in Europe where that's frowned upon. I'm representing everyone who's suppressing their true self.
I'm also representing people of colour. My father is Kenyan/Indian and my mother is from Belfast. It's such an interesting heritage that I have and I'm so proud of it - I want the world to know that I am.
I come from the theatre community, a place where young people go to escape reality because they feel like they don't fit it or they have something creative to express, something big bursting to get out. I want to be a role model for them, to let them know that it's okay to be different. No matter the colour of your skin, your sexual orientation or where you're from - we are all one big community. Success doesn't stop because of the colour of your skin. That's something I've always told myself. If one door is slammed in my face, then I will go and open the next one - and, now, that for me is Eurovision!
There's this stigma, that musical theatre performers can't do anything other than musicals. Well, I'm a complete anomaly then! You know, when I did season 2 of The Voice, all four judges turned around - I had my pick right there and then. Which door was I going to open for myself? I had a great time! In the community of people who feel like they're different, people who want to express their flamboyancy, there's more to us than people think. To quote The Greatest Showman but when she sings 'This is Me' - well, that IS me!
When I was asked to do Eurovision, I wasn't going to leave that door unopened either. I heard my song, "Astronaut", and it was everything that I embody, I knew it was the right song for me. It's catchy, sentimental, timeless, ageless. The song talks about how someone can be your rock and pick you up when you're down - that's a true reflection of me as a person, as a performer and someone I want to be while representing the UK to the rest of Europe. The song is getting a lot of European love and that's such a good sign.
What's your biggest dream?
To be happy! To do the work I want to do, to create something that I'm proud of, a little legacy, if you will, for all the communities that I represent.
I come from a working-class family and times were hard growing up, but I wanted more from life. I'm from Coventry. That little place in the Midlands is my home and I'm proud of that, it's part of my story. But, growing up, I always hungered for more. I thought, I'm going to create something for my family that they can be proud of. I want to be a role model, someone people can look up to. I want a young child to know it's okay for them to come out and be who they want to be.
It's been challenging in this industry. Because of my skin colour, I'm not always right for roles. But that doesn't hinder my drive or determination. I admire people who create opportunities for themselves, like Cynthia Erivo, Ramin Karimloo and Hadley Fraser. I want to be a person just like that - Eurovision is a path that will help me get there. I'm showing the world that we're not limited to one style of performing or singing. And I'm happy to hold the door open for people behind me!

When did you know you wanted to be a performer?
I knew at a really young age, honestly. I was always performing around the house as Michael Jackson or one of the Spice Girls - or all five at the same time! My mum knew I could sing and always encouraged me. I was obsessed with my father's music collection - I learnt the words to The Bodyguard off by heart. And I remember watching Cats The Musical on my VHS (that's a tape, for the youth of today) and being inspired. People get to dress up and dance around?
From then on, I knew that's what I wanted to do. I went into amateur dramatics and was lucky enough to have small record deals from the age of 14. Sadly, they never amounted to much, but they allowed me to express myself and my love of performing from such a young age. From there, I went to study at Laine Theatre Arts and I've been having the time of my life ever since.
What's your fave West End show?
This is tough! I saw Hair with the Broadway cast that Cameron Mackintosh brought over at the Gielgud Theatre a few years and I was blown away by it - eventually, I was lucky enough to join the cast myself. I also love Les Mis (Liam pictured right as Enjolras), but what musical theatre enthusiast doesn't? I think Hamilton will be my No.1 … when I eventually get round to seeing it! It's everything I am: the music, the casting, the message it sends out, just everything! Plus, I'm good friends with Michael Jibson (who plays King George). I really look up to him, he's a great actor and performer. I can't wait to see it.
What do you think about StageFaves?
I think in today's society, especially in musical theatre, performing and acting, lots of people use social media. Nowadays, it's not just what you do on stage, but what you do off of it. People want to see the real you. StageFaves is a great platform for people to be able to access the stars they look up to but also a great way for people starting their careers to have a base where they can find agents, theatres, courses, all kinds of useful information. It makes you more accessible.
Anything to add?
The theatre community have been great to me and been supportive and got behind me. I hope they'll follow my Eurovision journey with pride!
Eurovision You Decide is aired live on BBC 2 on Wednesday 7 February 2018 at 7.30pm. Get Social for Liam Tamne and interviewer Louisa May, a musical theatre performer herself, via their StageFaves pages.