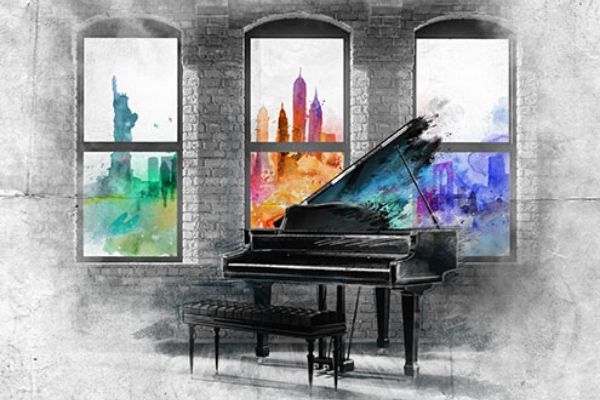 As building work continues on Southwark Playhouse's new purpose-built theatre in London's Elephant and Castle, the venue's spring 2020 season has been announced, including a major revival of Jason Robert Brown's musical The Last Five Years directed by Jonathan O'Boyle.
Jonathan O'Boyle's bold new actor-musician production of Jason Robert Brown's The Last Five Years will see the actors onstage at all times and playing the piano to add a new narrative dimension to the story, accompanied by a four-piece band. The production will run from 28 February to 28 March 2020, press night is on 4 March. Casting is to be announced.
Producer Katy Lipson and Jonathan O'Boyle in a joint statement said: "We have both been huge fans of this brilliant show from its UK premiere at the Menier Chocolate Factory in 2006. But we didn't want to just bring it back to the stage in its original form, we wanted to look at the piece in a fresh new way, for a new audience.
"The Last Five Years has such a pianistic driven score, with wonderful songs and an incredible story, so we wanted to explore what would happen if the actors remained part of the whole story, and never left the stage; instead playing the piano to further interact with the music.
"We can't wait to develop this more in the rehearsal room and bring this new version of the musical to the wonderful Southwark Playhouse next February."
SpitLip is also back with the latest incarnation of new musical Operation Mincemeat, returning to The Large following a sell-out forthcoming run in The Little in January 2020. The team is continuing the show for a limited run of nine performances (14-23 May 2020 in The Large). The team recently took home the prestigious Stage Debut Award for Best Composer/Lyricist.
SpitLip are David Cumming, Felix Hagan, Natasha Hodgson and Zoe Roberts. Cumming,Hodgson and Roberts appear in the show along with Jak Malone.

Also lined up for the season are the world premiere of Cops by American ex-serviceman Tony Tortora; the UK's first experimental theatre company People Show returns to celebrate over 50 years together with People Show 137; the world premiere of Anything is Possible if You Think About it Hard Enough by Cordelia O'Neill, directed by Kate Budgen; and Five Characters in Search of a Good Night's Sleep responds to the current public health crisis of insomnia performed by a company of elder actors.
Work is currently on schedule for the new Southwark Playhouse venue in Elephant to be ready for March 2020. It has also been confirmed shows will be programmed at Newington Causeway – The Large and The Little – for at least the next couple of years.