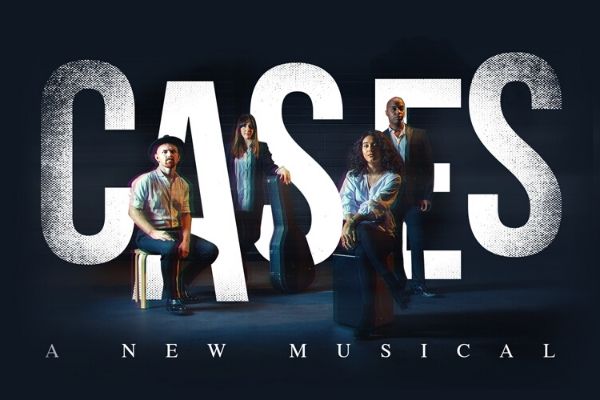 Following sell-out performances at the Phoenix Arts Club, Dominic Powell's musical CASES is getting an extended runs at The Other Palace, with a cast including Maiya Quansah-Breed, Sabrina Aloueche, Andrew Patrick-Walker and Adrian Hansel. Book your tickets now!
The news musical runs at the Victoria venue from 31 March to 18 April 2020.
CASES is a new musical exploring the triumphs, heartbreaks and sacrifices involved in the pursuit of art where the commercial world collides with the underground and fame becomes a high price to pay. Relationships change, partnerships rearrange and ideas exchange. The musical depicts the ultimate fight for creative freedom, providing a voice for artists, performers and creatives alike who lose financial security during the establishing of a career.
Created by Royal Central School of Speech and Drama and BRIT School graduate Powell, CASES was first seen at the Phoenix Arts Club in 2017, when it was staged in collaboration with Collabro's Michael Auger. For its run at The Other Palace, that original score has been revamped and new songs have been added to the production. It also has an exciting new cast!
Maiya Quansah-Breed comes to CASES fresh from the phenomenon that is Six, in which she played Catherine Parr, receiving an Olivier Award nomination for her performance.
Sabrina Aloueche is a West End regular who has performed in productions including Les Miserables, We Will Rock You, Chess and Brooklyn The Musical.
Andrew Patrick-Walker starred with Aloueche in Brooklyn The Musical and also boasts credits in Bat out of Hell the Musical, and Jerry Springer The Opera and Hair (both at the Hope Mill Theatre)
Adrian Hansel has starred in productions from West End productions of Hairspray and Fame to Carousel at the National Theatre and Porgy and Bess at the Royal Opera House.
The CASES cast are directed by Grace Taylor, who's prevoiusly worked with Quansah-Breed as Associate Director on Six. Taylor also worked as Associate Director on Adam Lenson's Superhero and Wasted (both at Southwark Playhouse), and as Director on Lovebites (White Bear Theatre), So-Called Gen Z (Edinburgh Festival Fringe) and the huge cult hit Fanatical (Playground Theatre).
CASES runs at The Other Palace, 12 Palace Street, London, SW1E 5JA from 31 March to 18 April with performances Mondays to Saturdays at 7pm, Matinees Thursdays 3pm, Saturdays 4pm. Tickets are priced from £10. CLICK HERE TO PURCHASE!!
---
Watch Maiya Quansah-Breed perform Heightened from CASES